It's no surprise that we love Color Street as much as we do. It's the first product of its kind and helps us have fancy nails in a fraction of the time (and cost!) than going to a salon. You're likely buying Color Street on the regular because of how quickly we launch new styles and colors! But if that's the case, why haven't you thought about kitnapping or the Color Street personal discount? Or maybe you have since you landed on this page.
Updated November 4, 2021.
I am an Independent Color Street Stylist. Any views, tips, suggestions, or opinions represented in this blog are personal and belong solely to myself and do not necessarily represent the Color Street company.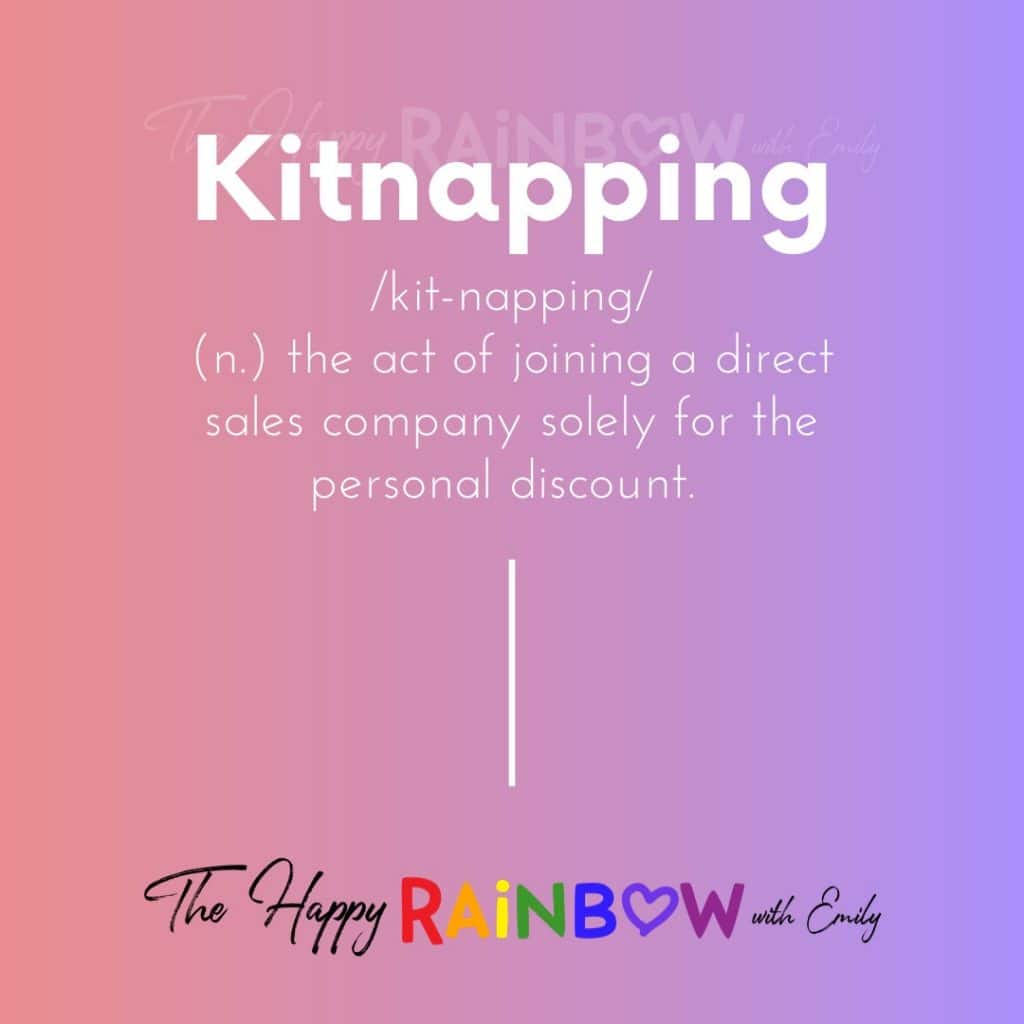 Kitnapping – /kit.napping/ (n):
1. The action of joining a direct sales company solely for the personal discount.
If you're not familiar with direct sales you'll likely have never come across this term. Like the definition above, kitnapping is all about the personal discount you get after joining or buying into a direct sales company. Think of it like being a brand ambassador. I'm going to break down the minimums to stay active to keep your Color Street personal discount as well as how much of a discount you get. I want to make sure you have all of the information available to you to make the best decision for you and your family.
FYI: After kitnapping you decide you want to start working the business and earning money by selling Color Street, you won't have to do anything extra or pay more money. Everyone who buys the kit can work it however they choose, but here are 10 things everyone should know before joining.
Now until Sunday November 7, 2021, Join and get your first 3 months of website fees FREE as well as some extra money for business supplies. You can learn more about the first part of Color Street Black Friday Promo-vember here.
I hope you like math
Just kidding! I'm going to break down the math for you to fully understand what the benefit is of the Color Street kitnapping or Color Street personal discount. The biggest thing to understand is that all Stylists still pay full price for Color Street. We just get money back each week in commission.
The kit
The Color Street kit is $129 + s/h + tax. It worked out to be about $150 for me a couple years ago. If you think of it in terms of starting a business, that price is extremely reasonable. But let's break it down for those who aren't ready or not interested in the business side. Keep in mind that in order to get the Color Street personal discount you must purchase the kit.
For the month of March, get 5 bonus nail strips in your kit for a total of 18!! That increases the value of the kit to over $300 – making it just over 50% more than your original investment.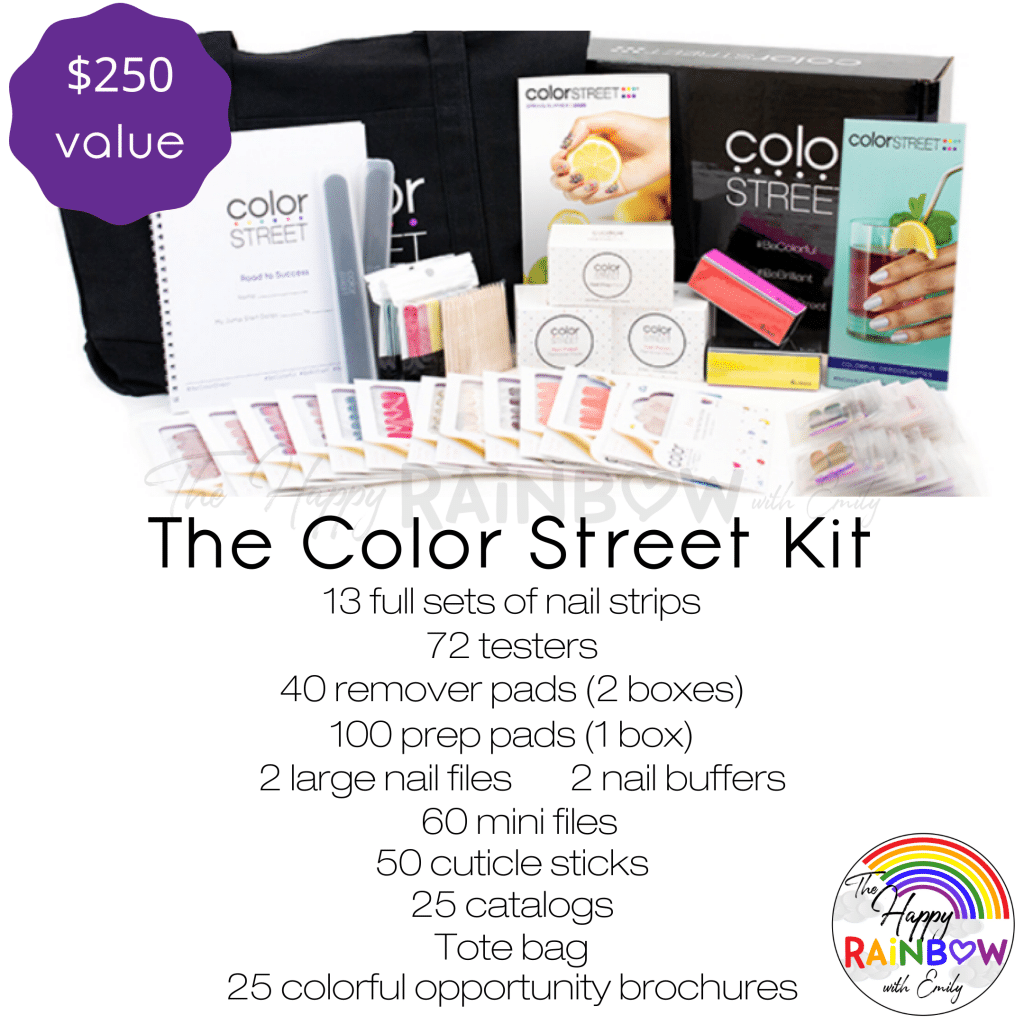 You get a total of 13 full sets of Color Street nail polish picked at random. ($158-163 value)
1 French
2 Solid
2 Glitter
5 Design
1 Pedicure
2 Petite
Then there are the 72 accent nail packets for making mixed manis without opening a full set. ($27 value)
Also included are nail files, nail buffers, cuticle sticks, a cute tote bag, and miscellaneous business supplies ($60 value)
Add all of that up and you get a grand total of $250 – a win of $100! Either way, you get A LOT of value in the starter kit itself.
The Color Street Personal Discount
The base discount any Stylist gets is 25% on all orders. Since you love Color Street, I know you're only buying sets of 4 to get the Buy 3 Get 1 Free offer! I'll break the math down in terms of that because that is truly the best deal for everyone.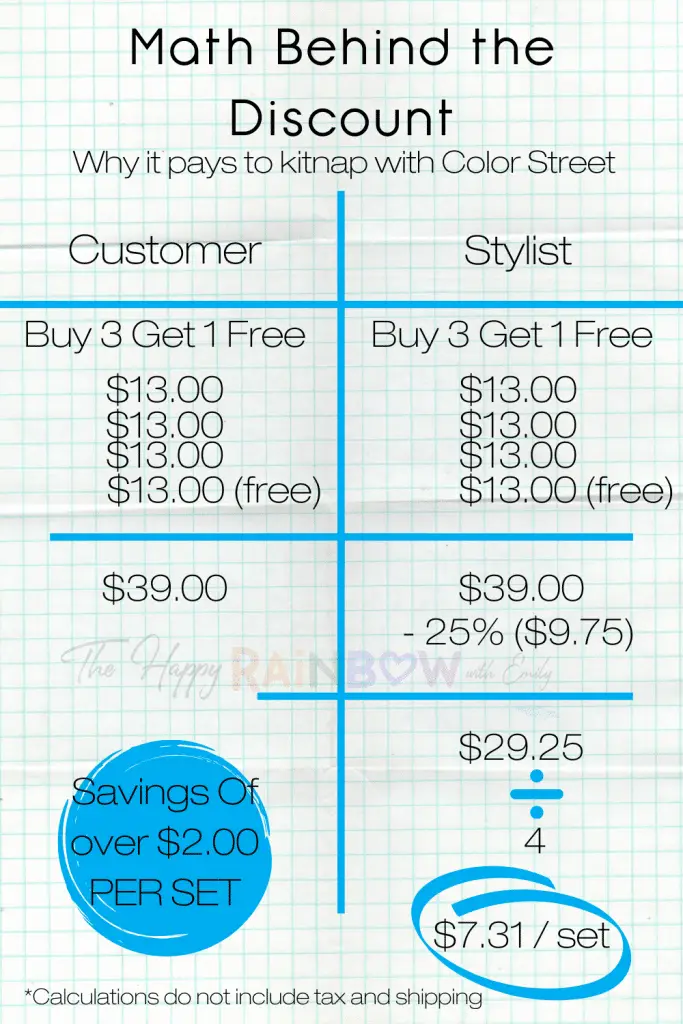 At a MINIMUM, a Buy 3 Get 1 Free (B3G1) offer will cost $33 if you get all solids. At MOST it will cost $39 with all designs.
25% of $33 = $8.25
25% of $39 = $9.75
Color Street pays commission weekly so you don't have to wait until the end of the month to get it back!
Now subtract that comission from what the nail polish cost.
$33 – $8.25 = $24.75
$39 – $9.75 = $29.25
These are much nicer numbers, right? Now what happens if we break it down by individual strip? Keep in mind this math is only for the B3G1 offer.
$24.74 / 4 = $6.19
$29.25 / 4 = $7.31
That's a savings of anywhere from $4-6 PER SET! That's huge! Especially if you're an avid Color Street user who changes up her mani/pedis every week. If you've seen enough and you're ready to jump on you can do so by clicking the button below.

If you choose to work this as a business, the commission goes up from there and you'll be earning Color Street for free or almost free. You can see all the details in the Color Street compensation plan.
Individual orders
Sometimes you'll just want to order 1-2 sets and not enough for the B3G1 offer. You'll still be getting your 25% comission so let's break down that math.
25% of $11 = $2.75
25% of $12 = $3
and 25% of $13 = $3.25
As you can see, you definitely get a much better discount by taking advantage of the B3G1 customer special even as a Stylist. However, you're still saving more money than if you hadn't joined.
French Tip orders
I've put the French nail polish in a category of its own because it has its own customer special of Buy 1 Get 1 Free (B1G1). The math is easier to understand because you're only dealing with 2 nail polish strips.
25% of $14 = $3.50
$14 – $3.50 = 10.50
$10.50 / 2 = $5.25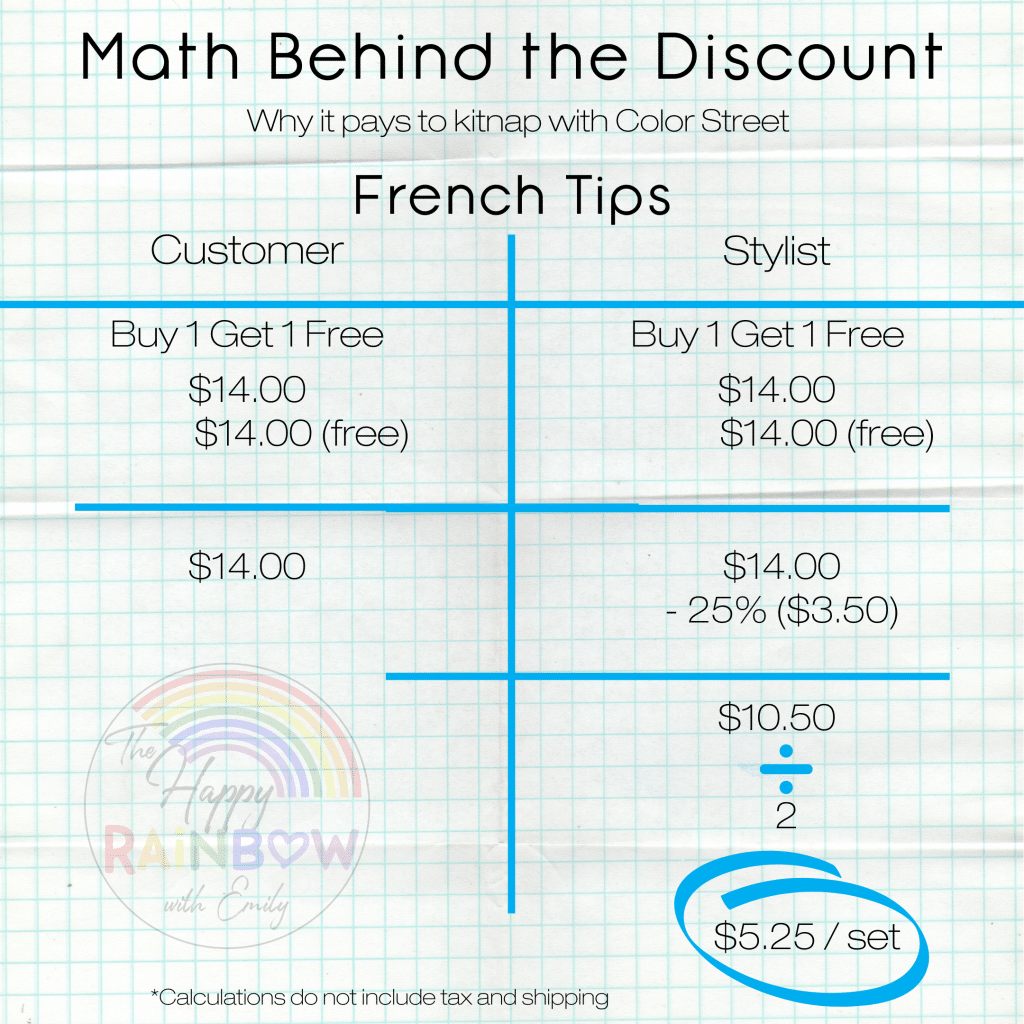 You read that right. After the B1G1 and your commission discount each French set is ONLY $5.25 EACH!!! That would cost you a minimum of $25 at any salon!
Minimums to Keep Active
Color Street no longer has any minimum sales goals to stay active as a Stylist! This makes Color Street kitnapping for the Color Street personal discount even more beneficial. You can simply continue to buy whatever you want to use and still get your rebate back every week.
Not many people really think kitnapping is an option or they'll get pushed to the side because Stylists only want team members who work the business. Color Street is all about the love of quick dry nail polish and my job as a Stylist is to nurture that love and get you the most value! Joining for the Color Street personal discount is one of the biggest money savers in the nail polish world.

If after reading this article you've got no more questions and you're ready to start earning a MINIMUM 25% discount on your Color Street addiction, you can fill out the application here or click the "JOIN NOW" button. If, however, you DO have questions you can reach me at anytime through my social channels below. You can also learn more about the opportunity with my top 10 things to know before joining.
** Shipping and tax were not included in these calculations as they can vary. There is also a $9.99 monthly fee for covering the cost of your own Color Street website to order from.
Emily
Independent Color Street Stylist
Related Articles
How to save your left over nail polish strips
Tips for the perfect nailfie
10 things to know before joining Color Street