Have you been contemplating joining Color Street, but just haven't seen the value of the business yet? Before you jump into the business side of nail polish you have to know as much as possible to make a decision that is best for you and your family. We could shout to the mountain tops on how great this opportunity has been for us, but it has to be right for YOU!
Updated January 14, 2023
I am an Independent Color Street Stylist. Any views, tips, suggestions, or opinions represented in this blog are personal and belong solely to myself and do not necessarily represent the Color Street company.
Here are 10 things you should know before joining Color Street!
1. It costs $129 + shipping + tax to join.
Let's just get to the point right away. How much does joining Color Street cost? it is advertised as $129 to join, but that doesn't include local sales tax as well as shipping. Plan on spending about $150 total to join. The starter box used to only have 10 nail strips included, but now includes 13! New as of 2022, Color Street has developed their own line of beauty and nail care products! Those products have also been included in the new starter kit without any change in the price. If you would like more information on what exactly comes with the kit, click here!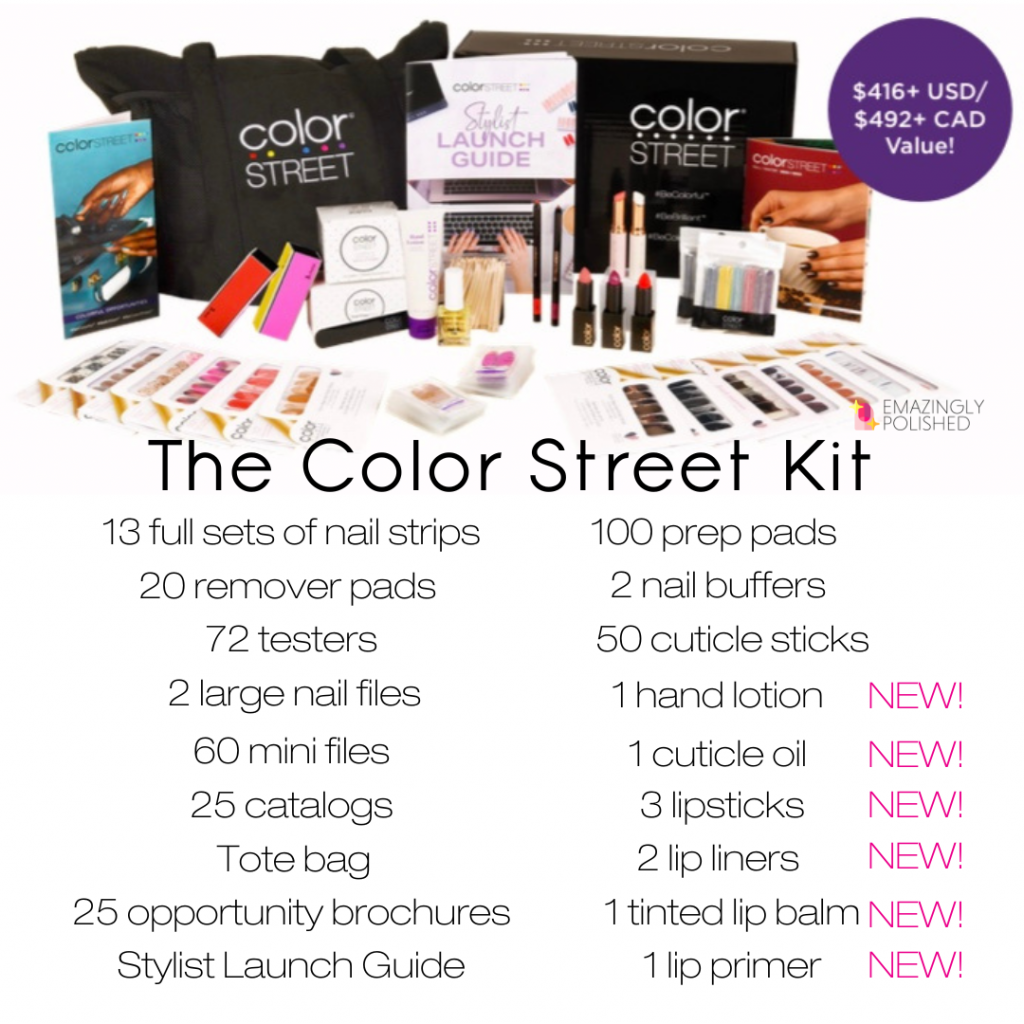 2. Color Street started in June 2017, making it only 5 years old (at time of update)!
Some direct sales companies have been around for years and years. You most likely know at least one person selling each of those products. However, Color Street is a young company with an old product! Our CEO and Founder Mr. Fa Park came up with the idea for this nail polish product in 1984 and has been perfecting it since! There is definitely plenty of opportunity in joining Color Street with less than 50,000 active stylists nation wide and we have plans to branch out into Canada October 2020!!! Click here to learn more about how this amazing nail polished was developed!
3. It takes work to be successful.
As fun as joining Color Street is, this is still a business. In order for any business to be successful you need to put the work into it. Our team teaches relationship building over screaming at people for sales. Connecting with people will build slower success, but it will be sustainable!
Color Street has also recently launched a "Training Center" that has training videos from our top Stylists! It includes anything from what to do when you just joined to how to host a party to using social media! We also have the top ladies on OUR team do training in whatever area they have mastered! If you're worried about how you'll learn everything you need to know, we have you covered!! You just have to START!
4. Color Street does not require you to keep inventory.
Being required to hold inventory may make or break someone's decision for starting a business. Inventory based companies have exponentially higher start up costs because you are buying a lot of product out of pocket to then sell. Color Street allows Stylists to sell entirely through their replicated website. A lot of us have inventory we keep on hand, mostly for my own use, but you are not required to! It's actually not recommended to keep massive amounts of product.
5. Speaking of the replicated website, it costs $9.99 per month.
When joining Color Street you get a replicated website created for you where you can send customers and potential stylists to in order to buy or learn more about our opportunity. You also have access to what we call the "virtual office" which keeps track of many things for your business.
$9.99 may seem like an added cost, but it is tax deductible, and all you have to do is sell 3-4 nail polish strips each month to pay it off! If you were to create your own website and host it yourself, it would easily cost you double that amount per month, especially if you wanted it to look professional!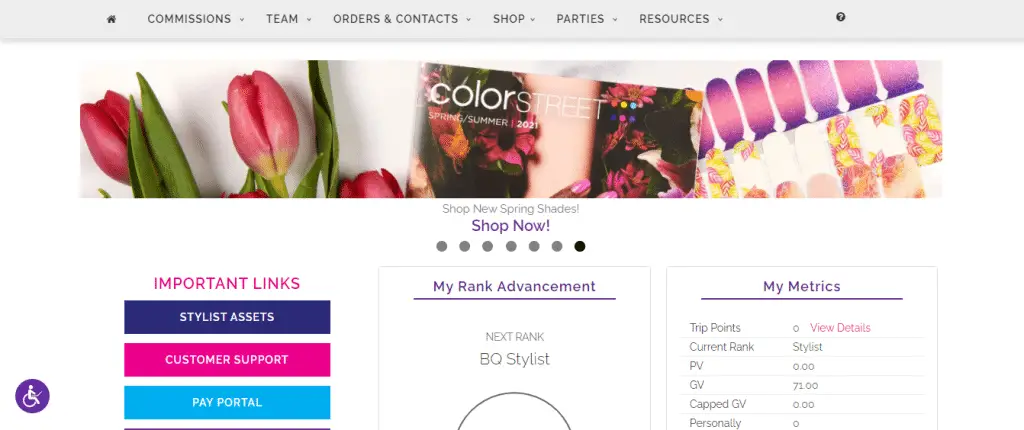 6. There is no sales requirement to stay active as a Color Street Stylist!
When joining Color Street, you are now NOT REQUIRED to hit any amount of sales goals to stay as an active stylist! This is a huge benefit to all those who only want to kitnap and buy for themselves!
OF NOTE: This post is meant for those just starting out and looking for the basics. There are different requirements to keep any team members below you so they don't "roll up" to the Stylist above you.
7. You are never alone!
One of the scariest things about starting a new venture or business is not knowing what to do and feeling alone. As soon as someone joins my team they are immediately welcomed into our team group and showered with love and excitement! We then provide you with resources that our own team has developed for hosting parties, leading a facebook group, expanding outside of facebook, etc! (not to mention the Training Center Color Street has developed that I mentioned above)
We all help each other succeed and there is NO competition! We are all one big family and we choose to lift each other up and celebrate our successes! 
8. You don't ever have to recruit anyone!
If building a team and recruitment is not for you, then you don't have to do it! One of the great things about joining Color Street is that it's YOUR business and you get to go in whatever direction with YOUR business that you want! The product alone sells it self. And although there are benefits and bonuses to those who build a team, there are plenty of stylists who are successful without a team! 
9. Starting commission is 15%.
Everyone starts at 15% commission each month on ALL sales. There are no exceptions. If you sell a nail polish strip you get 15% commission back EVERY WEEK! If you are able to sell $150+ in one month, you will automatically be bumped up to 20% commission! This has changed for 2023 and you can read about the new changes here. There are also bonuses for increased sales up to a total of 35% commission at $600 increments. If you want more in depth information about the Color Street compensation plan, click here!
There are no guarantees regarding the income from this opportunity. The success or failure of each Stylist, like in any other business, depends upon each Stylists' skillset and personal effort. Earning levels for independent Stylists are examples and should not be construed as typical or average. Income level achievements are dependent upon the individual stylists business skills, personal ambition, time, commitment, activity, and demographic factors. Read the income disclosure statement here.
10. Color Street is globally patented!
Yes, there are competitors and imitators of the Color Street nail polish strips. However, we have a globally patented product and the home office is constantly testing and investigating imitators for patent infringement. Imitation is the highest form of flattery and this just shows what kind of product we have!
Other companies want what we have, but nothing comes close to the superior product that is Color Street. (most are actually a vinyl product with adhesive and not truly nail polish) It is also one of the only nail polish strip companies that manufacture completely in the USA and not Asia! Color Street creates US jobs!
BONUS 11. HAVE FUN!
I didn't want to cheat you out of 10 good points with this cheesy end line, but it's still important! If you don't have fun painting your nails and expressing yourself through nail art, joining Color Street isn't for you! And that's okay! You want to be apart of something you have passion for. The saying that if you love what you do you will never work a day in your life could never be more true for direct sales! 
If you want more information about joining Color Street and the opportunity it offers, please don't hesitate to contact me and no questions are out of line OR indicative of your interest in the business. Don't be afraid to message me because you think I'm going to pressure you; that's not how we roll! You can also investigate this opportunity yourself by going here!
I hope this was helpful for you in making a decision one way or the other about joining Color Street and all that we offer!
Emily
Independent Color Street Stylist
Related Articles
30+ ways to use old nail polish strips
Tips for the perfect nailfie
How to save extra nail polish strips