Update January 20, 2023: Dashing Diva has officially decided to move away from the MLM/direct sales model due to all of the Dashing Diva MLM drama.
If you've been an avid Dashing Diva nail wrap user and lover for a while now, maybe you've heard about the upcoming Dashing Diva The Diva Life. Maybe you haven't! It is a brand new spin on your favorite brand.
I'm going to share with you all the information we know now and how you can sign up now for FREE!
What is Dashing Diva The Diva Life?
They're expanding to a social marketing model meaning you can get commission selling directly to your friends and family via social media and word of mouth. It can become a simple, fun side hustle to support your Dashing Diva habit by getting paid every Friday based on sales.
There will be exclusive premium products available only through this program such as a "Preferred VIP" monthly subscription! You will be able to chose the products and price point. Expect this to be available around February 2023.
These products include Magic Press, Glaze, Red Therapy, and new innovations!
Of Note: Gloss strips will only be available through main website – not Dashing Diva The Diva Life.
Watch the livestream replay by the company discussing and answering questions about the Dashing Diva The Diva Life.
What do you get for joining?
Immediately you start earning 25% earnings on all your personal customer & personal sales.
You get your own personal website for no additional cost
A personal dashboard to track sales.
Access for you and your customers to livestream new product drops with something new every single week!
Rewards, recognition, and more!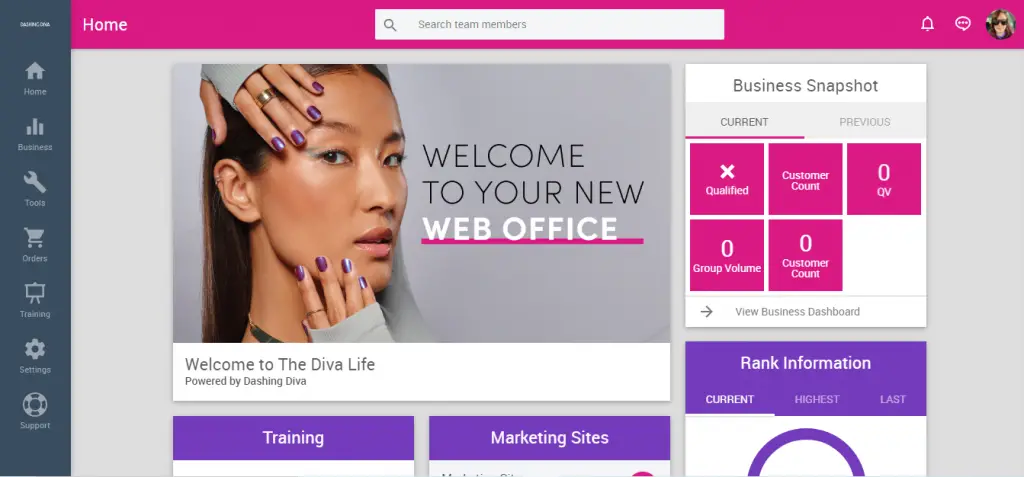 How is this different than their Affiliate Program?
While the affiliate program is a great way to share the product and earn some commission, the Dashing Diva The Diva Life takes it to the next level. The affiliate program only nets you 8% earnings on sales which is over 200% LESS than their new program! You have to wait until the end of the month for payment instead of every week as with The Diva Life.
Also, there is no cookie timeframe for sales making it simple to understand. Keep in mind that the affiliate program does not allow you to earn on your own personal sales.
Of Note: The affiliate program will not be going away so if that is more your speed you can participate in that instead.
When will there be more information?
Because this is such a new program, there will be a lot more information coming on Dashing Diva The Diva Life in 2023. While that may seem like a long time to wait, it is less than 1 month away! A fresh new year with a fresh new opportunity for those who love nail products.
What we know is coming and when
January 2023 – Official launch
February 2023 – Preferred VIP subscription box
Apirl 2023 – New packaging and a better exclusive premium product
Even if you're not sure if you want to be apart of Dashing Diva The Diva Life, now is the time to join because there is no fee to do so. That will not last and if you decide to join later, you will have to buy the starter kit ($99) which includes products as well as basic marketing essentials.
How is this different from an MLM?
Most MLM companies have a monthly minimum to stay active as a consultant, however Dashing Diva The Diva Life does not! Always earn 25% on all personal & customer sales regardless of the total monthly volume.
There are also no join specials. The emphasis is not on recruitment, but sharing your love of Dashing Diva and bringing new faces to the brand. Think of it more like digital franchising. Products will continue to be available at retail stores nation wide, but you can provide a retail option easier or closer to home.
Let me know if you have any other questions! Otherwise come back next month for new updates!