This month there were some Color Street changes for 2023 revealed by the company. These affect all Color Street Stylists as well as customers. Typically changes like these come around during the annual conference, but they couldn't wait to update everything based on their feedback and market research. So take a look and let me know what you think of the new changes in the comments!
FYI: These are not all the individual changes. I only included what I thought were the most important for most.
I like to focus on the general customer/user base, so we'll start with the customer changes. However, if you're a Stylist make sure to read through the entire post to be up to date on everything!
For Customers
Catalog Changes
It all starts with a new catalog strategy. Typically Color Street released 2 catalogs during the year – Spring and Fall. However, they will soon be switching to 4 seasonal catalogs (Spring, Summer, Fall, Winter) and 1 "core" catalog that includes the classics like Tokyo Lights that will never retire. The "core" catalog will be refreshed annually.
*Spoiler Alert* Petites will be returning!
There will also be a scheduled "collection lifecycle" meaning that styles/colors will be removed from the website on a regular basis to keep everything fresh. However, I'm assuming colors will be removed without warning based on the schedule so keep that in mind. If there is a color you don't want to miss out on make sure to grab it sooner than later.
Here's a graphic to reference on when they plan to remove certain collections.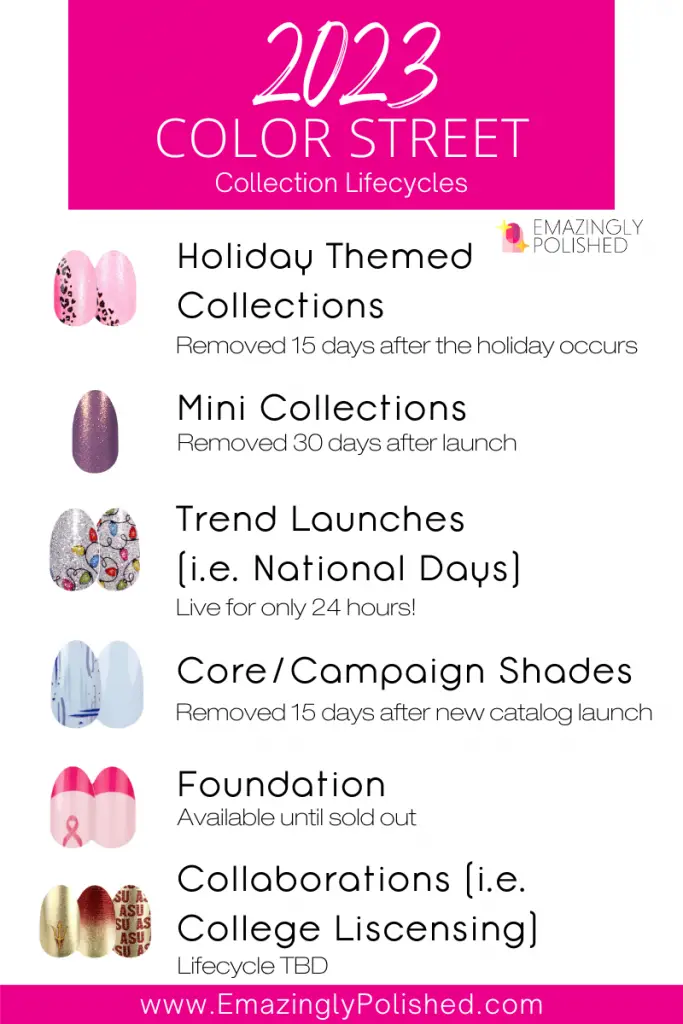 Pricing Changes
As a customer, you'll probably worry more about pricing than a Stylist would. And recently it seemed like there were so many different categories to determine the price that it was hard to keep straight.
Starting in March (with the new catalog release), there will be less confusing pricing. Take a peak at the photo below to see these Color Street changes for 2023.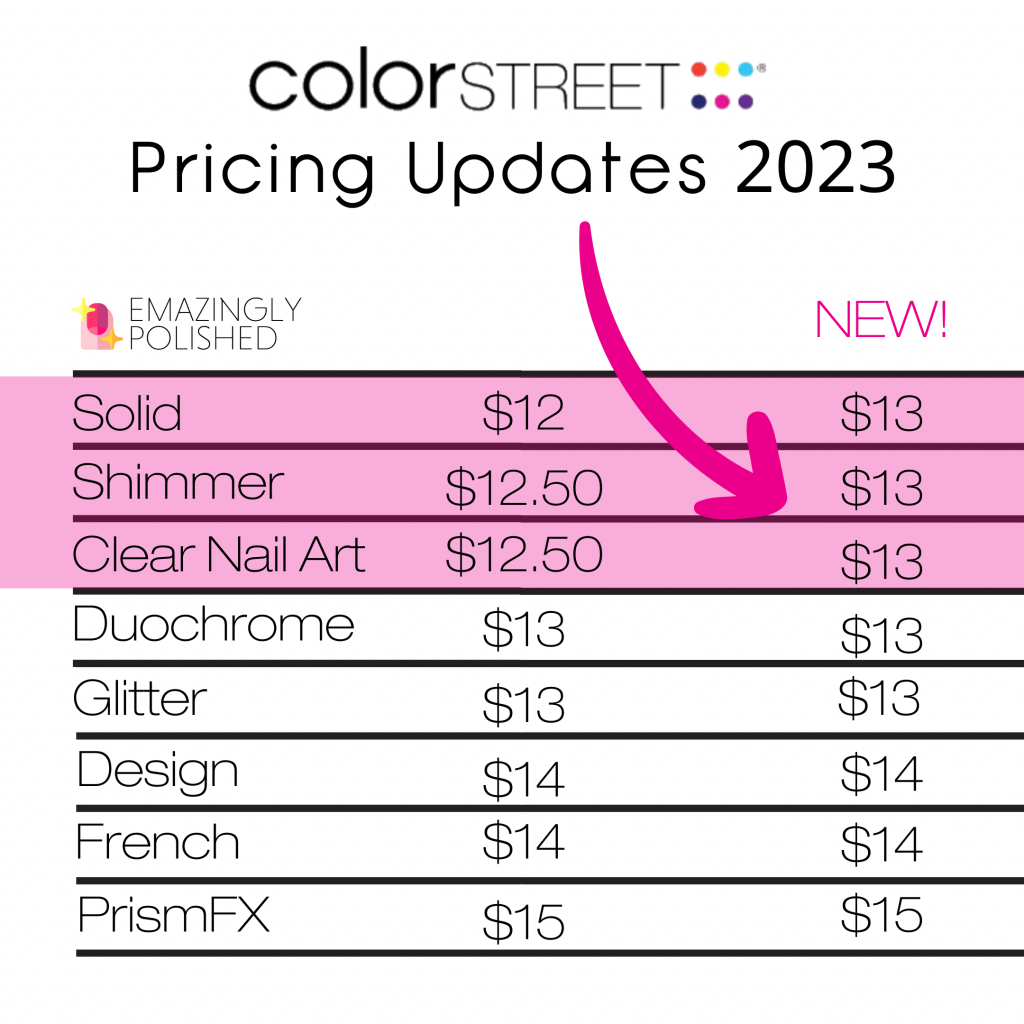 New Innovations
Color Street changes for 2023 also include new innovations! This is probably the most exciting category.
Toward the 2nd half of the year, there are plans for an expanded lineup of hand and nail care products including manicure tools! Think hand, nail, and cuticle care products. But starting at the end of February there will be a new and improved hand lotion formula based on suggestions received – i.e. fragrance free and nut oil free!
*Spoiler Alert* Press on nails are coming!!! However, they really have given us no clue as to when.
If you've ever looked at a design and thought to yourself (or outloud) that you wish it looked better? Well Color Street has now doubled the printing resolution! You will notice a much crisper and brighter design. Long gone will be the days of seeing printer lines through the design.
Make Up Additions
In the Spring, assuming with the new catalog launch, there will be new additions to the make up line. If you love make up you'll probably be happy about this, but I'm just a nail nerd which is why I haven't really written about the Color Street make up products before. Spring will bring bronzer, blush, and highlighter. They also plan to create a mascara, but that probably won't be until later this year.
For Stylists
A Move Toward Rebranding
Color Street is currently doing research to quote "reignite" the brand. They recently hired a new Creative Vice President who has worked with brands such as It Cosmetics, Bare Minerals, GAP/Banana Republic, and Este Lauder. The new VP made a comment of "Nails go great with fashion and we want to explore that."
Maybe we'll see a clothing brand develop? That most likely won't be one of the Color Street changes for 2023, unfortunately. It's still an interesting comment.
Germany Launch
If 2021 was for Canada, then 2023 is for Germany! You got that right! Color Street will be launching to Germany in March with it's own distribution center in Europe! There will be a special Facebook group just for German Stylists as well as opportunity calls. If you have anyone seriously interested in joining from Germany, there are prelaunch packs available right now for them.
New Commission Schedule
This a big deal guys! Starting February 1st, this new commission schedule will go into affect.
Base commission will still start at 15%, but there is now a 20% step once you hit $150 PV! It's not much, but it will add up.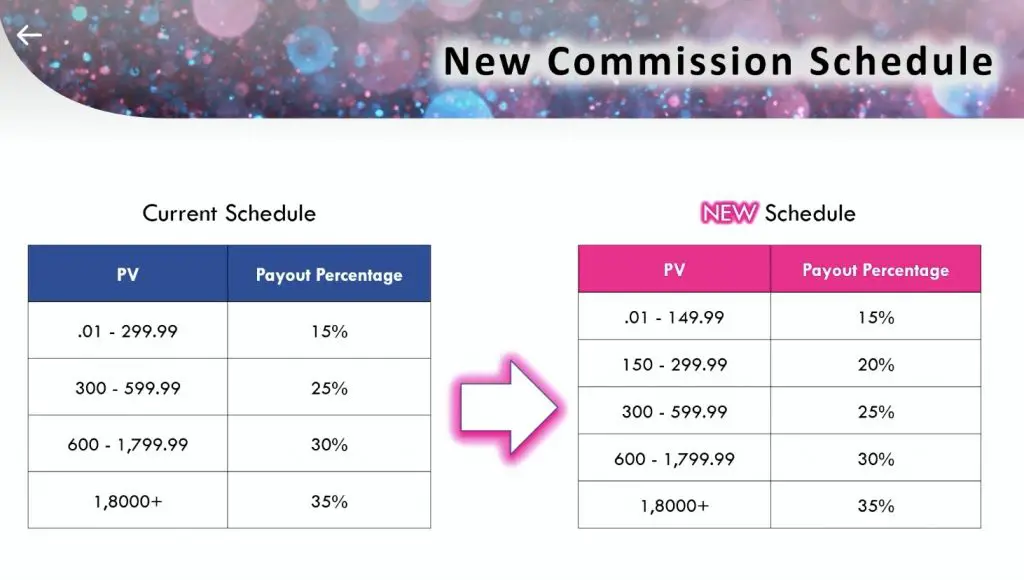 Home office had heard feedback since the last update and they have decided to add to the Color Street changes for 2023!
ALL NEW STYLISTS will earn 25% base commission on all sales during their Jump Start period (the first 95 days).
Reduced PV to Earn "Qualified Stylist" Title
I know this section will be short, but I had to separate it! February 1st, you'll only need to sell $150 PV each month to achieve the "Qualified Stylist" rank! That's 50% less (down from $300)! This will make it a lot easier to promote and keep more of the kitnappers or casual Stylists around.
To put that into perspective, that's only 1 qualifying party every month to hit it or 4 B3G1 bundles!
This is definitely my favorite of the Color Street changes for 2023.
New Rank Titles
Now rank titles aren't usually a big deal, but I couldn't talk about the Color Street changes for 2023 without mentioning it. The last update added A LOT of ranks making it confusing. I personally think the new ranks are less confusing as they follow the same pattern. take a look at the graphic below to see the list and how the relate to the current ranks. And just like most other changes, these take affect starting February 1st!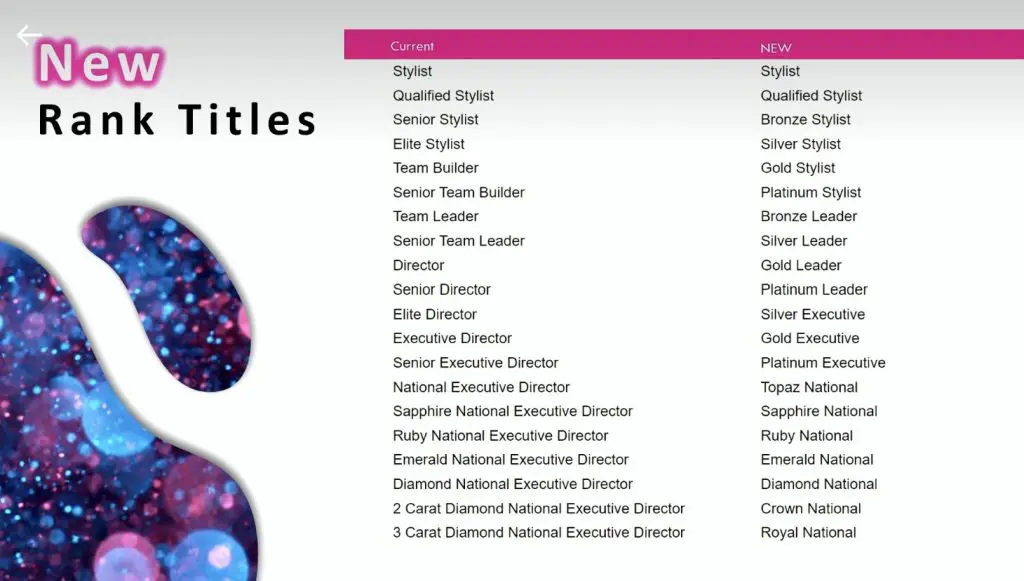 Which is your favorite of the Color Street changes for 2023? Are there any you're not thrilled with? Let us know in the comments.