Making earrings with Color Street is probably one of my favorite ways to use old nail polish strips. It doesn't take long to do and you're able to accessorize with a color, glitter, or design that you love so much! I'll walk you through the steps right here showing you how easy it is! This tutorial will work with any brand of strip or wrap as well!
This post contains affiliate links for products that I personally use or believe you will love based on quality. If you click on a link and make a purchase I may receive a small commission (at no additional cost to you). This helps support my rainbow to continue to make great content for you!
Once you master this technique, your creativity can run free! Find ways to make bracelets, necklaces, pendants, or even beads! Make sure you subscribe to my newsletter in order to follow all of my future crafty tutorials with nail polish strips!
Making Earrings with Color Street
Supplies Needed
*The type/style of earring you use doesn't matter as long as it has the cabochon glass dome.
FYI: Color Street nail polish strips are protected intellectual property and they forbid the sale of any products made with their nail polish strips. This tutorial is entirely for personal use and gifting only.
Detailed Instructions
You can watch this video or follow the instructions below for making earrings with Color Street!
Put a small amount of glue on the base of the earring. (If transparent design/color, omit this step because the glue doesn't seem to turn clear underneath)
After removing the clear plastic layer, use a circle hole punch or scissor to cut 2 circles from the chosen nail polish strip. If you're using bigger earrings (12 mm diameter) like the ones in this tutorial, you may need to use the largest "thumb" strips in the set.
Remove paper backing and press circle down.
Apply another small drop of glue on top of the strip.
Place one glass cabochon on top of the strip and push down gently.
Allow to dry for a couple hours to ensure the glue cures completely and turns clear. While curing make sure the earrings are kept level/flat.
Making earrings with Color Street has never been easier! Once completely dry they are ready to be worn!
FYI: You may notice that the circle of Color Street I used is a little small for the size of the earring. I didn't realize how big of a hole punch I needed when gathering supplies so I just went with it. The glass dome fills it in a little bit, but you can still see the metal backing. For Shangri-La it looked okay, but for making earrings with Color Street with other colors/designs you'll want to make sure that it covers at least 90% of the backing. (Shamrock design was more successful)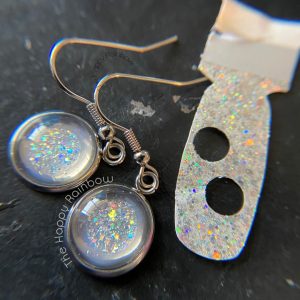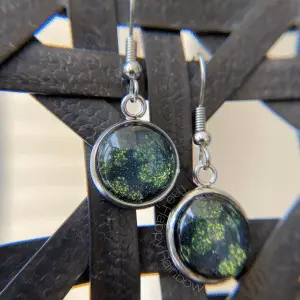 Extra Tips
-Make sure to spread the glue all over and not just around the edges. When the glue dries, it will create dark spots or shadows in the areas with no glue. (pushing down the cabochon glass dome helps spread the glue around.)
-Have a wet paper towel nearby in case you use too much glue. It wipes away easily when wet, but once dry it can be difficult.
-The Diamond Glaze glue is runny and thin. Less is more when making earrings with Color Street.
-Bubbles are difficult to remove if you get them, try not to shake the bottle of glue. If you get bubbles, quickly wipe away the glue and reapply.

Have you tried making earrings with Color Street before? What about with a different brand of nail strip/wrap?
Emily