By now you've probably figured out what nail wraps are, but maybe you're not quite sure if they're a good fit for you yet. I've compiled a complete list of nail wrap pros and cons to hopefully get you to that very personal answer! Nail wraps have been the best thing to happen to me, but that doesn't mean you'll love them as much as me.
This post contains affiliate links for products that I personally use or believe you will love based on quality. If you click on a link and make a purchase I may receive a small commission (at no additional cost to you). This helps support and enable me to continue to make emazing content for you!
Nail Wrap Pros
Zero dry time
The absolute biggest nail wrap pro would be the fact that there is zero dry time required. This makes doing your nails so much easier and quicker than traditional liquid nail polish. You can apply them to your nails are get back to most normal activities without the fear of smudging and having to start over. Along with that comes the idea that nail wraps are a "one coat" manicure. No more needing to do 2-3 coats on each nail to get the color or strength that you need for lasting color. Nail wraps are the fastest way to do your nails without a doubt!
Complicated designs without the work
Another major nail wrap pro is that nail wraps allow you to have the complicated and intricate designs without any of the work! You can get that perfect full glitter nail without the frustration, too. There's no need for extra nail art tools, 14 colors of liquid nail polish, or an incredibly steady hand. Some nail wraps even include gems or faux gems embedded in the strip already!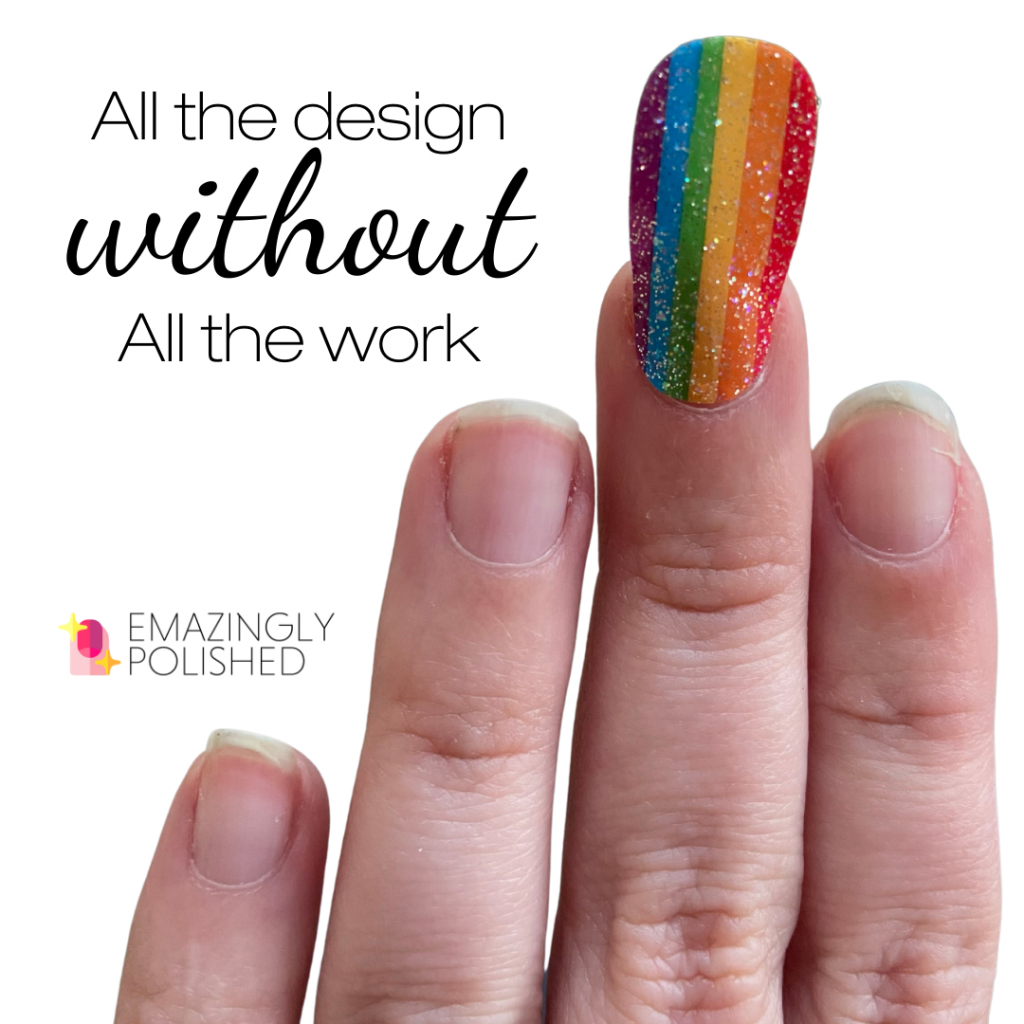 No more mess
Nail wraps allow you to do your nails almost anywhere and without the mess of traditional liquid nail polish. There's no flooding your cuticles with nail polish or needing liquid latex to easily clean up the polish that stuck to your skin. If you drop your nail wraps onto the floor there's no staining or complicated procedures to clean it up. Even if a nail wrap were to get stuck to carpet, blankets, or a couch you can simply pick them off like you could a sticker.
Price
Of course price needs to be included in this list of nail wrap pros and cons. Did it surprise you to be considered a pro? Most nail wraps cost anywhere between $3-$6 each, which is already cheaper than most quality bottles of nail polish.
If you take into consideration the amount of time it would take to make the designs on nail wraps, they would actually be much cheaper than traditional nail polish despite how many manicures you can get out of a bottle. I guess it really just depends on how much your time is worth to you. I don't usually have time to do my nails any other way.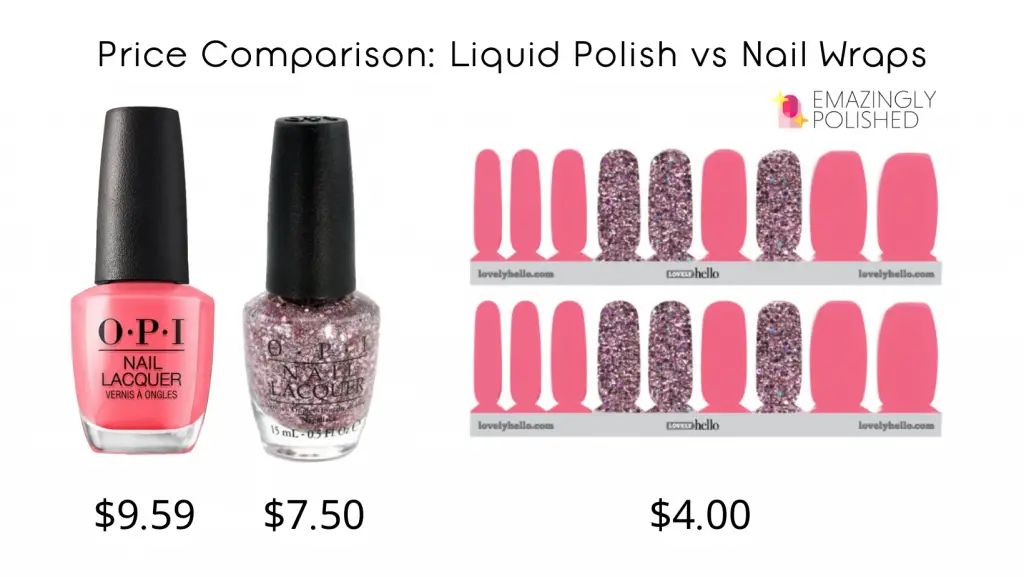 Longevity
Nail wraps are made thicker which makes the last longer on the nail and are less prone to chipping and cracking. While most nail wraps will still recommend a good quality top coat for added longevity, I have used them plenty of times without a top coat. If you're not looking for your manicure to last 2 weeks, I would ditch the top coat since it will make your nails easier to remove as well.
Nail Wrap Cons
Intensive nail prep
While nail wraps are incredible tools for DIY nail art, one of the biggest nail wrap cons is the amount of prep that is required prior to application. In order to make sure that the adhesive can stick to your nails (and last), nail prep is absolutely important. If you have problems with nail wraps, it will probably come down to what you did wrong with your nail prep. You can read my article about the best ways to prep your nails for nail wraps for more info.
Limited creativity
As far as all the nail wrap pros and cons go, the limited designs don't allow for complete creativity freedom. This is probably one of the biggest reasons people don't use nail wraps and instead stick with other nail art techniques like stamping. Those give more creative freedom. With nail wraps you'll limited to what has been premade on the wrap. You can always stamp on top of nail wraps for more creativity, but it would still be a con since you would need to invest in other resources.
Potential for nail damage
Like all nail embellishments, even if nail wraps are removed properly there is a risk to damage your nails. You need to make sure that you remove your nail wraps the right way in order to mitigate that risk and keep your nails healthy. Some people like to pick them off and that is when you end up taking layers of your nail off with it leading to peeling and weakness later on.
Acetone is not friendly to nails either. If using nail polish remover to take off your nail wraps (some don't even require it), a non-acetone remover is recommended as they are not as harsh on your nails and cuticles. If you do use acetone, try to rinse your hands immediately after using it to keep the drying out to a minimum. And ALWAYS moisturize with a good cuticle oil or balm following removal.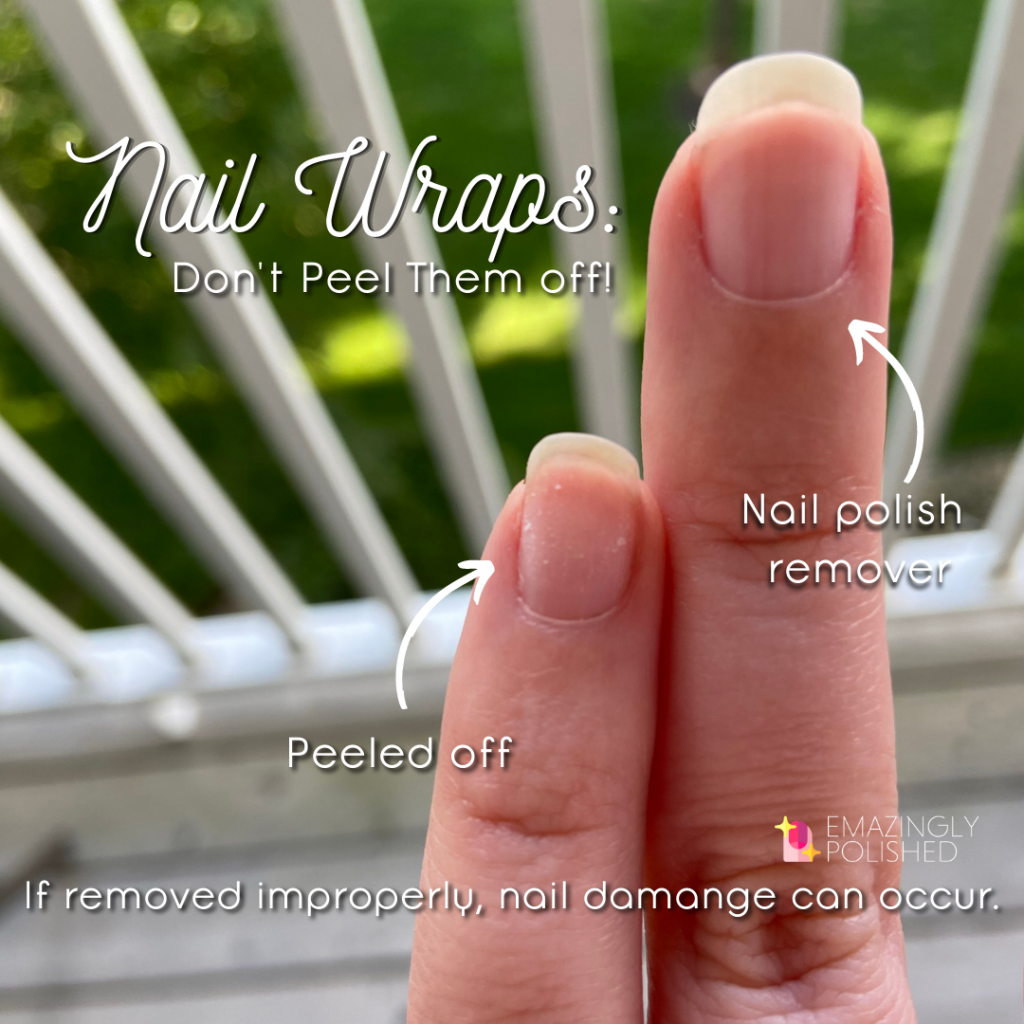 As you can see there are more nail wrap pros than there are nail wrap cons. Despite that, different nail wrap pros and cons will weigh differently with other people. Some might put more emphasis on the fact that there's no dry time, while others will hate the lack of creative freedom with nail wraps. The best philosophy is one where you utilize all different types of nail embellishments because they all work best for different situations.
If you're unsure about nail wraps and how they fit into your DIY nail world, I would go ahead and try them out. They're not terribly expensive and the product on your finger nails will speak louder than any of my words. I recommend giving LovelyHello a try!
What nail wrap pros and cons do you use to decide whether or not to use them?
Em