I know it's still January and the new year just started, but it's never too early to start planning your nail art with the best Valentine's Day nail wraps for 2022. Before you know it February will be here and if you've already got your nails sorted out you can spend more time with whatever events you want to plan with your special someone.
Lots of nail wrap companies have already launched their best Valentine's Day nail wraps and I've compiled my favorites for you all in one place. You'll easily be able to shop around to get the best designs for your personal taste.
This post contains affiliate links for products that I personally use or believe you will love based on quality. If you click on a link and make a purchase I may receive a small commission (at no additional cost to you). This helps support and enable me to continue to make emazing content for you!
Dashing Diva
I always like to bring up Dashing Diva because they make such great nail wraps and also provide other very helpful nail products! They're also readily available in stores so you don't HAVE to buy online if you don't want to. (But you get free shipping with any order of $15 or more which isn't hard to do)
My favorite of their launch is "Glam Kisses".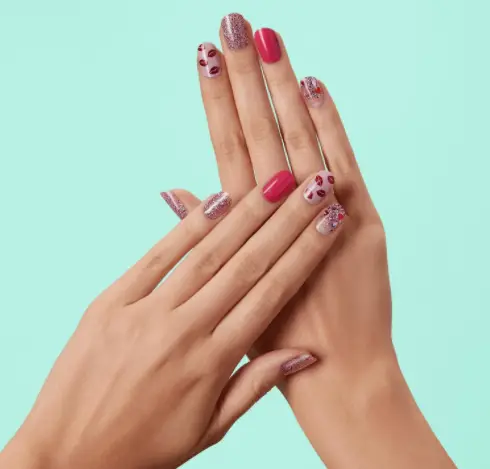 It's still traditionally Valentine's, but it gives you a little bit of everything, solid red, lip design, full color glitter, and a chunky ombre glitter with hearts! You won't need to buy more than one design to mix and match with this set.
You can see all the available designs here.
LovelyHello
If you're looking for something a little more elegant, look no further than LovelyHello! They have quite a few designs in their collection to choose from making it easy to find some of the best Valentine's Day nail wraps.
When I saw this "Red Modern Love" wrap, I knew this was my top pick. Like in the name, it's a modern take on a french manicure, but "wrapped" with the simplicity of the black line and single heart.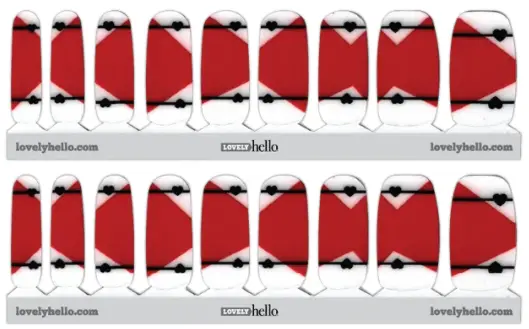 Red not your thing? It also comes in a nice muted purple, too!
The Flamingo Lady Nails
This brand has an exclusive making my list of the best Valentine's Day nail wraps called "Wild at Heart"!
It gives me throwback vibes and I'm really loving it! It's great if you want a little animal print, but don't want it to be the main show.
Here's 10% off on your first purchase too!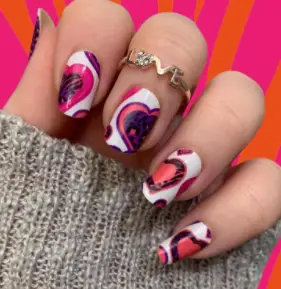 Pink Raindrop Nails
Okay cat lovers – check this out! These "Kitty Love" nail wraps are the absolute cutest for Valentine's day! I'm a huge cat mom so I flock to cat nail wrap designs like I'm sure other crazy cat people are.
These do say that they're a kid design, but I'm sure if you have smaller nails they will work out perfect for you as one of the best Valentine's Day nail wraps! You can also see the dimensions written on the base of the strip to give you an idea if they will be too small or not.
Lily & Fox
It's so hard to pick one top favorite from a nail wrap company that has SO many different designs to chose from! However, one had to win for this list unfortunately. Don't like my pick? See all the others and decide for yourself!
The "Paris Afternoon" wraps are so beautifully designed and it's not as traditional as hearts. It gives you that vintage romance feel that only old world Paris, France can give.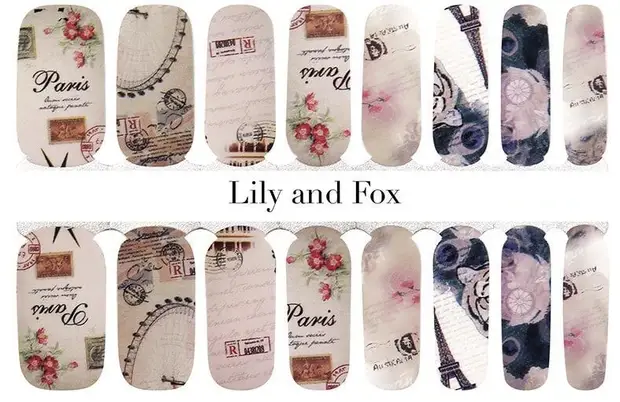 If using this design on ALL of your nails feels too busy, you could easily pair it with some solid red or even a light glitter to give it a little more glam.
Tough Girl Nails
Sometimes a simple ombre is all you need for Valentine's Day nail art.
As the best nail wrap brand I've found on Amazon, they have great nail wraps (not to mention PRIME shipping!)
This "Pink Ombre" is the perfect simple touch.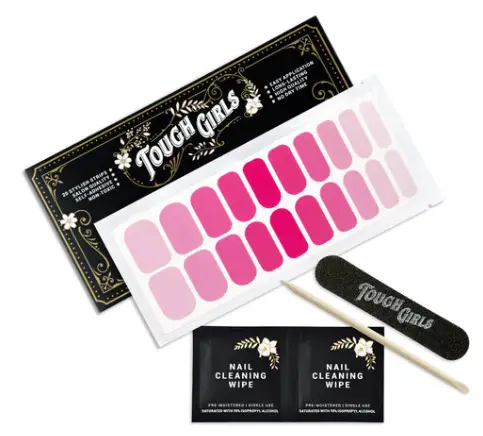 New to this brand? Check out my full review of them.
Sawyer and Scout
I actually learned about this brand from a random Facebook Ad. I saw they had some Valentine's Day nail wraps and boy was I right! They have some of the cutest designs! But I could only pick my favorite one and I chose the "Conversation Hearts"!
I know they're pretty cliché, but I loved the fact that they were on a clear background giving it some negative space.
After a while you start seeing the same designs over and over, but I was really impressed with how many unique to Sawyer & Scout designs they have too. This definitely helps them stick out amongst all the other brands which is how they made it on the list of the best Valentine's Day nail wraps!
Karma Nails
These "Kind Hearts" nail wraps are super cute and whimsical! The little hearts and lines remind me of party streamers and confetti! These are perfect to put a smile on your face and love in your heart.
They also put together some Valentine's Day nail wrap bundles to easily mix and match or have enough for the entire month of February!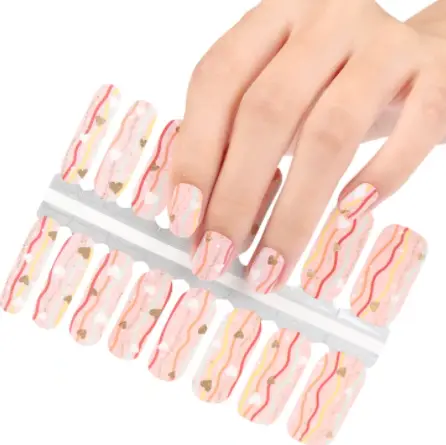 It's still early so I'm sure more companies will start to release their best Valentine's Day nail wraps soon, but at least this is a great place to start!
Emily