I was surfing around on Amazon recently and noticed that there were Tough Girls nail wraps for sale that looked like good quality. The reviews were pretty good with a solid 4.5/5 stars and over 6000 independent votes. Because of how highly rated they were I decided to give them a try!
I want to make it clear that this is not sponsored by Tough Girls and I decided to write this review myself. These words are my actual thoughts as I tried the product for the first time.
This post contains affiliate links for products that I personally use or believe you will love based on quality. If you click on a link and make a purchase I may receive a small commission (at no additional cost to you). This helps support and enable me to continue to make emazing content for you!
Price
The base price of the Tough Girls nail wraps is $8.95. While this is a reasonable price, it is definitely not the cheapest brand out there. However, unlike others Tough Girls includes everything you need to do your nails – nail file, cuticle pusher, and alcohol prep pads.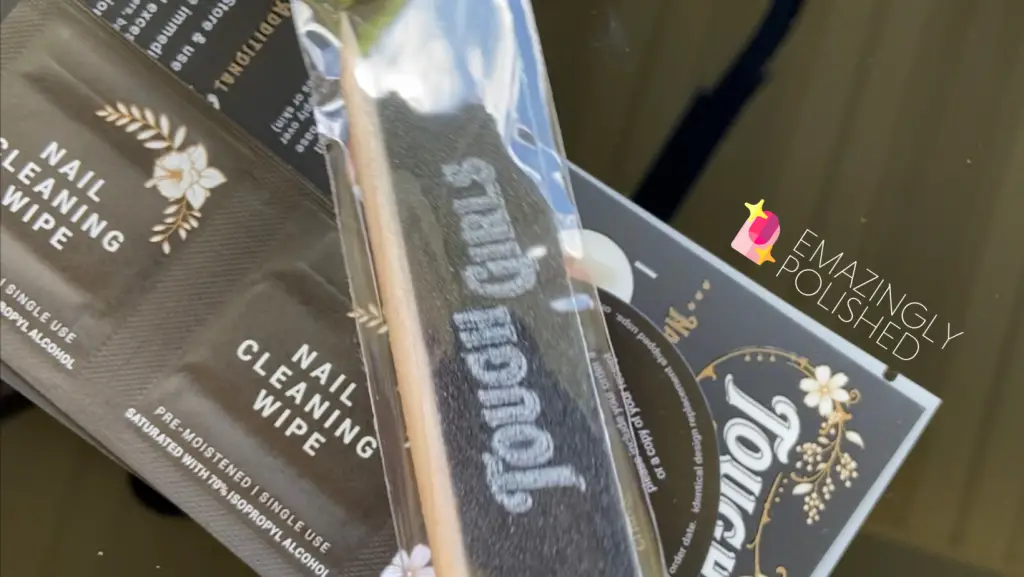 These strips do last for some time after opening without any resealing. I simply placed them back into the original plastic sleeve it came with for storage. After 2 weeks I was able to use more strips getting the most out of the price. This makes spending $8.95 per set much more budget friendly knowing you can use the left overs later.
Selection/Fit
Tough Girls nail wraps have about 68 different colors available at any time. This is a fairly good selection with a mix of solids, designs, and glitters. However, if you need something specific this might not be a big enough selection to find what you're looking for.
However, one of my favorite things about this brand is that each wrap comes with a curved side and a square side to accommodate for different nail types. I have some nails that are nice and curved at the cuticle and some (like my thumb) that are definitely more square. This creates the problem of wraps not fitting well enough and you can see gaps of bare nail. Having the option of both gets me the best fit for each finger! I wish more nail wrap companies would do this!
Application Process
The application process for Tough Girls nail wraps is fairly basic and similar to other brands. Nail prep is still important. There are more sizes than Color Street (20 strips instead of 16) and I noticed that one side of each strip was more curved or boxy depending on what shape your nail bed is. This is probably my favorite thing about Tough Girls nail wraps. My nails tend to be more boxy and Color Street strips are only curved at the base which causes me to have gaps where my natural nail is showing.
The largest strip is 11/16″ in width and the smallest strip is 5/16″ in width. This gives you a huge range of in between to find the best fit for each nail. Each strip is also 1″ in length. If you have really long nails these won't work for you unfortunately.
Watch the video below for my entire Tough Girls nail wraps review through the application process.
Longevity
I would say these last about as long as any other type of nail wrap – a good 5 days before you start seeing any wear/chipping. The one thing I liked about this product is it wore down at the tip fairly evenly without any distinguished chips. During my tough girls nail wraps review trial I did put a clear top coat on after day 5 to see how much longer they could go.
After applying a top coat you definitely get some longer wear.
The company states to use the Tough Girls nail wraps immediately after opening, but I was able to successfully apply unused strips 2 weeks after opening. They were still sticky and pliable just like brand new. This is great because you get so many different sized strips that it's impossible to use most of them even for a full manicure.
Removal
The removal process for the Tough Girls nail wraps was pretty easy. I'm still working through my last bottle of Mineral Fusion non-acetone nail polish remover and it only took me about 3-5 minutes to soak off the wraps with my favorite nail clips. I had successfully removed a wrap with just using some excess cuticle oil, but it wasn't as nice to the nail as the nail polish remover was.
Tricks I've Learned
Unfortunately, the inner packaging the Tough Girls nail wraps are in is very difficult to open. There are notches where you should be able to tear the packaging open, but it doesn't work that easy. I ended up having to cut it open which isn't the end of the world, but why have the notches if it doesn't help.
The company states that you should wait 6-8 hours before applying any top coat AND THEY MEAN IT! I tried to put on a clear top coat to one hand about 3 hours after application because it seemed like it was good and cured. However, the strips got very tacky and started to smudge. I eventually just pushed them off clean with a cuticle pusher because it seemed like it lost all of its adhesion. Really strange.
During my Tough Girls nail wraps review trial I just let it wear without a top coat to see how long it would last and then put a clear coat on again after day 5. This was a faster drying top coat than the first one I tried thinking maybe that would make the difference. It definitely worked once it was dry, but I think it bubbled a little. I also got a bunch of cat hair under it so my photo doesn't look that great. ugh. cats. I think the trick is to just make sure your top coat is 100% dry before you do anything.
I also noticed they don't take kindly to cuticle oil (at least not without a top coat). They strips got tacky and I didn't think they would hold up without a top coat.
Compared to Color Street
When you compare the Tough Girls nail wraps to Color Street there are some clear differences, but also some great similarities.
The biggest difference is definitely the thickness. Tough Girls nail wraps are much thicker than Color Street and they cannot be perforated without a scissor. However, having thinner strips makes them more delicate and prone to tearing. I have experienced this with Color Street if I'm not careful when removing the excess.
Color Street smells like nail polish whereas these definitely have a plastic smell. It does stick around longer than it does with Color Street, but applying a top coat helps get rid of that plastic smell.
Both nail wraps last at least 5-7 days depending on how hard you are on your nails and if you follow the instructions. I do think in order to get the best longevity with Color Street you need multiple layers of the strips or a solid top coat whereas that's not needed with the Tough Girls nail wraps. You also have to properly reseal Color Street or it hardens and becomes difficult to use.
Both brands also have a great selection of designs, glitters, and solid colors. Color Street wins in the total number and how often they release new designs, but there's definitely still a great selection with Tough Girls.
Color Street has fewer sizes of nail wraps, but they are about 1/4″ longer than the Tough Girls nail wraps. If you have longer nails you'll likely want to stick with Color Street.
Oh and because Tough Girls sells their product on Amazon, you can get your nails with FREE Prime 2 day shipping instead of paying $3.99 through Color Street.
Overal Impression
My overall impression of the Tough Girls nail wraps is a solid A-.
Not only are they available on Amazon with free Prime 2-day shipping, they work well once you learn the specific tricks to them. There are options for more curved nail beds as well as boxy nail beds which is rare for nail wraps. You get everything in one package just like Color Street which makes these nail wraps great gifts and allows for easy travel since you don't need to bring anything else.
The price is very reasonable especially since everything is included and you won't need to pay for shipping, but these nail wraps are definitely not the cheapest option. And knowing that the unused strips can be saved and used later makes it more budget friendly too.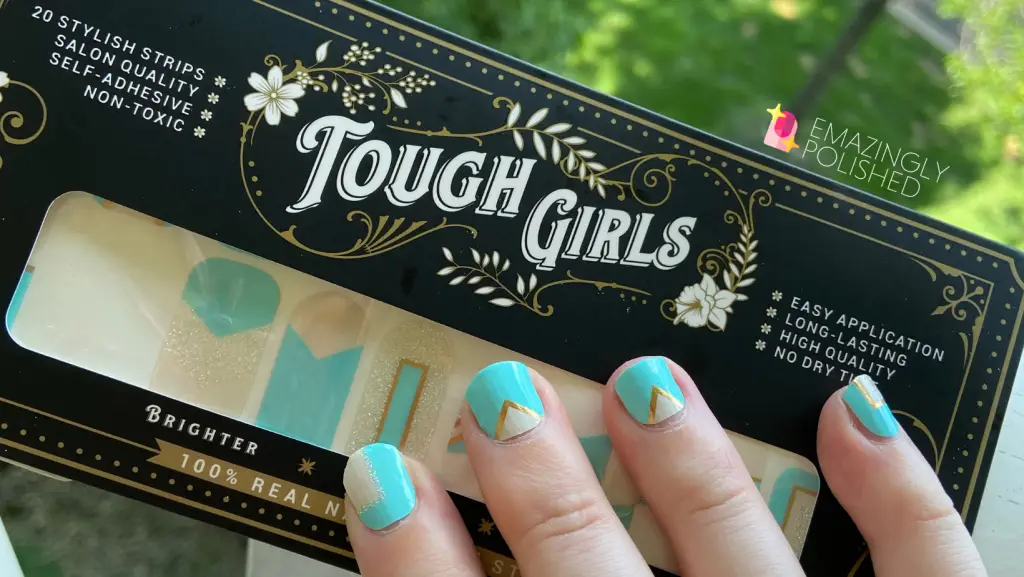 I took some points away simply for the fact that you really need to apply a top coat to protect them from even cuticle oil. But you also need a fast drying top coat because the wraps can be easily removed while it dries – even if they've been on your nails for a few hours.
If you're looking for a Color Street dupe to try, this would be a great option! Just make sure to apply a top coat preferably the next day and make sure it dries completely before you try to do anything else.
You can find the list of other nail wrap brands I love if this one doesn't spark your interest.
If you want more information on this company, please visit their website.
Em