I was first introduced to the magical Color Street 100% nail polish strips back in 2018. Having never used or known about nail polish strips prior to that I was immediately hooked. I hosted my first Facebook party that turned into my business launch party the same week. Now the reasons why I quit using Color Street are not as easy as saying "It doesn't work" because it does. It's a great product and I don't want this to be a hateful post on Color Street. I still use it on occasion, but I don't use it exclusively anymore.
Updated November 17, 2021
My nail polish strip world has since grown and I've been able to try many different kinds. However, it does come down to personal opinion so let me walk you through MY personal decision as to why I quit using Color Street. Hopefully you can use this as a starting point for your own opinions.
This post contains affiliate links for products that I personally use or believe you will love based on quality. If you click on a link and make a purchase I may receive a small commission (at no additional cost to you). This helps support and enable me to continue to make emazing content for you!
Other products last longer
Surprisingly my number one reason for why I quit using Color Street was because I found other brands that would last longer. I'm a medical laboratory scientist by trade and all the hand washing and glove wearing would eventually cause issues with Color Street – not immediately, but faster than others.
While I can get 5-7 days with Color Street before cracking and chipping start, with other brands I get 7-14 days. I'm sure this is because they aren't 100% nail polish, but when you're spending a good amount for nails you want them to last as long as possible.
Over my years as a Color Street Stylist I definitely learned tips and tricks to solve some of the most common Color Street problems, but sometimes it still wasn't enough and that's why I quit using Color Street.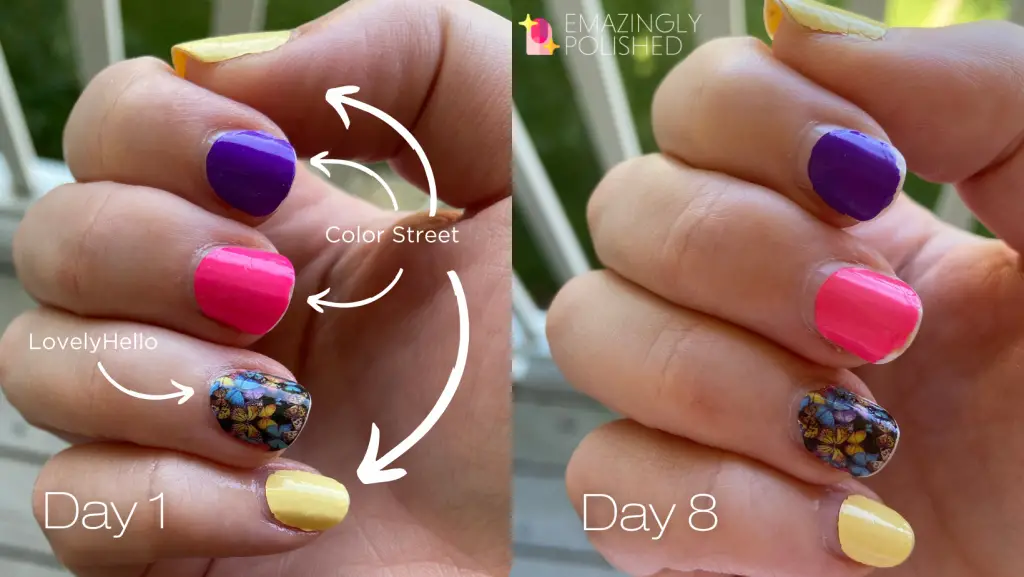 There are cheaper products out there
You would think that price would be the biggest deciding factor for why I quit using Color Street. However, as a Color Street Stylist I typically got my own product for free. I didn't pay for much as I could cash out on my own parties. Needless to say there are a lot of cheaper products out there in the nail polish strip/wrap world. I'd say the average price for most nail polish strips is around $5.00, but you can find some as cheap as $2.99.
But keep in mind that just because they are cheaper, doesn't mean they are better. Like I initially mentioned, Color Street is a great product that does it's job and I truly believe it is the ONLY 100% nail polish strip brand out there.
I think most others are half nail polish, half vinyl or adhesive. (most of the time they smell like plastic or glue compared to the nail polish smell like Color Street) But if the reviews are good, they're usually a good product!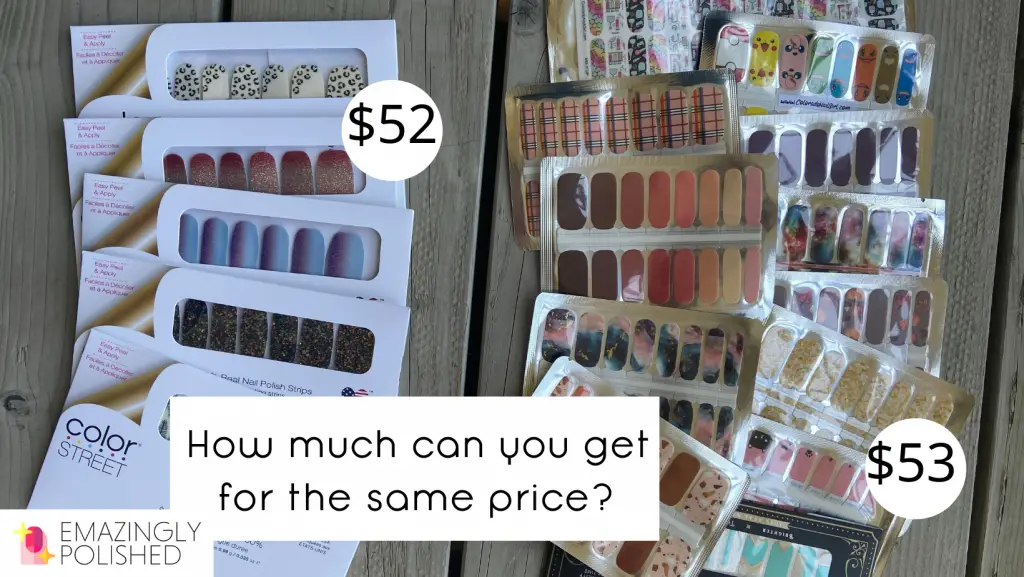 Better Designs Elsewhere
One of the best things about Color Street was new design/color launches almost every month. It gave you variety and something new to look forward to outside of the catalog list. And while Color Street has around 100 different colors and designs at all times, they started to grow dull. Or the newest and best styles would sell out so quickly I wouldn't (or my customers) get a chance to buy them.
As I was exploring other brands I realized that their designs were better. And maybe that's because the technology isn't quite there for products made 100% out of nail polish yet, but what I was looking for in nail art wasn't getting made by Color Street anymore. That gave me another reason for why I quit using Color Street.
Supporting non-MLM small business
When you get sucked into the MLM lifestyle it's easy to spend all your money supporting your friends in other MLM businesses. While I don't believe that is inherently bad, the truth is most people who join MLM companies lose money (even with your support). I was a lucky one who actually made money, but it wasn't a ton – no more than $200-400/month. For some, not wanting support MLM companies and their wave of destruction is enough to not want to use a product.
However, one of the reasons why I quit using Color Street wasn't necessarily to stop supporting MLM, but to start supporting true small businesses.
Can Remove Others without Nail Polish Remover
This doesn't necessarily represent ALL other nail polish strip/wrap brands, but there are some out there such as Dashing Diva that don't even require nail polish remover to get them off your nails! This is mind blowing because nail polish remover (acetone and non-acetone) is probably the biggest reason why people experience peeling nails.
I never had much of a problem with nail peeling, but I did have some which gave me another reason why I quit using Color Street exclusively. It's best to moisturize your nails/hands as much as you can with cuticle oil or hand lotion to help prevent peeling in general. But if you can ditch the nail polish remover at least some of the time, your nails will thank you!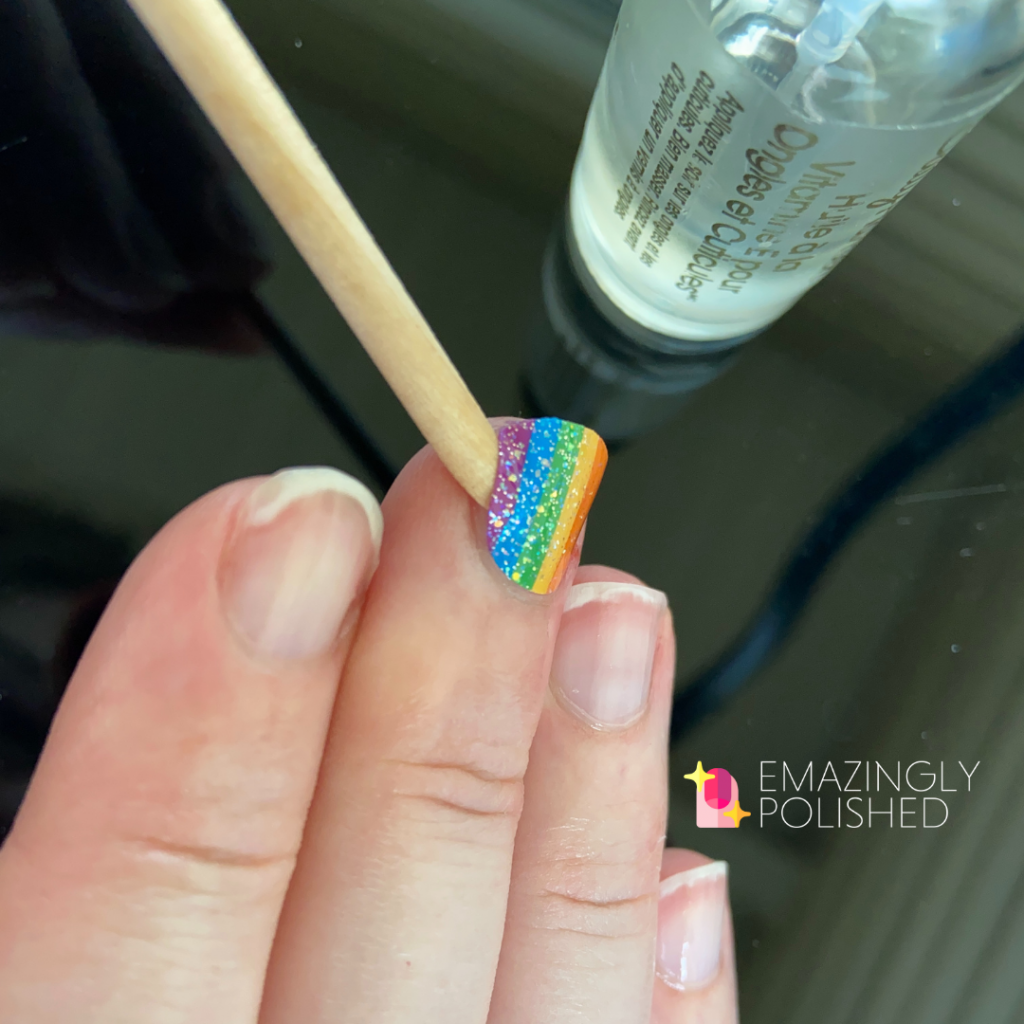 What I'm using now
At this point, my absolute favorite nail polish strip brand is LovelyHello. It's obviously not the only brand I will use because of the reasons above. There's plenty of options and I don't have to ONLY use one brand.
They seem to fit my nail shape the best and last the longest. They always have free shipping and PLENTY of designs to chose from! I've also found their customer service to be good.
You can read about my favorite Color Street alternatives as I tested a bunch of brands to see which could top the list. This was also part of my research to find a Color Street replacement to finalize my reasons why I quit using Color Street. Give them a try and find your own personal favorite. They're cheap enough to give them all a go!
I'm always up to try new brands of nail polish strips/wraps. Do you have a favorite that you swear by? Comment below so I can check them out myself or let me know if you want me to try something before you do.
Emily