As a current Color Street lover and Stylist, you'd think I would have a problem writing a blog article about Color Street dupes (duplicates) in the nail strip/wrap world. However, I completely understand that people have different reasons for loving Color Street as well as walking away from Color Street. I created a list of the best Color Street alternatives with everyone in mind. With so many different nail strip/wrap companies out there, which ones match the closest with Color Street? How can someone easily transition?
Updated November 4, 2021
This post contains affiliate links for products that I personally use or believe you will love based on quality. If you click on a link and make a purchase I may receive a small commission (at no additional cost to you). This helps support and enable me to continue to make emazing content for you!
Incoco
If I want to frank, the absolute best Color Street alternatives come from Incoco. Why? Because they are basically the same product created by the same company. There are some slight quality differences, but they aren't different enough to really notice or care about. And with the price difference between Incoco and Color Street, you can't really go wrong. Unfortunately, the brand is moving away from Incoco to focus more on Color Street making finding Incoco nail strips more difficult. Eventually they will likely be unavailable altogether.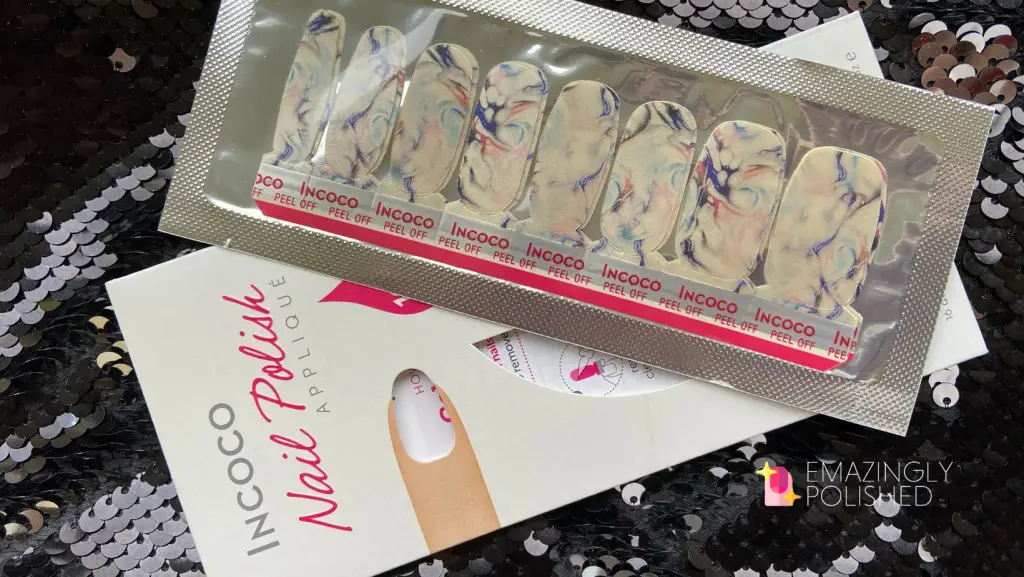 I've detailed the most significant differences between Color Street and Incoco that you can take a look at.
You can find these nail wraps in store and online at Walmart. They are no longer sold at Ulta Beauty.
LovelyHello
Another of fantastic Color Street dupes is the brand LovelyHello. They sell nail polish strips of varying sizes including kid-sized strips like Color Street used to do. The LovelyHello kid-sized strips are slightly smaller than the Color Street petites – smallest strip width is 6.5 mm vs 7.9 mm and the largest strip width is 14 mm vs 14.2 mm. And in general, these nail polish strips run a little smaller than Color Street.
In general, the LovelyHello nail polish strip Color Street dupes are slightly thicker in feel as well. However, this has typically only proven to improve the longevity of the strip and definitely a pro instead of a con. You are unable to perforate the strips with your nail and the extra has to be cut and filed off making it just slightly more difficult to apply. These do come off very nicely with non-acetone nail polish remover.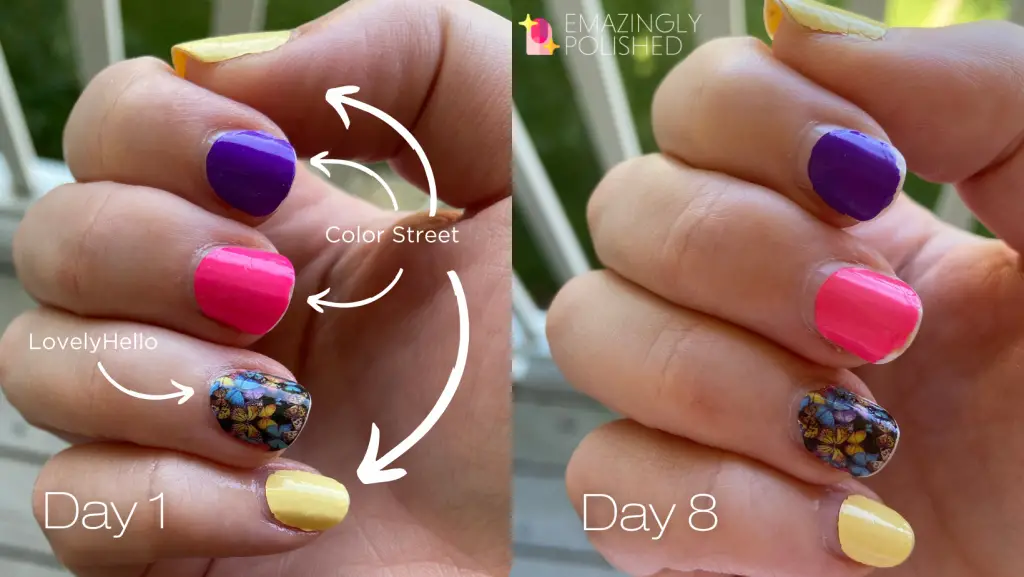 In my first attempt at wearing these, they seemed to resist chipping more as well as lifting at the base around the cuticle where I would typically have problems with Color Street. I didn't have any issues with my hair getting caught under the wraps. Definitely worth a try and there's free shipping with orders $15 and more!
Nails Mailed
This nail polish strip company is another great option for Color Street dupes. They have an incredible variety of colors and designs just like Color Street, but at a fraction of the cost! Shipping is ALWAYS free and in addition to the traditional nail polish strips they also sell semi cured gel strips and nail care items.
Another way that Nails Mailed is superior to Color Street is the fact that they have a subscription service! With 3 different plans to chose from at different price points, you will find the perfect fit for you or your nail polish strip obsessive friend! I love all nail polish strips so getting a surprise every 30, 60, or 90 days is so fun!
I actually even had an issue with my recent order and reached out to their support. I got a response within 24 hours and they were very helpful!
Give these Color Street like products a try with this 20% off coupon from me!
Tough Girls
As the best Color Street dupe available on Amazon, this brand had to make my list! They have 64 different designs and colors to chose from while still taking advantage of the Free Prime 2-day shipping. These nail polish strips mimic Color Street very closely other than the fact that you still are unable to perforate the excess strip with your nail. You do still have to use a nail file and scissor due to their thickness.
However, one thing that sets this brand apart from the others is the "100% adhesive guarantee" that they honor on Amazon as well as their main website. Essentially, if you apply the strips per the instructions and they don't last as long as they should, Tough Girls will send you a replacement set free of charge!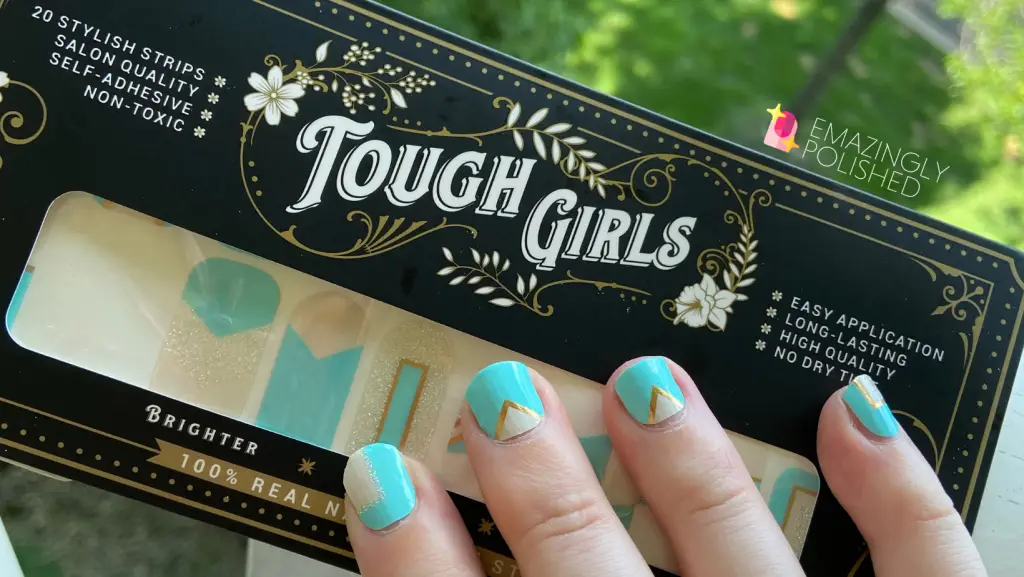 One way Tough Girls nail wraps are actually better than Color Street is the fact that the ends of the strip are shaped differently. One side is rounded and the other is more square. This gives you the luxury of finding the absolute best fit for each nail in addition to having 20 strips per package instead of 16 like Color Street provides.
You can see my full review of these nail wraps here.
Pretty Fab Nails
Pretty Fab Nails offers great Color Street dupes nail polish strips as well. These strips tend to be smaller in size similar to the LovelyHello nail wraps, but if you're someone who loved the sizing of the petite Color Street strips these will work great for you. And at half the price of Color Street. That in itself is worth it.
I never seem to have any chipping and it wears very evenly at the tips making it easy to file away the uncovered nail. And unlike Color Street, I haven't noticed hair getting stuck underneath the strip because they stay flush with the nail bed.
You can browse their incredible selection here. Make sure to check out their Nail Wrap Essentials Kit, too! It includes everything you'll ever need for nail polish strip application in a convenient travel bubble pouch.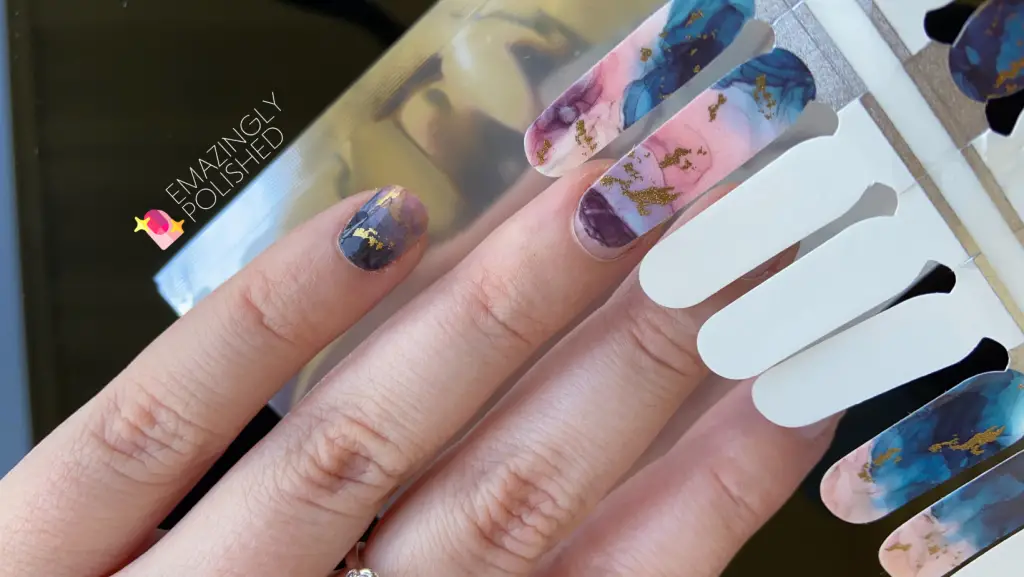 Which are your favorite Color Street dupes? Comment and tell me which ones to try next!
Emily