Some of you may have heard of Incoco Nail Polish Appliques first. Some of you may have been introduced to Color Street first. Most people who have used both Color Street and Incoco come to the suspicion that they are very similar, but there are some very distinct differences.
Color Street and Incoco are actually the same product that took 30 years to develop by Mr. Fa Park. Incoco is simply the parent company that was created first. The story of it's development is actually quite fascinating. Check it out for yourself by watching this short video!
Updated August 4, 2021
Top Secret differences between Color Street and Incoco
Selection
Because of the success of Color Street and the value it's Stylists offer to customers, Incoco is being phased out and is no longer available at Ulta Beauty limiting accessibility. This will allow for greater focus on one product and enhanced selection.
Color Street and Incoco have beautiful designs, but the difference is in the number of designs. Color Street consistently has 90+ colors to choose from whereas Incoco is limited to about 10. Color Street also has seasonal releases for most major holidays. To view all the different Color Street colors currently available, click here!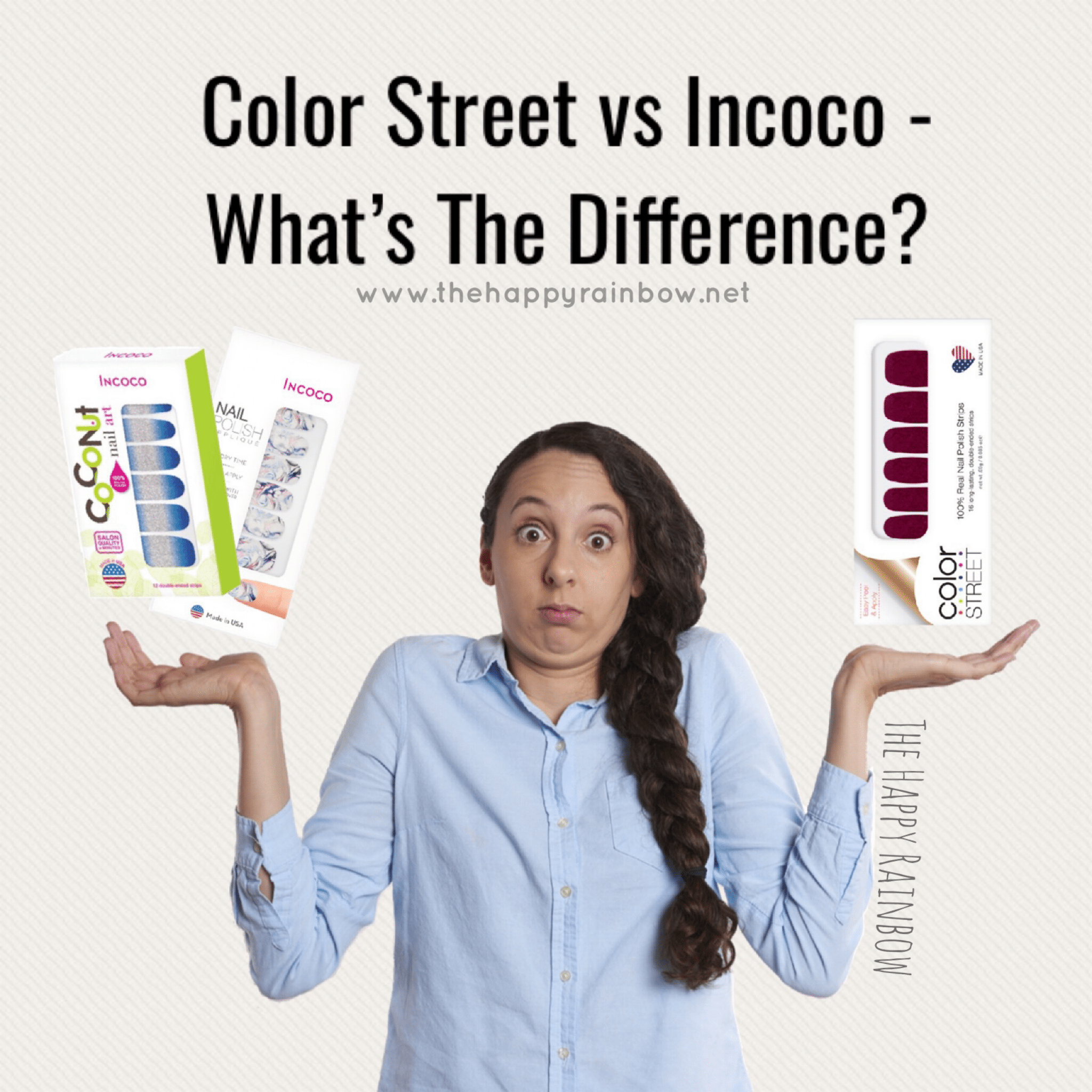 How to Buy
In order to purchase Color Street nail polish strips, you must do so through an Independent Stylist. Color Street Stylists care about your experience with them and are always looking to assist with application or ordering. If you receive a defective product, you can easily submit a claim and Color Street will send a replacement.
If you have problems with Incoco nail strips such as a defect, there is no one available to help you. You simply lose out because you can't return opened product to the store you bought it from.
Price
Color Street provides extra value in the form of an everyday "customer special" Buy 3 Get 1 free. It is a mix and match kind of special that is automatically applied at checkout.
Incoco may be cheaper in price and therefore is made with less attention to detail and quality.
Affiliate Opportunity
One of the biggest differences between Color Street and Incoco is the business/affiliate opportunity. Color Street is exploding in popularity and it's because of the quality and reliability of the product. We have been featured in multiple magazines such as OK Magazine and Real Simple. And as of August 2021 we have launched into Canada.
Each stylist joins for their own particular reason that is important to them. You can start a side hustle/business or simply kitnap as an affiliate to save on your own purchases.
There is a relatively inexpensive start up cost and you are not required to carry any inventory. Incoco will never have an opportunity like this or pay affiliate income. You can read about the 10 things I wish I knew before joining Color Street to get more details if you're interested.
There are no guarantees regarding the income from this opportunity. The success or failure of each Stylist, like in any other business, depends upon each Stylists' skillset and personal effort. Earning levels for independent Stylists are examples and should not be construed as typical or average. Income level achievements are dependent upon the individual stylists business skills, personal ambition, time, commitment, activity, and demographic factors. Read the income disclosure statement here.
Charitable Donations
Even though Color Street and Incoco are part of the same company, when you buy from Color Street you help fund the Color Street Foundation. A few times per year Color Street designs and creates an exclusive nail strip for a specific charity. During that specific month, the foundation donates around $100,000 to charitable organization(s) for that particular cause. You can find the most updated list of planned foundations here.
Incoco does not donate any proceeds from their products.
What has been your experience with Color Street and Incoco?
Emily
Independent Color Street Stylist
www.thehappyrainbow.net