Finding a good nail polish while in healthcare is sometimes a tricky task. There are so many options and formulas. Showing off my personality and feeling beautiful while wearing scrubs is also a priority to me. At my hospital, laboratory staff are required to wear black scrubs. There's nothing more boring than plain black scrubs. Jewelry isn't much of an option because of the possibility of ripping gloves or getting into hazardous things such as body fluids or chemicals.
Updated August 22, 2021
All hospitals and clinics will have some sort of policy on nail polish or nail "embellishment". This can range anywhere from wearing absolutely nothing (bare nails) to being able to wear polish as long as it isn't chipped. It is important to check with your hospital's policy on nail polish while in healthcare before choosing to embellish your own nails.
However, at my particular hospital, our policy on nail polish while in healthcare is nothing fake and it can't be chipped. This allows for some room to express yourself through your nails (even if they are covered in gloves for most of your shift). I figured a lot of other healthcare workers might be in need for some help on finding the best nail polish to show off while staying within hospital policy!
This post contains affiliate links for products that I personally use or believe you will love based on quality. If you click on a link and make a purchase I may receive a small commission (at no additional cost to you). This helps support and enable me to continue to make emazing content for you!
Here are my top 5 choices for long lasting nail polish while in healthcare!
Olive & June
This is an up and coming nail polish brand that I'm starting to see all over Instagram. Olive & June is a 7-free nail polish brand that is still budget friendly. It has a thick formula making it protective like a gel with as little as 3 coats and a clear coat. They don't just sell nail polish either. You can buy beautifully designed and easy to use stickers to mix and match on any color!
Sally Hansen – Miracle Gel nail polish
Sally Hansen is a brand that has proven itself for years. However, their Miracle Gel product is my favorite. It is long lasting with only about 2 coats and a clear coat. Because of how established this brand is, there are more colors to choose from than you can shake a cuticle stick at, too! It provides quality at a low price point to fit any budget.
Gel Nail Polish
Gel is a great option for getting a longer lasting manicure, but it typically requires a UV lamp to cure. You can get salon quality, chip-proof nails for multiple weeks and they have more of a natural nail feel over that of acrylic making it a great choice for nail polish while in healthcare. Goodhouskeeping rates the Red Carpet Gel kit as the best overall brand in 2020. This starter kit comes with everything you need to do your nails as well as remover and foil wraps for when it's time for a change. Gel polish didn't make the top partially for the fact that the UV lamps carry the risk of premature aging and skin cancer with prolonged use.
Dip Powder
If you're new to dip powder, this process uses a pigmented or glitter powder to achieve the desired look. It is more of a time consuming process (anywhere from 30-60 minutes), but the added strength your nails get is well worth the wait. It can be applied to your bare natural nails, which as a healthcare worker is important. With strength comes the ability to perform your duties without worry of breaking a nail or polish chipping. Dip powder can last you a couple weeks depending on how fast your nails grow and how quickly you want to change up colors making it a great choice for nail polish while in healthcare.
This type of nail polish is definitely all the rage right now in 2020. I personally recommend Revel Nail because they were one of the first to make and sell dip powder in 2015. They pride themselves in being American made and were even featured in Oprah Magazine in 2017! I suggest getting the "starter kit" first as it includes everything you need with a few different colors. From there you can expand your color selection.
Color Street 100% nail polish strips
If you're looking for longevity mixed with quick application, Color Street 100% nail polish strips are going to be the best option for you and why it made my top choice. They take only 10 minutes to apply and you're back up and running around doing what needs to be done. There is no dry time nor tools required to apply this product making it great for on the go!
This is my number 1 favorite nail polish while in healthcare and have tested it for 3+ years against hand washing and alcohol based hand sanitizers/foam. They will last you 7-10 days giving you plenty of wear without the need for crazy long removal processes. Color Street also works great on short nails which is usually a must while working in healthcare.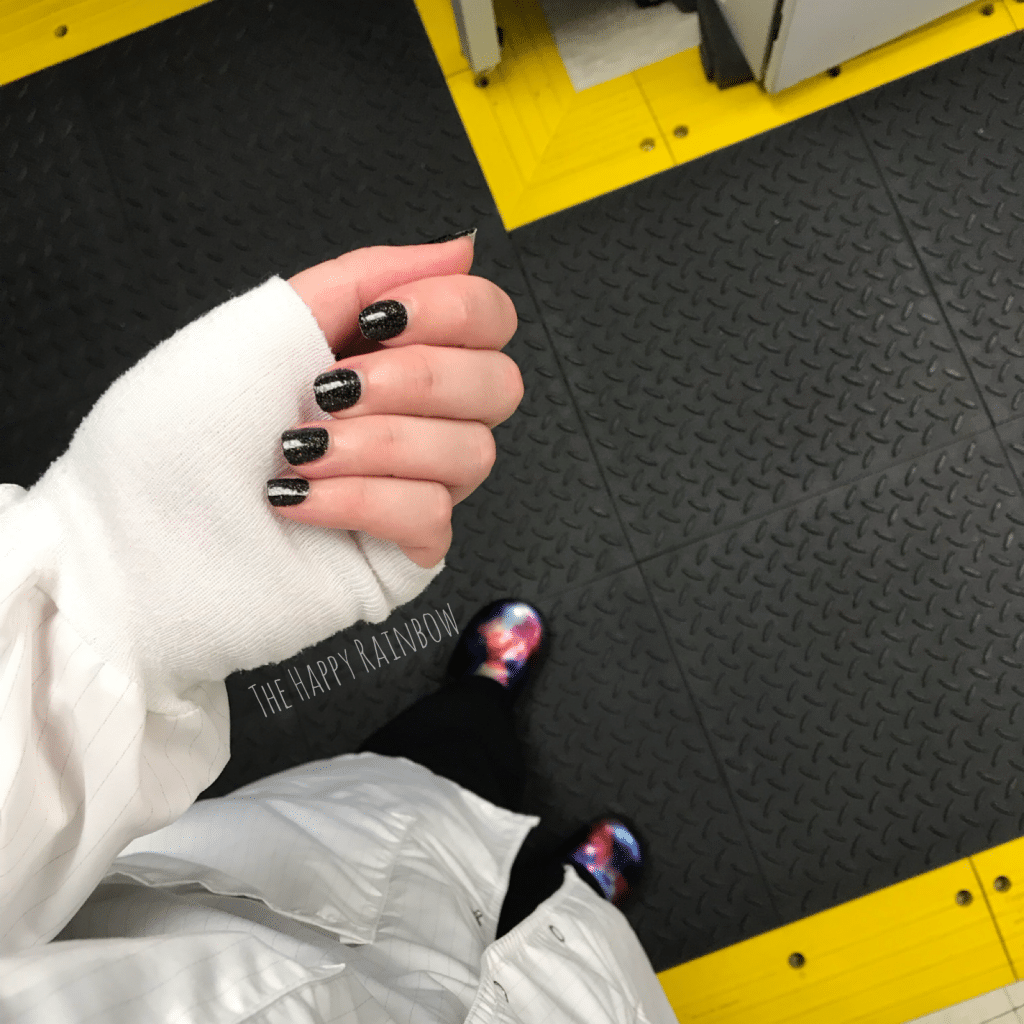 They come in many colors from solids, glitters, designs, and even French manicures. And if you're on a budget, Color Street will get you that salon quality manicure for only $11-14. You can learn more information on this nail polish product here.
What types of nail polish while in healthcare have you tested yourself? Which products do you recommend? Nail polish products are the only beauty embellishment that is FOR YOU to see and enjoy! And in the time of Covid19, having a little something for yourself is essential!
Em