Color Street Black Friday has always been exactly on the day after Thanksgiving with the launch of 1 or 2 limited-edition designs or glitters. While that's exciting and all, everyone else does that too. This year during the entire month of November there will be Color Street Black Friday Promo-vember!
Updated November 28, 2021
If you love exciting new things every week, make sure to bookmark this page and come back every Monday this month to find out what the new Color Street Black Friday Promo-vember deal is!
Week 1 – Monday November 1, 2021
Week 1 is all about the amazing business opportunity that Color Street offers.
When you join Color Street as a Stylist between now and Sunday, November 7, 2021 you'll get…
3 months of waived website fees ($29.97 USD/ $37.20 CAD value)
Credit for business supplies ($20.15 USD/ $25.59 CAD value)
There's many reasons to join Color Street and it's a very personal decision. You could simply join as an avid Color Street user and get discounts on your own nail polish strips. You could also join to make some extra money during the holiday season and who doesn't need a little more money at the end of the year to buy gifts.
If you're looking for more information on joining Color Street – here are 10 things to know before joining – to make sure it's the right fit for you!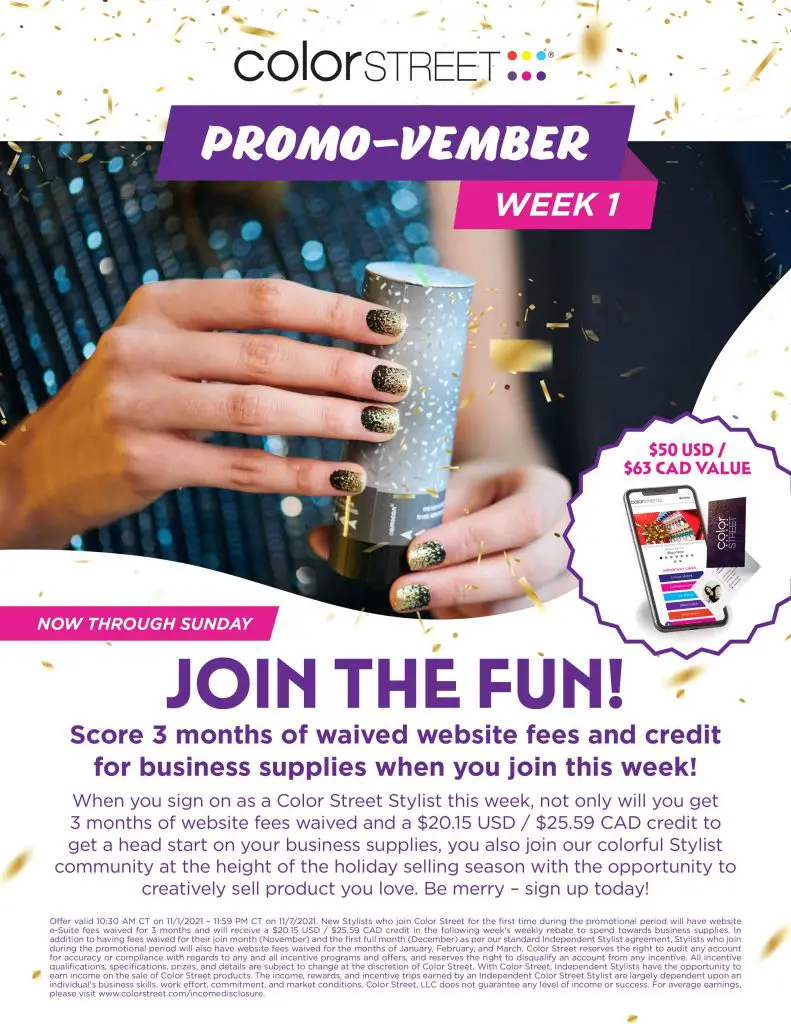 Week 2 – November 8, 2021
Color Street Black Friday 2021 is again coming in strong by re-releasing some of the top favorites from this year! You can order any of designs these online while supplies last.
Light Year was released at the end of January and quickly became one of the most coveted glitters as it sold out quickly. It was part of the Deep Space mini collection and this was the very first mini collection launched.
Mojave Turquoise was another quickly selling favorite because it was similar to a previous turquoise stone design from the original launch in 2017- Southwest Dreams. It was part of the Get Set in Stone mini collection that launched in February.
Friends Forever was a highly anticipated design. Stylists and customers alike were always asking for paw prints and animal designs. While Color Street did launch a Foundation design with pawprints, you couldn't use it to create your own designs easily. This clear overlay with cats and dogs was launched in March on national puppy day!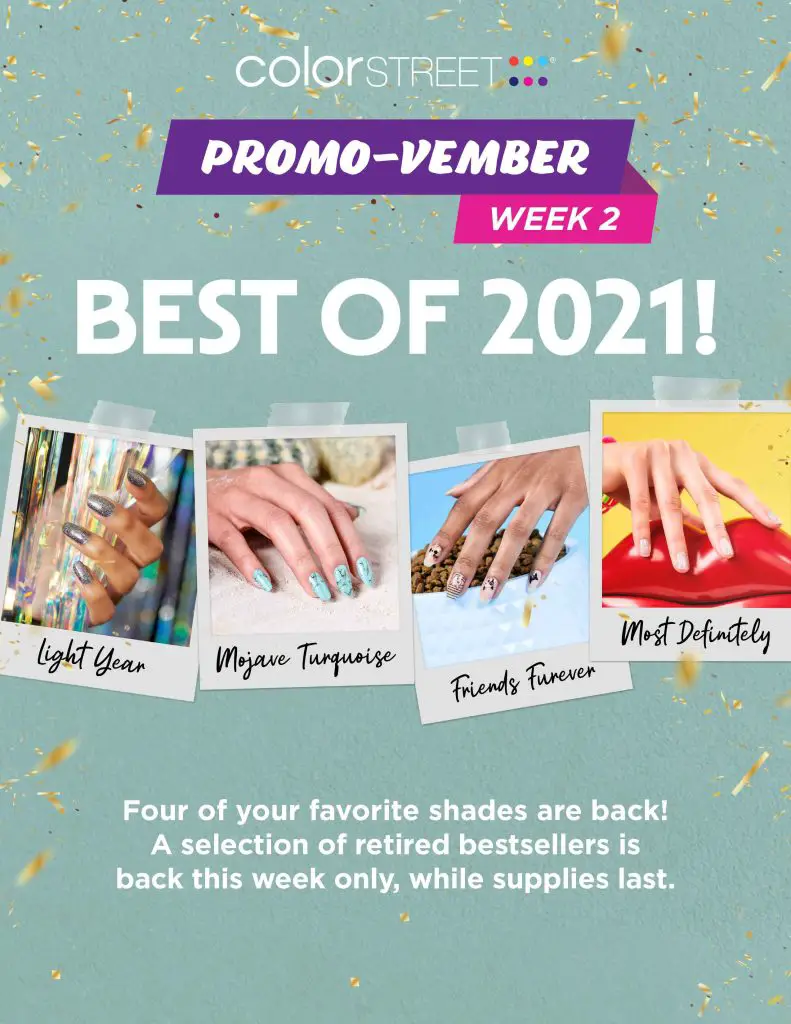 Most Definitely was part of the April mini collection launch called Retro Pop! This transparent glitter overlay looked great over many different colors and designs. I anticipate this glitter being great for winter – like glittering snow!
Week 3 – November 15, 2021
For the third installment of Color Street Black Friday Promo-vember, there are exclusive bestseller bundles to save you up to 39% off from full retail price (without the buy 3 get 1 free customer special)! There's a bundle of solids, glitters, clear overlays, as well as bestselling designs!
You don't get to choose the sets in each bundle, but they did a great job putting them together. Browse all of the different bundles here! And remember this is only available through Sunday 11-21-21 at 11:59pm CST.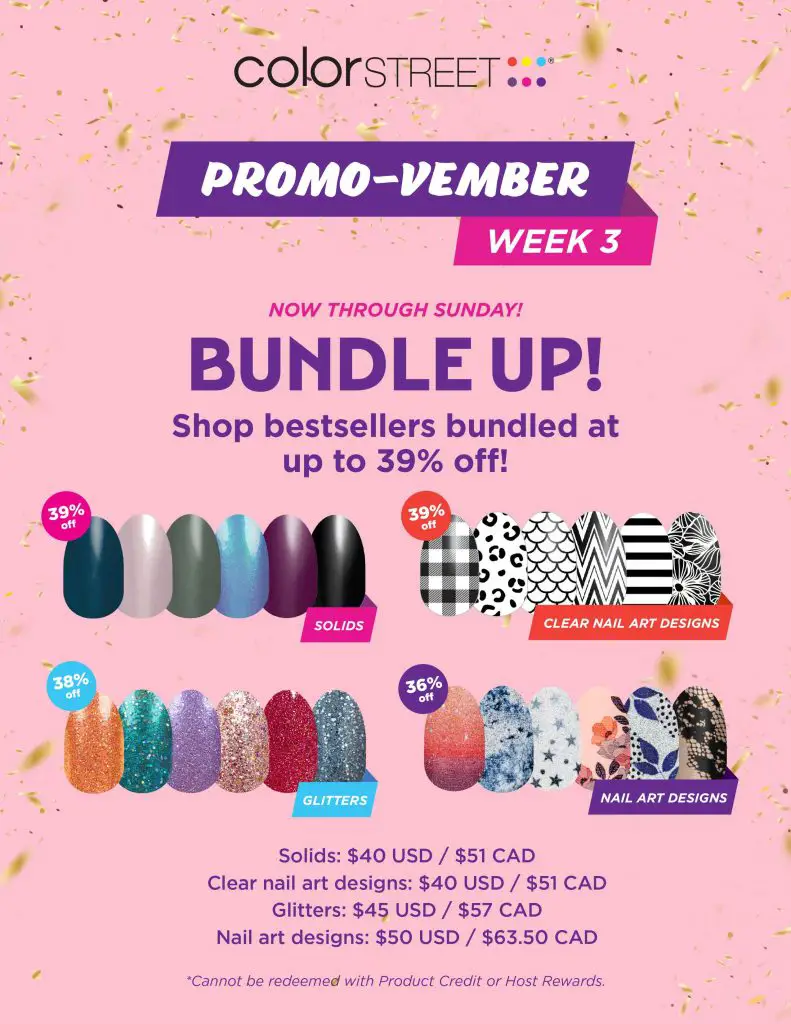 Math behind the discount:
Solids/Clear Nail Art: $33 (buy 3 get 1 free) + $22 = $55 full price
Bundle is $40 – SAVINGS OF $15
Glitters: $36 (buy 3 get 1 free) + $24 = $60 full price
Bundle is $45 – SAVINGS OF $15
Nail Art: $39 (buy 3 get 1 free) + $26 = $65 full price
Bundle is $50 – SAVINGS OF $15
If you're in need of stocking up for yourself or need gift ideas for others, these Color Street bundles would be perfect.
Make sure to come back next Monday for the last and final Color Street Black Friday 2021 deal!
Week 4 – November 22, 2021
And the final Color Street Black Friday Promo-vember is here! If these other promotions didn't do it for you, this week might be perfect. All week you'll receive FREE SHIPPING on any order $25+ (2-3 nail strips).
With this deal, you're not restricted on which nail strips you can purchase to get the discount and you can spend less while still benefiting.
You can browse all the available colors and designs online at your convenience.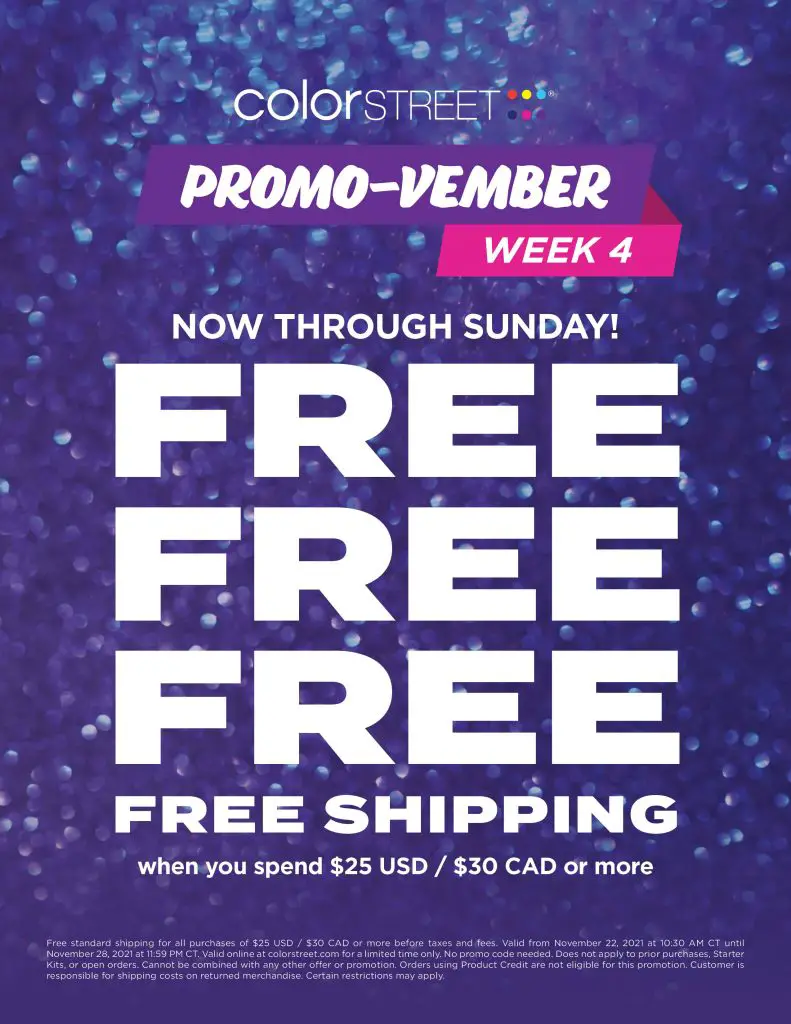 Cyber Monday – November 29, 2021
You didn't think Color Street deals stopped with Black Friday did you? Tune in to Color Street Cyber Monday 2021 tomorrow morning! Starting at 10:30am CST (8:30am PST, 9:30am MST, and 11:30am EST) there will be a launch of 2 previously exclusive shades.
These two shades below (Heat Wave and Pink Paradise) were hostess exclusives, meaning you had to host a party with your Color Street Stylist and meet the sales requirement to obtain them.
You can browse these and other shades online!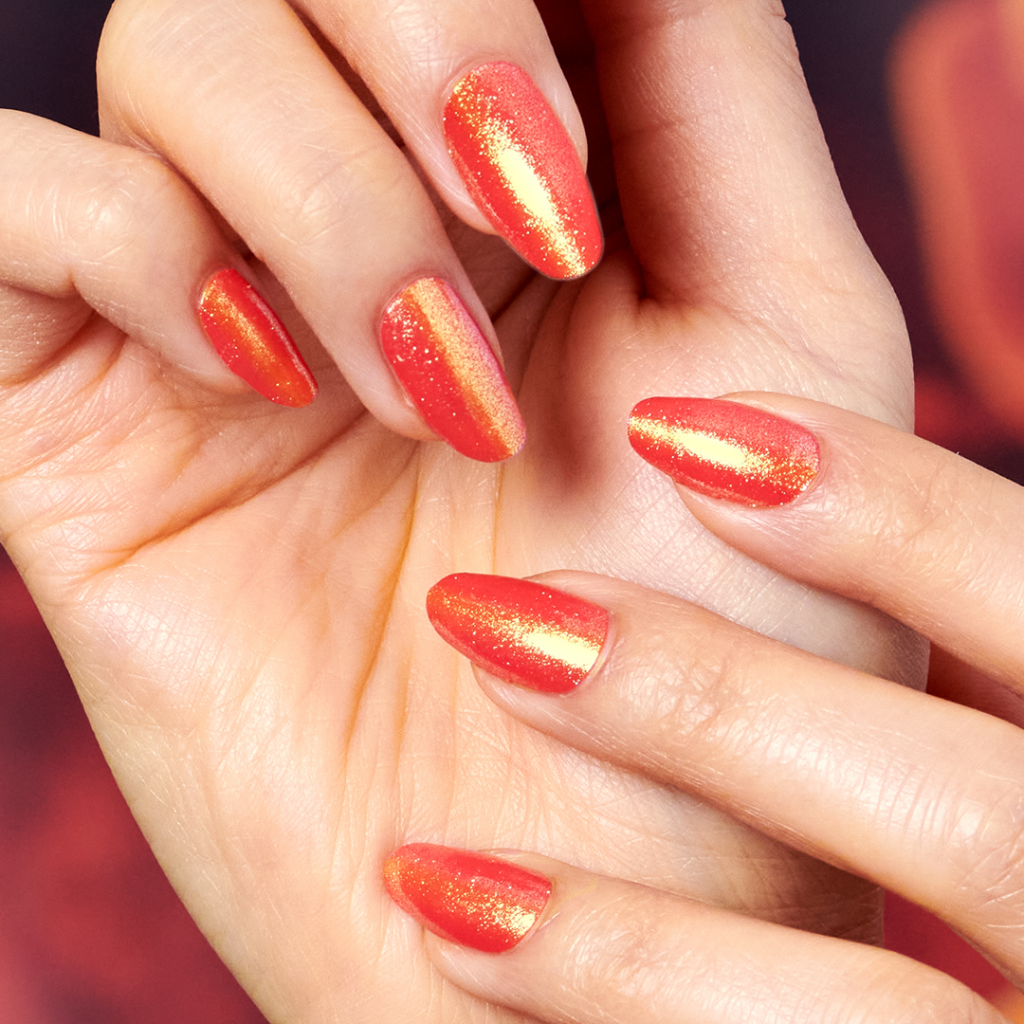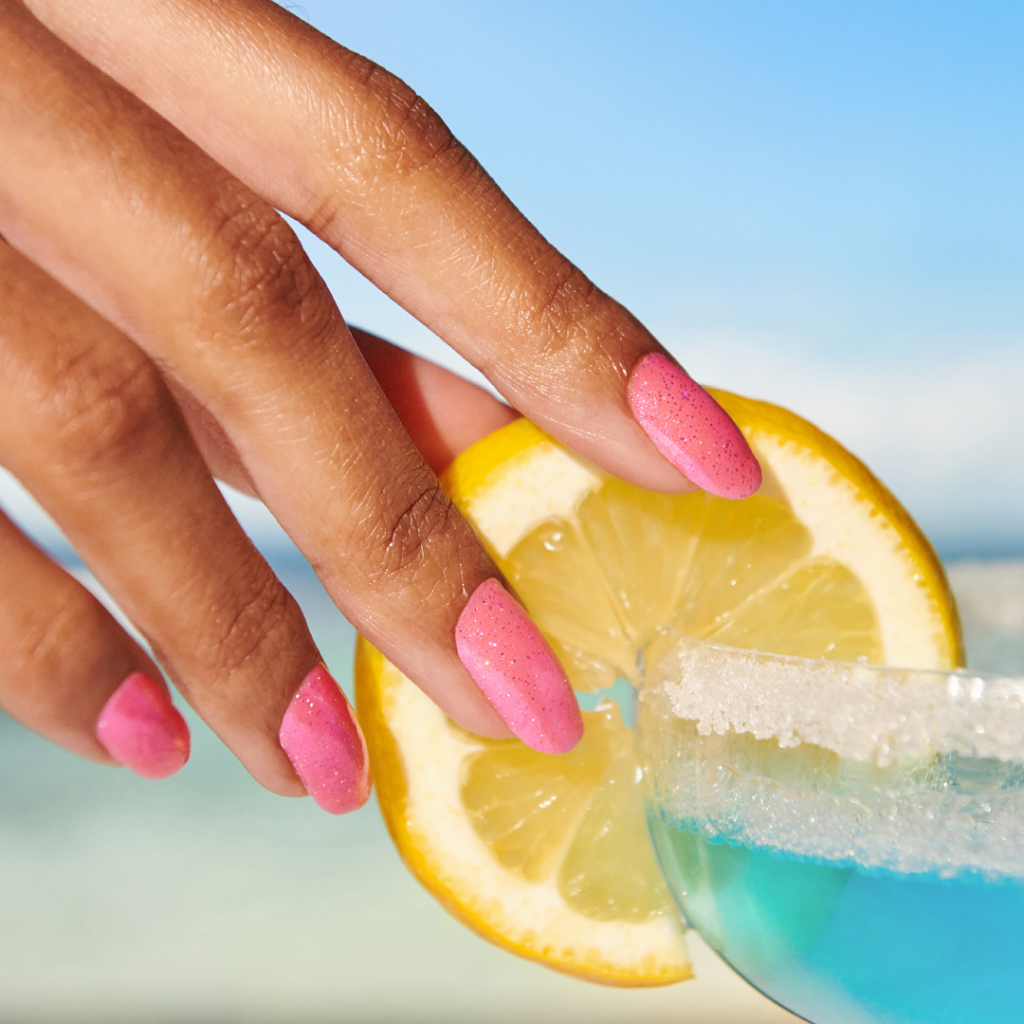 If you missed out on those for one reason or another now is your chance! As per usual, these special shades are "while supplies last" and they will likely not last very long. Set your alarm and bookmark this page so you'll have easy access to quickly order what you want!
I hope you've enjoyed these weekly deals for Color Street Black Friday 2021 and Color Street Cyber Monday 2021. I wish you all the best in your holiday shopping!
Emily