In this ever innovating world that never seems to sleep, nail wraps seem to be gaining tremendous popularity and why I've dedicated this blog to everything nail wraps. But what are nail wraps and how do they work? If you're new to this idea you'll likely need to start here before you can even decide if this type of nail embellishment is for you.
Already know what nail wraps are? Jump to the pros and cons of nail wraps to really decide if they're the right choice for you or not.
Updated December 9, 2022.
This post contains affiliate links for products that I personally use or believe you will love based on quality. If you click on a link and make a purchase I may receive a small commission (at no additional cost to you). This helps support and enable me to continue to make emazing content for you!
What are Nail Wraps?
Nail wraps (or nail polish strips) are nail enhancements that have designs, glitter, or solid colors printed on them. They are in a flexible strip that is applied directly to the nail without the need for glue. Depending on the manufacturer, there can be anywhere from 12-22 different sized strips per package which accounts for the varying sizes of people's fingernails.
The history of nail wraps can be traced back somewhere around the 1980s. Nail polish had taken off and more people were going to the salon giving way to the need of a better at home manicure. A couple different companies made their versions of nail wraps/nail polish strips, but they didn't really start becoming popular until the 2000s. Since then, their popularity has grown exponentially especially with the Covid19 pandemic. When you're stuck inside and want to avoid contact with other people, you look for ways to have quality looking nails that are quick to apply and budget friendly.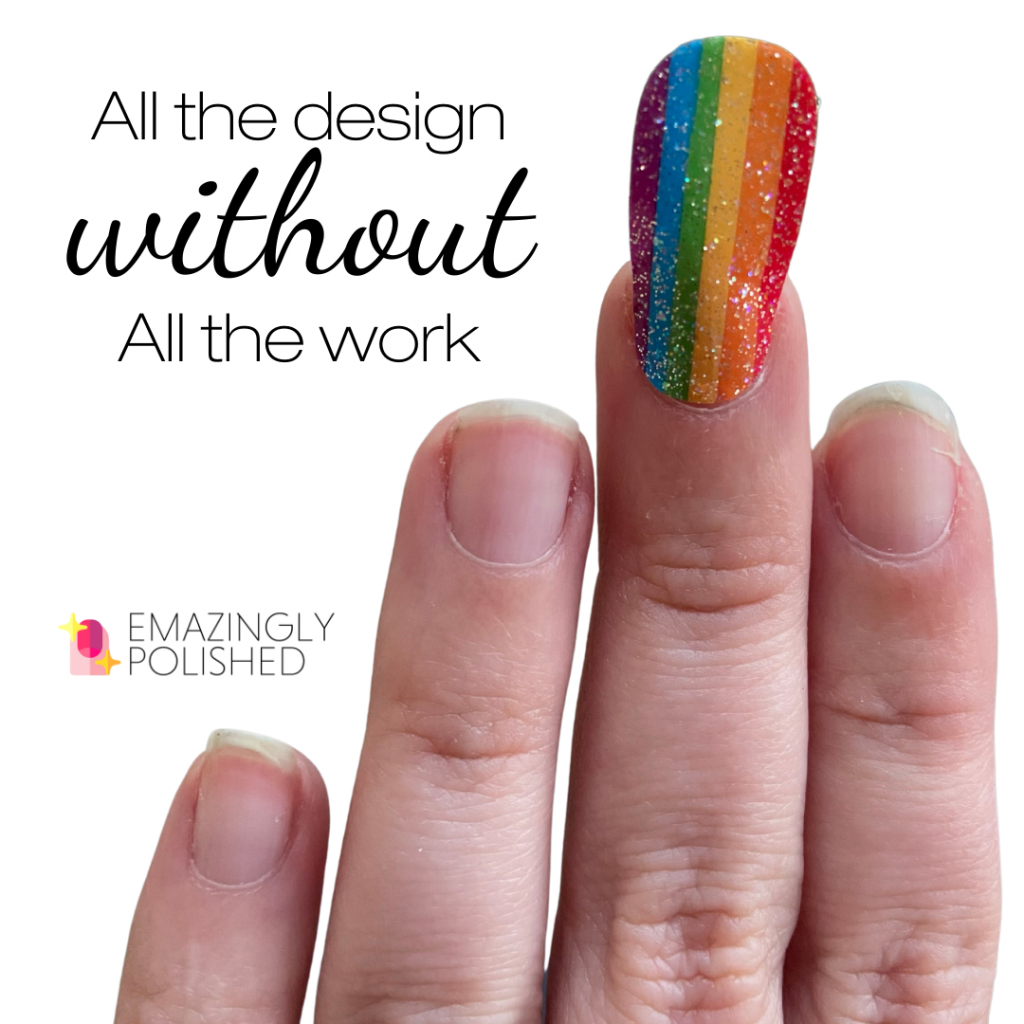 The idea behind nail wraps is that you can quickly "paint" your nails without taking an hour doing it. It's a quick "peel and stick" method without dry time. It allows you to have those beautiful designs without the work.
Most nail wraps are manufactured in Asia including China and Korea, but the brand Color Street is made in the USA. Despite being made in Asia, there are a lot of US companies/small businesses that ship right from their warehouses in the US keeping shipping times short.
What are Nail Wraps Made Of?
One of the biggest questions asked is what are nail wraps made of and if they're *insert vegan, cruelty free, 3-free, etc*. Nail wraps can be made of either vinyl or nail polish. Typically strips that are made of vinyl and an adhesive base are called nail wraps whereas nail polish strips and made of mostly (if not 100%) nail polish without adhesive. However, the nail wrap title gets tossed around for all strip-type nail enhancements.
The basic ingredients of nail wraps and strips include: N-Butyl Acetate, Polyacrylic acid, Styrene/lsoprene Copolymer, Hydrogenated Poly, Ethyl Acetate, Nitrocellulose, Neopentyl Glycol/Trimellitic Anhydride, Triethyl Citrate, Cellulose Acetate Butyrate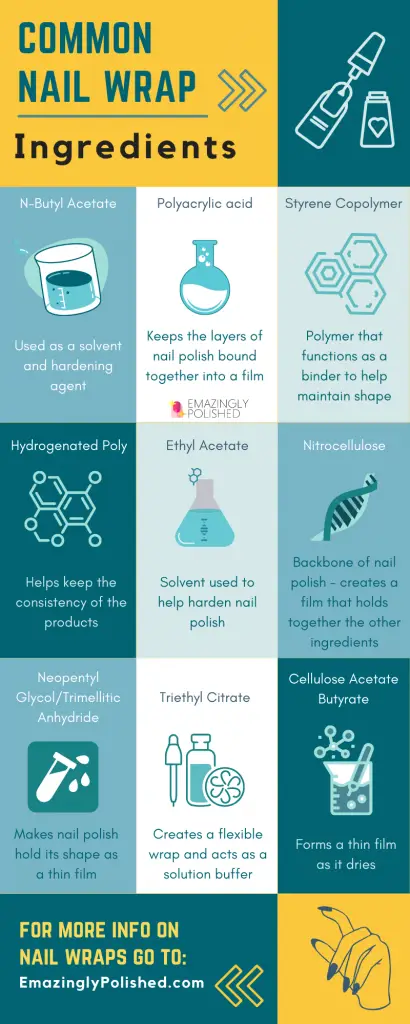 NailsMailed has a great little article about the basic ingredients of nail wraps – what they're used for and what other products you can find them in. Essentially, all these ingredients are solvents and plastics/polymers that bind together to form the film of nail polish that we apply as a wrap.
I find it very difficult to find ANY nail wraps that are made of dibutyl phthalate, toluene, and formaldehyde which are the 3 big ingredients that have some "undesirable traits." (I hate the word "toxic" because anything can be toxic at the right dose – I'm a science girl at heart) Because of this, I wouldn't be concerned about using nail wraps unless you've had an allergic reaction to liquid nail polish or other nail wraps in the past. And it's always best not to eat your nail wraps.
For a list of the exact ingredients of nail wraps for each manufacturer, please see their specific packaging or website.
How to Use Nail Wraps
Now that you know what nail wraps are, how do you use and apply them? There isn't much to the process, but it does take some practice to get it perfect.
The first step in how to use nail wraps is always prepping your nail. If you neglect this part or don't do it well enough it can affect how well your nail wraps adhere and last. And it's always better to get your nails into the shape you want BEFORE applying your wraps.
Nail wraps offer many size variations because everyone's nails are shaped differently. This gives you a lot of variety to find the right fit, but you'll have to size up the strips on your nails before you peel them off so you know which ones to use. You can always put a piece of tap over the nail, outline your cuticle with a sharpie and then put it up against the strips to see which one would work.
Then peel the strip off the paper backing and apply to the nail, keeping in mind to not get the strip on the cuticle/skin. Fold the excess strip over the nail and file it off. I find it easier if I clip off most of the excess with a nail clipper before filing. If you want, finish it all off with a good clear top coat to seal it all onto the nail.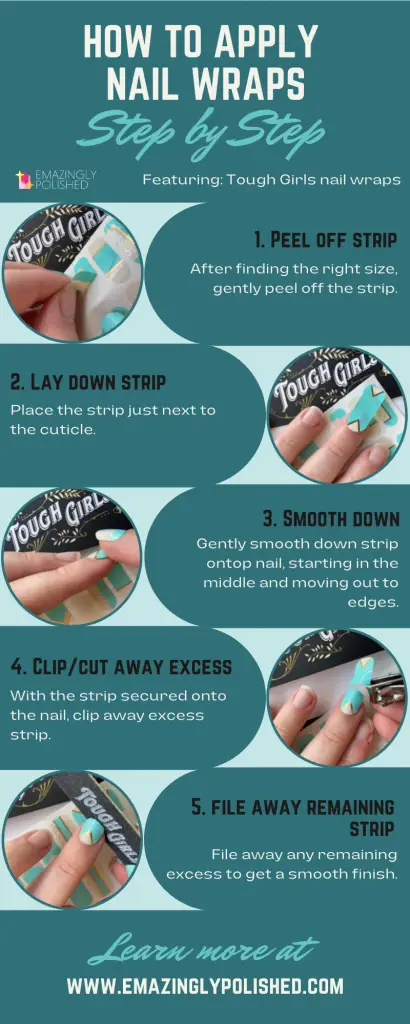 The biggest pro for using nail wraps is that you can quickly apply them and go, but don't let that stop you from getting creative too! You can cut nail wraps into pieces to apply over already painted nails as an added accessory. Cuticle scissors work best for this in my opinion. They will also stick to gel, polygel, acrylic, or dip powder. Don't be afraid to use nail wraps on any and all nail embellishments. Just remember that nail prep is still important.
Where to buy nail wraps?
Now that you know what nail wraps are and how easy they are to apply, finding some to try is the next step! There are few brands that you can buy in stores such as Dashing Diva and Incoco. However, most nail wrap companies only sell online/Amazon. You can see a list of my favorite nail wrap brands here.
Are you going to try them out?
Em