Color Street is back at it again with their amazing Color Street Foundation 21/22 year! There is continued support for some amazing causes such as Breast Cancer Awareness in October as well as some brand new causes! A lot of companies donate to different charities and organizations, but few donate almost every month of the year like Color Street does! They also design special colors, glitters, and nail art for each.
Updated November 1, 2021
The actual organizations that will be receiving the donations have yet to be determined, but keep reading for the list of all the causes that will be covered! I will definitely update when I know exactly who will be getting money.
Find out where the Color Street Foundation donated to last year!
By supporting Color Street with sales, you help support their mission to give! Color Street makes the perfect gifts and you can get these exclusive Color Street Foundation 21/22 designs and colors right here online.
Over the past 4 years, since Color Street launched in 2017 they have donated a total of $3,226,000! How amazing is that! They even participated in pandemic relief including providing KN95 masks to 120 frontline worker organizations.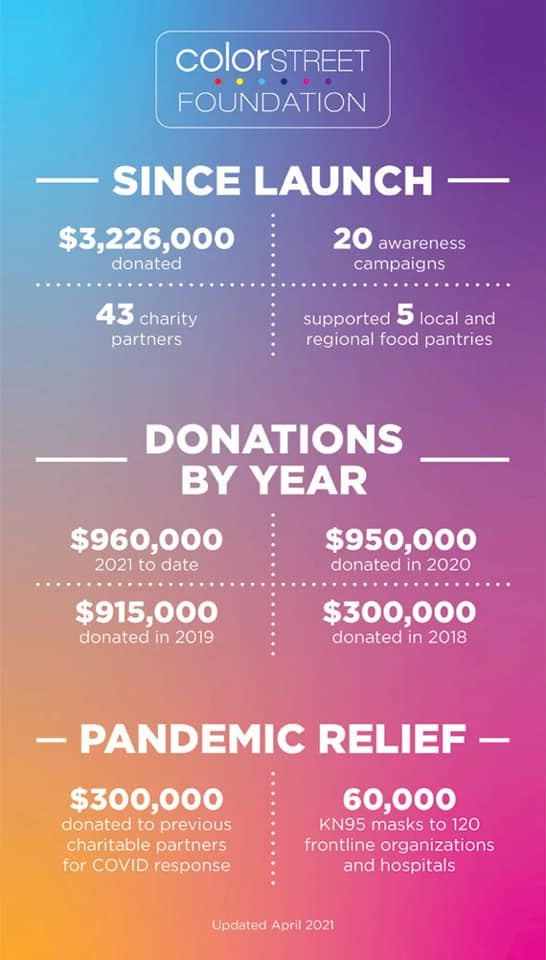 Color Street Foundation 21/22 Calendar
September 2021 – Ovarian Cancer Awareness
Brand new this year is awareness for ovarian cancer! A quick google search will tell you that "ovarian cancer ranks 5th in cancer deaths among women, accounting for more deaths than any other cancer of the female reproductive system." according to cancer.org. Early detection is key, but sometimes is hard to do as early stages of ovarian cancer may not have symptoms.
October 2021 – Breast Cancer Awareness
Most people in the United States have been touched by breast cancer one way or another either through a family member or friend. This makes finding a cure so much more important! I'm happy to see this cause returning for the Color Street Foundation 21/22 calendar.
The US active military and veteran communities need help and assistance just as much as others. It's easy to forget the families of those military personnel too who go without their loved ones for months to years. And veterans who return can find this skills hard to apply in the civilian world and struggle themselves. Previously Color Street donated to the Gary Sinise Foundation and the money donated went to build an accessible home for a greatly deserving veteran!
January 2022 – Birth Defects Awareness
Not entirely new this year is birth defect awareness. Nothing makes pregnancy even more stress than when finding out your child has a birth defect. I'm hoping they will donate to a couple different types of birth defect charities. Previously Color Street has donated to heart disease health including congenital heart disease which is the most common birth defect in the US.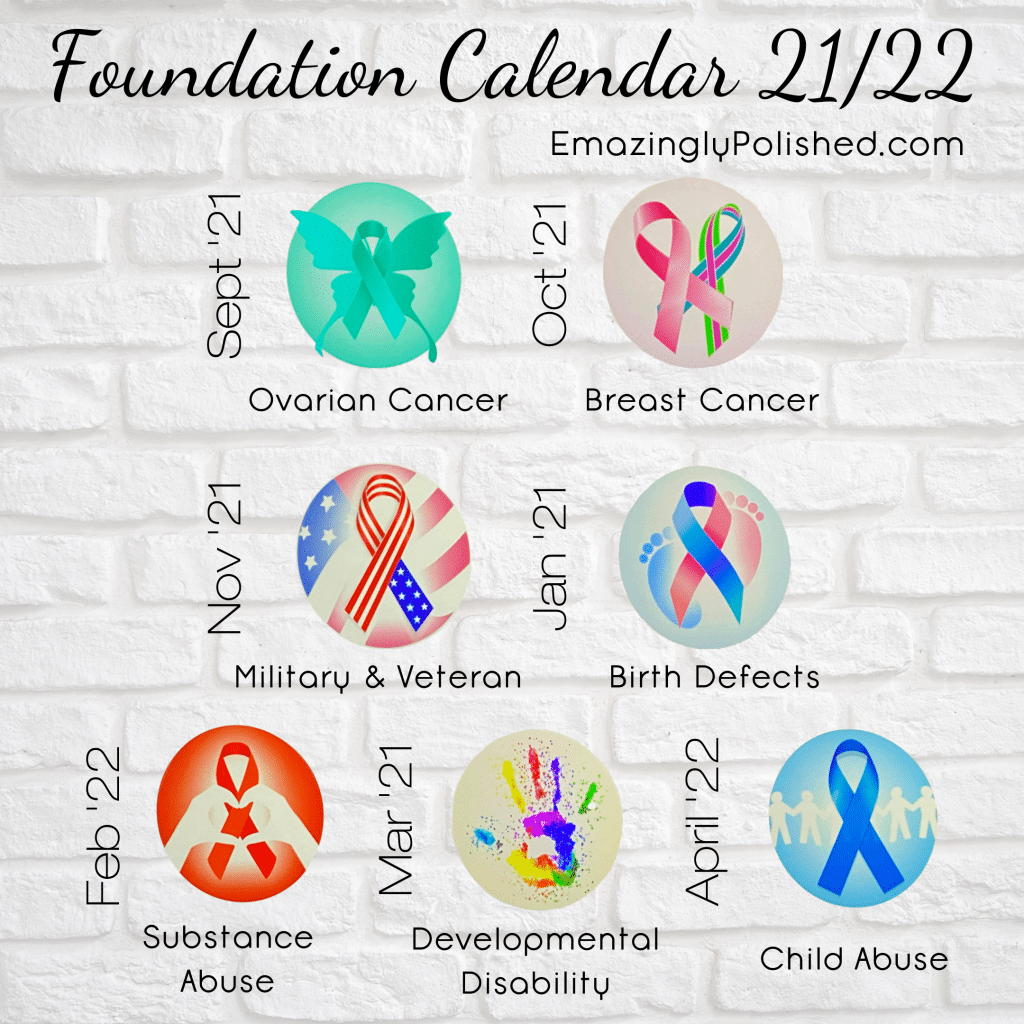 February 2022 – Substance Abuse Awareness
Substance abuse awareness affects millions of families all over the world – alcoholism being one of the most common. The suffering is not limited to the person who abuses, but the entire family that loves them. Hopefully donates will go to supporting the family through this as well as getting help to those who need it.
March 2022 – Developmental Disability Awareness
Back by popular demand this year is developmental disability awareness for the Color Street Foundation 21/22 calendar! I'm sure Color Street will pick a new organization to donate to this year.
April 2022 – Child Abuse Awareness
And finally, child abuse awareness is probably one of my favorite of the 7 chosen. I can't wait to see how we can help the children affected and how to prevent future children from abuse.
I hope you're as excited as I am for these new and returning causes! Imagine all of the help and hope we can bring to families all over the United States and possibly the world! By supporting Color Street you support their mission to give! Hope you can be proud to be apart of the Color Street legacy!
Have your own idea for next year? You can email Color Street directly at ideas@colorstreet.com
Emily