Maybe you've just joined Color Street or you've been selling for a while. Now you want to learn how to make Color Street graphics yourself, but don't know where to start. This is a quick easy to get started tutorial for your Color Street business.
Graphics are important because they catch people's eyes and get them locked into your content long enough to read what you've written. Grabbing someone's attention is literally the number one thing that you need to do in order to get sales. You know Color Street is the absolute best nail polish strip product out there, but if you can't grab their attention they won't want to listen to WHY they need it.
I also have some great tips on how to take the best nailfies as well!
This post contains affiliate links for products that I personally use or believe you will love based on quality. If you click on a link and make a purchase I may receive a small commission (at no additional cost to you). This helps support and enable me to continue to make emazing content for you!
Apps/Programs
The first thing you need in order to learn how to make Color Street graphics is to have an app or program to make them with.
If you're looking for something easy and quick for beginners, I recommend PicCollage. It has a free and a VIP subscription version with different features. This is what I started using as a beginner. There are grids for collages, templates, as well as being able to freestyle and make a graphic from scratch. PicCollage focuses on stickers that you can add to photos to enhance them. This app is only for mobile which limits your ability slightly as you can only use your fingers to move and adjust things.
If you're looking for something more professional that has many options, stock photos, fonts, I highly recommend Canva. Like PicCollage, Canva has a free and paid subscription version. Canva is for both mobile and PC browsers allowing you to start a project from anywhere and then finish and fine tune details when you get back to your computer.
Canva definitely gives you the biggest selection to start learning how to make Color Street graphics. There are specific templates for Instagram and Pinterest as well as perfect sizing for business cards and other marketing material you might want to make in the future. It has a huge selection of stock photos and elements to add to your graphics. Every single graphic made by myself for this blog has been made with Canva.
However, most of the best features and quantity of stock images come with the paid subscription Canva Pro. You can get a free 30 day trial here.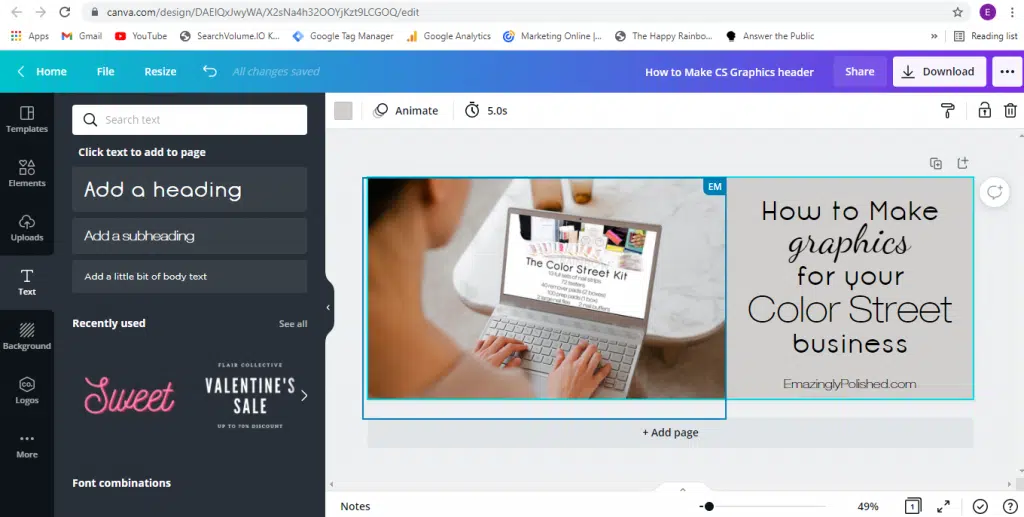 Understand Color Street Branding Guidelines
The Color Street branding guidelines are paramount to learning how to make Color Street graphics. If you don't follow their guidelines with their intellectual property, you put all Stylists at risk as they could decide we can't make ANY of our own graphics anymore. We may sell Color Street for them, but they own it.
You can easily find all the branding guidelines in your VO/Color Street app under Resources > Documents > Brand Guidelines.
It's important that you follow these exactly and if you don't understand something that you reach out to your upline or ask here.
Essentially, if you're going to use the Color Street logo you can't alter it and you must use the approved 4 fonts throughout the entire graphic. You can't use the logo and then pick some random font with the other words.
Keep It Simple
When you finally start to learn how to make Color Street graphics, the "keep it simple" method is my favorite. You don't want to fill your page with so many different things that it looks cluttered. You also don't want to use 100 different fonts on your one graphic.
This is also where trial and error comes in. Canva makes it easy to create one version and then make a copy of it to adjust certain aspects without losing what your original idea was.
Here are some quick tips to follow when creating graphics.
Keep backgrounds simple and not full of things. It makes text difficult to read and then no one will understand the message of your graphic.
Stick to 1-3 different fonts in each graphic. If you use too many different fonts your graphic will not look clean.
If you use a watermark (which you should), keep it small so that it doesn't take away from the graphic.
Choose the right font color. If your background is light – use black. If your background is dark – use white.
Here are some more graphic design tips for beginners that you might find useful.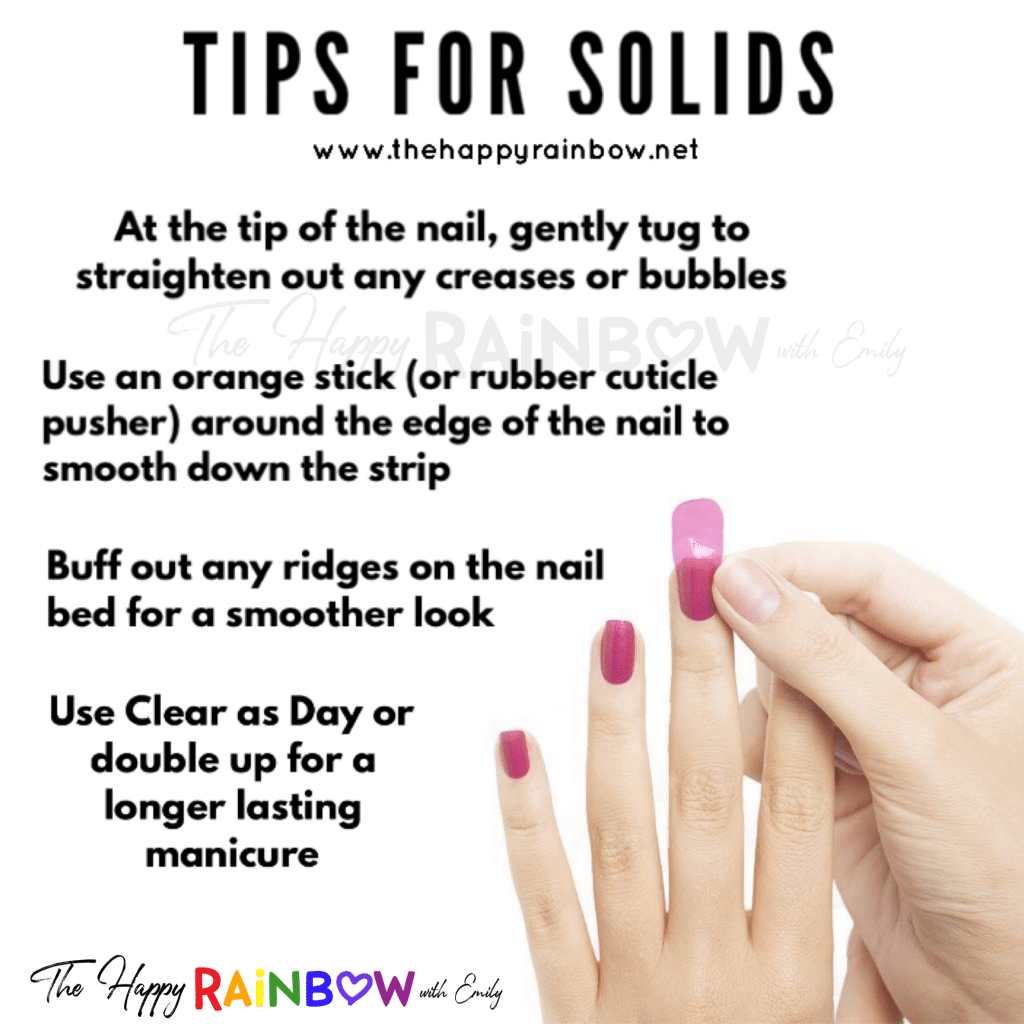 Why You Should Make Your Own Graphics
A question that I see a lot is why bother learning how to make Color Street graphics when other Stylists make so many amazing graphics already?
That's true that there are some amazing resources out there for you to use. And they may be a great place to start to get your Color Street business off the ground.
Here are some things to think about when deciding should I make my own graphics or use graphics other people have made.
Pre-made graphics may not show exactly what you want to show or say how you want things to be said
They may not have you "aesthetic" or "vibe"
You can continuously edit and make changes to YOUR graphics
Pre-made graphics may have someone else's watermark or URL link information
Life-long skill learned
**It is important to note that you absolutely cannot edit someone else's graphic unless they have given you permission. This means you can't add anything to them, remove their watermark/URL, or alter the size and shape of the graphic to pass it off as your own.
Another reason you should learn how to make Color Street graphics yourself would be simply just learning the skill. You never know when you might need to use this skill elsewhere in your life. You may even decide to start your own business one day and you will not be provided with graphics from other people/corporate. In order to stand out against the competition you'll want to make your own excellent graphics.
If you follow these simple tips and use your own creativity, anyone can learn how to make Color Street graphics that are unique to them and great for your customers.