If you're new to blogging and finding you can't think of anymore nail blog post ideas, let me tell you you're not alone! The main reason I created this article was because I had come to a road block and needed more inspiration. You can only write so many blog posts about one type of polish. I figured, what better way than to keep a running log of my own nail blog post ideas that I can share to the world! Because if you're new to the nail art world, you'll find that sharing and helping each other is the foundation of our community!
Updated August 22, 2021
I've broken the list up into different sections in case you're looking for a topic more specific such as nail health or nail accessories. I wanted to make it easier for you to find what you're looking for.
However, keep in mind this is a running nail blog post ideas list and if you have an idea you'd like to add to it, let me know in the comments at the bottom of the post! I also have a tutorial on how to start a nail blog if you haven't made it that far yet.
This post contains affiliate links for products that I personally use or believe you will love based on quality. If you click on a link and make a purchase I may receive a small commission (at no additional cost to you). This helps support and enable me to continue to make emazing content for you!
Nail Blog Post Ideas to Keep You Writing
Winter nail art designs
Spring nail art designs
Fall nail art designs
Summer nail art designs
General
Any how to nail art
Product reviews
Beginner tips
Crazy nail product reviews
Comparing products
Color Swatch comparisons
Tips for choosing nails for your personality, age, outfit, etc
Most flattering nail shapes
How long does it take nail polish to dry
How long to wait between coats of polish
Tips to make nail polish dry faster
does nail polish expire
how to get nail polish out of fabric (carpet, sofa, etc)
when was nail polish discovered/invented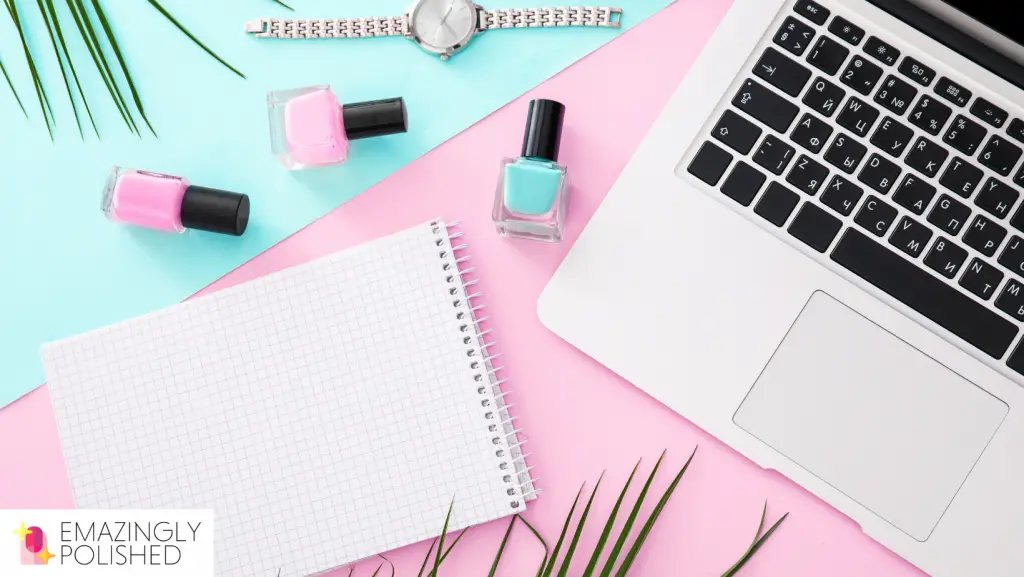 Supplies and Accessories
Showcase different types of nail polish: liquid, dip, gel, acrylic, fiber
Tips for choosing the right type of nail art such as stamping, free hand, or nail wrap
Do you need a base coat
Types of nail file grit and what they're best for
Types of nail polish remover
Do acrylics damage your nails?
Best press on nails
Types of nail art brushes
Difference between stamping polish and regular polish
are nail polish bottles recyclable
other uses for nail polish remover
other uses/crafts for nail polish
Tutorial
How to apply polygel
How to make nail polish less sticky
Ways to remove glitter, gel, acrylic, etc
Different way to use sponge tool for nail art
How to thicken nail polish
Water marble technique
How to use stamping plates
Tips for "painting in the lines" and clean up methods
How to clean nail polish brushes
Applying fake nail tips
How to best adhere gems/embellishments
Health and Science
Ways to strengthen nails
Nail anatomy
What are cuticles and how to care for them
The science behind nail polish
Different health problems with nails such as fungus
General skin care
Best winter nail care products
Tips for foot/pedicure care
Toenail care
How to make your nails grow faster
Nail polish and pregnancy
Are nail polish fumes harmful
nail polish and animals
how to stop nail biting
With a little thought, you can come up with lots of content for your brand new or thriving nail blog! You can take these nail blog post ideas and elaborate on them as well. Let me know if you have any other topics in the comments below! And be sure to check back periodically in case I have come up with some new ideas.
And if you're looking for a way to make graphics easily and professionally, give Canva a try FREE for 30 days!
Either way, I hope you stick around here. I have answered some of these questions already and as a result you might find what type of nail blog post ideas you were looking for.
Em
Other Blog Posts:
Easy Tips for the Perfect Nailfie
Nail Care Mistakes You're Likely Making