If you're new to the nail community you might not realize how important cuticle oil and cuticle moisturizers are to nail health. Or maybe you're a veteran, but you just can't make time to care for your cuticles. With winter approaching quickly, it's important that you start to moisturize your nails daily. There are more nail care mistakes you're probably making as well, but this will focus on how to care for your cuticles and nails.
Updated August 22, 2021
This post contains affiliate links for products that I personally use or believe you will love based on quality. If you click on a link and make a purchase I may receive a small commission (at no additional cost to you). This helps support my rainbow to continue to make great content for you!
There are a few different ways you can care for your cuticles; not one being better than the other. It all comes down to personal preference. There's cuticle oil, cream, and you can simply use hand lotion as well. The typical ingredients in theses cuticle products are vitamin E, jojoba (pronounced hohoba) oil, and various other nutrients that absorb into the skin. Some even contain fragrances in the form of essential oils.
Why care for your cuticles?
Hangnails/dry skin
The only way to prevent hangnails is to prevent the source of them, which is dry skin. And you may have seen this coming already, but the only way to cure dry skin is to moisturize. The small molecules of oil easily penetrate and get trapped in the skin. This will shrink and tighten the cuticle skin to help prevent hangnails. Jojoba oil is a particularly important oil as it mimics the skin's natural oil making it feel less "greasy" than others.
Getting into a habit of using products to care for your cuticles will keep your skin soft. Minnesota winters are the absolute worst, but despite where you live you can always use some extra moisture.
Nail growth
If you struggle with slow growing nails, you'll be happy to hear that the more you moisturize your nails the faster they will grow! The nutrients that hydrate the cuticle skin also promotes growth. Vitamin E has antioxidant properties and jojoba oil contains other micro nutrients such as zinc and chromium. Moisturized nails will be less brittle and dry allowing for flexibility of the nail itself. This will lead to less breakage and you'll be able to achieve the length you desire.
However, the trick when it comes to nail growth is consistency. Using products like this to care for your cuticles does work, but you won't see results overnight. Consistent use every day for a couple weeks and you'll start to see longer, stronger, and healthier nails.
Cosmetic benefits
When it comes down to it, having healthy looking nails makes for great photos. Dry, cracked, and peeling nails don't look pretty and are difficult to paint over. If you take the time to moisturize your nails daily, you'll never have to worry about bad nailfies ever again.
You'll also find that cuticle oils actually rehydrate the nail polish itself. As soon as you paint your nails, the solvents within the nail polish start to evaporate. If enough of the solvents disappear, the nail polish will start to chip and crack. Cuticle oil will keep the polish pliable and therefore last longer!
Top Products
Best drug store/budget product. Sally Hansen never disappoints. This was the first cuticle oil I ever tried and there's a reason I continue to use it. It is incredibly moisturizing and I've actually seen results with it.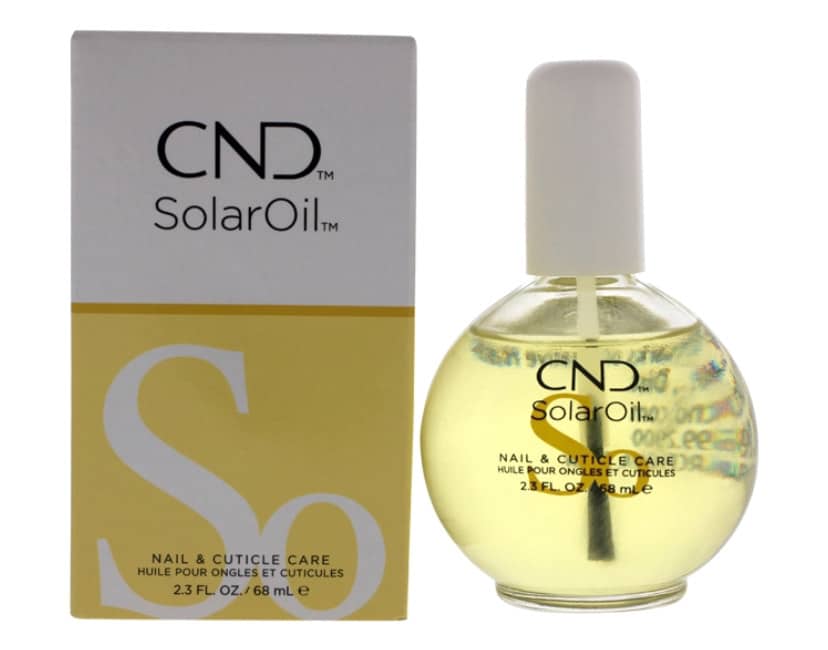 Best 2020 product: CND is a well known brand and their cuticle oil was the winner of a 2020 InStyle Best Beauty Buys award! It is a favorite among professional nail stylists as well as the at home DIY nail enthusiast to care for your cuticles.
Best budget cuticle cream product. Burt's Bees is also a product line known for quality at a great price. This company doesn't make an oil, but a moisturizing cream! It has an incredible soothing lemon smell. If you find you don't like the oily feeling, a cream is a great alternative without losing any benefits. The jar is also much smaller than a bottle of oil making it easier for on the go.
Best USDA organic product. RejuveNaturals cuticle oil is a USDA certified organic cuticle oil. It includes jojoba oil and olive oil among other oils and natural fragrances.
When in doubt, a hand cream/lotion will work as well. Your hand skin is no different than your cuticles and requires the same nutrients/hydration. If buying new products aren't in the budget, find what you have and use it. I always say something is better than nothing and that is definitely true for your cuticles.
What is your favorite products to care for your cuticles and nails?
Em
Other Posts
Easy tips for the perfect nailfie
30+ surprising ways to use old nail polish strips
Best nail polish for healthcare workers
Sources: NAILSmag, Chemist's Corner: Cuticle Oil, 19 February 2014. https://www.nailsmag.com/384202/chemists-corner-cuticle-oil