February 2021 is for Color Street Domestic Violence Awareness! According to the CDC, 1 in 4 women and 1 in 7 men will experience domestic violence at some point in their life and is estimated to affect 10 million people in the USA each year.
If you're not familiar with the Color Street Foundation, each year Color Street designs exclusive nail polish strips specifically for different prechosen foundations. You can see the entire list of foundations here. Previously, a portion of the sales ($2/strip) is donated to certain foundations that Color Street has chosen typically with a goal of a $100,000 total donation. However, this year for Color Street domestic violence awareness, they have pledged $50,000 and $100,000 to two different foundations.
Chosen Color Street Domestic Violence Awareness Foundations
Taken straight from their website, "For more than 30 years, FUTURES has been providing groundbreaking programs, policies, and campaigns that empower individuals and organizations working to end violence against women and children around the world. Striving to reach new audiences and transform social norms, we train professionals such as doctors, nurses, judges, and athletic coaches on improving responses to violence and abuse. We also work with advocates, policymakers, and others to build sustainable community leadership and educate people everywhere about the importance of respect and healthy relationships."
The National Domestic Violence Hotline
As said by them so well, "24 hours a day, seven days a week, 365 days a year, the National Domestic Violence Hotline provides essential tools and support to help survivors of domestic violence so they can live their lives free of abuse. Contacts to The Hotline can expect highly-trained, expert advocates to offer free, confidential, and compassionate support, crisis intervention information, education, and referral services in over 200 languages."
If you or someone you know is impacted by relationship abuse, call 1-800-799-SAFE or access more information and their live chat services here.
EXCLUSIVE Color Street Design "1 in 4"
To help with the Color Street domestic violence awareness, they launched a purple holographic glitter shade aptly named "1 in 4"! These are limited edition and typically sell out. Make sure to get yours here before they're gone! (They launch 2/2/21 @ 1030 AM CST) In addition to how gorgeous this shade is, $2 from every sale will go towards the two chosen foundations while supplies this during the month of February.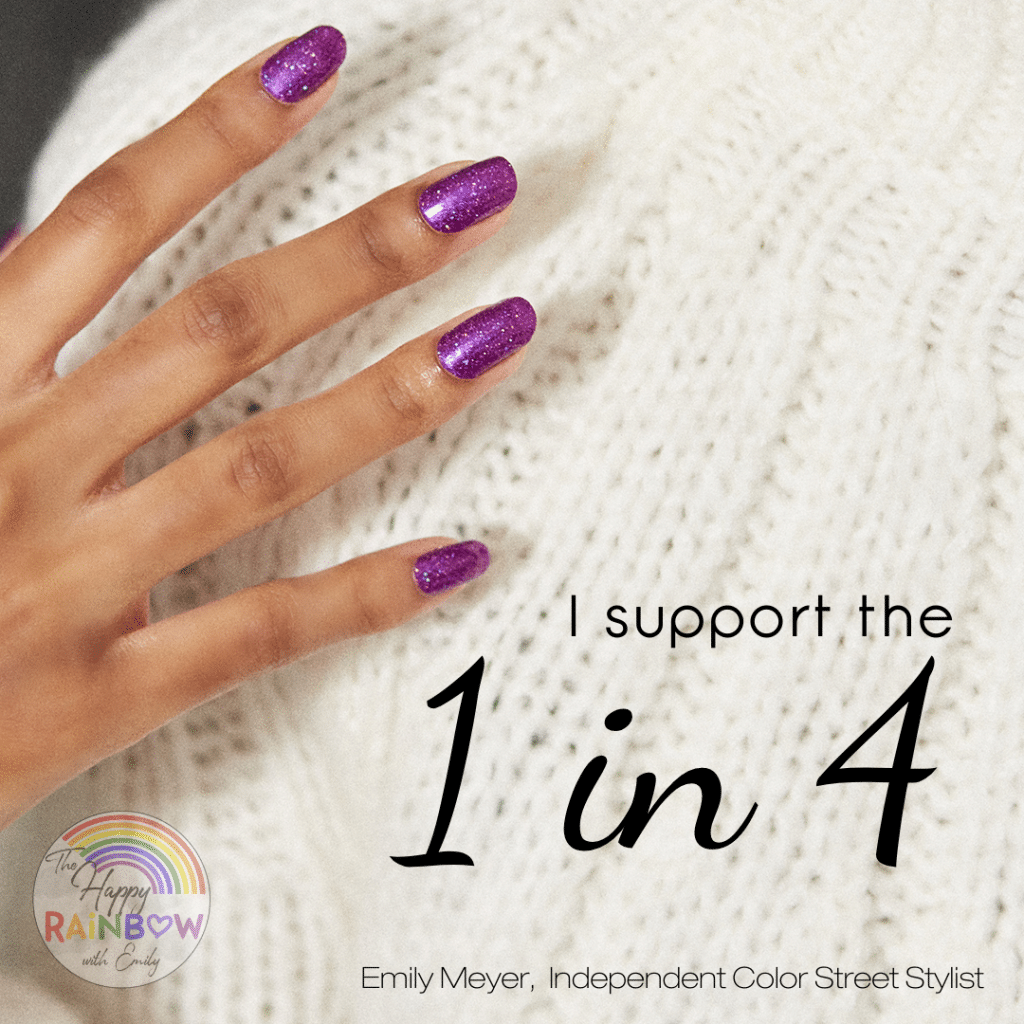 If you loved Glamsterdam or Everyday I'm Sparkling, you're going to LOVE this fuchsia/purple holographic glitter! See the photo below for a comparison. Sometimes the strips look a little different in person, but since these were just launched no one can take their own photos yet. But rest assured, they will be sparkly!!
Domestic Violence Statistics
An average of 20 people per minute are physically abused by an intimate partner in the US
1 in 4 women and 1 in 7 men are victims of severe physical violence by an intimate partner in their lifetime
On a typical day, there are more than 20,000 phone calls to domestic violence hotlines nationwide
Intimate partner violence accounts for 15% of all violent crime
Women between the ages of 18-24 are most commonly abused by an intimate partner
Only 34% of people who are injured by an intimate partner receive medical care for their injuries
See the full list of statistics here.
It's important to not be silent. Listen to your friends and family. Be vigilant and help others as best you can. Sure, beautiful glitter nail polish strips are great, but supporting victims makes you feel a whole hell of a lot warmer inside. Feel free to donate directly to those foundations listed above as well. You can find how by visiting their official websites.
Emily Meyer
Independent Color Street Stylist
Related Articles
30+ ways to use old nail polish strips
How to save your Color Street
Ways to organize your Color Street nail polish strips