Yesterday Color Street launched their partnership with PayPal as a payment option! This is super exciting! I don't know about you, but sometimes if PayPal isn't an option for payment I don't buy that item(s). If there's a way for me to be even more lazy when it comes to online purchases, I'll take it! And now I'll be able to buy Color Street with PayPal and not leave my couch to get my wallet!
If you don't have a PayPal account you can sign up for free! It links your existing banking account information with PayPal and allows you to use it securely. I have had a PayPal account for about 6 years and have never had an issue with it as far as my information being stolen. It is a safe platform. There are more online shops that accept PayPal as payment than there are that don't. You'll never have to find yourself searching for your wallet or purse again with PayPal.
Color Street is always finding ways to improve themselves for the benefit of customers and their Stylists. This was a long time coming and I am proud to be with a company that listens! You can now easily buy Color Street with PayPal within the shopping cart and checkout pages. Check out how easy it is and treat yourself to some new nail polish colors to get you through this winter season!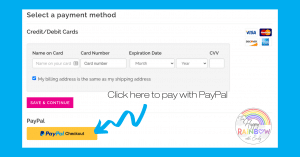 If you're a Color Street Stylist, keep reading. There are some more details about the new "buy Color Street with PayPal" just for you!
As a Stylist, PayPal checkout is available in the VO for regular purchases as well as Host orders.
You can use PayPal for partial payment with product credit, but you can't use it with another credit card payment.
But, keep in mind it is not yet available to be used for e-Suite fees, swag store, or buying starter kits.
I'm always here to answer questions!
Emily
Independent Color Street Stylist

Here are some other articles that you may find helpful!
How to save leftover nail polish strips
Color Street organization
Unique ways to use old nail polish strips