There's no better feeling in the world than having your nails painted during the winter holidays, or really any holiday. It makes you feel more put together or dressed up when all you have on is a T-shirt and some pajama pants. But like most people, learning how to make time for nails during the busiest months of year is hard.
There are parties to cook for and to clean your house for. There are presents to buy. The house needs to be decorated for the holiday season. Not to mention all the activities your kids are either involved in or that you have to plan just to keep them busy!
Regardless of how busy you are, or think you are, learning how to make time for nails is important for your self care! Here are some of my biggest tips for making sure your nails look perfect for every holiday event!
Updated August 22, 2021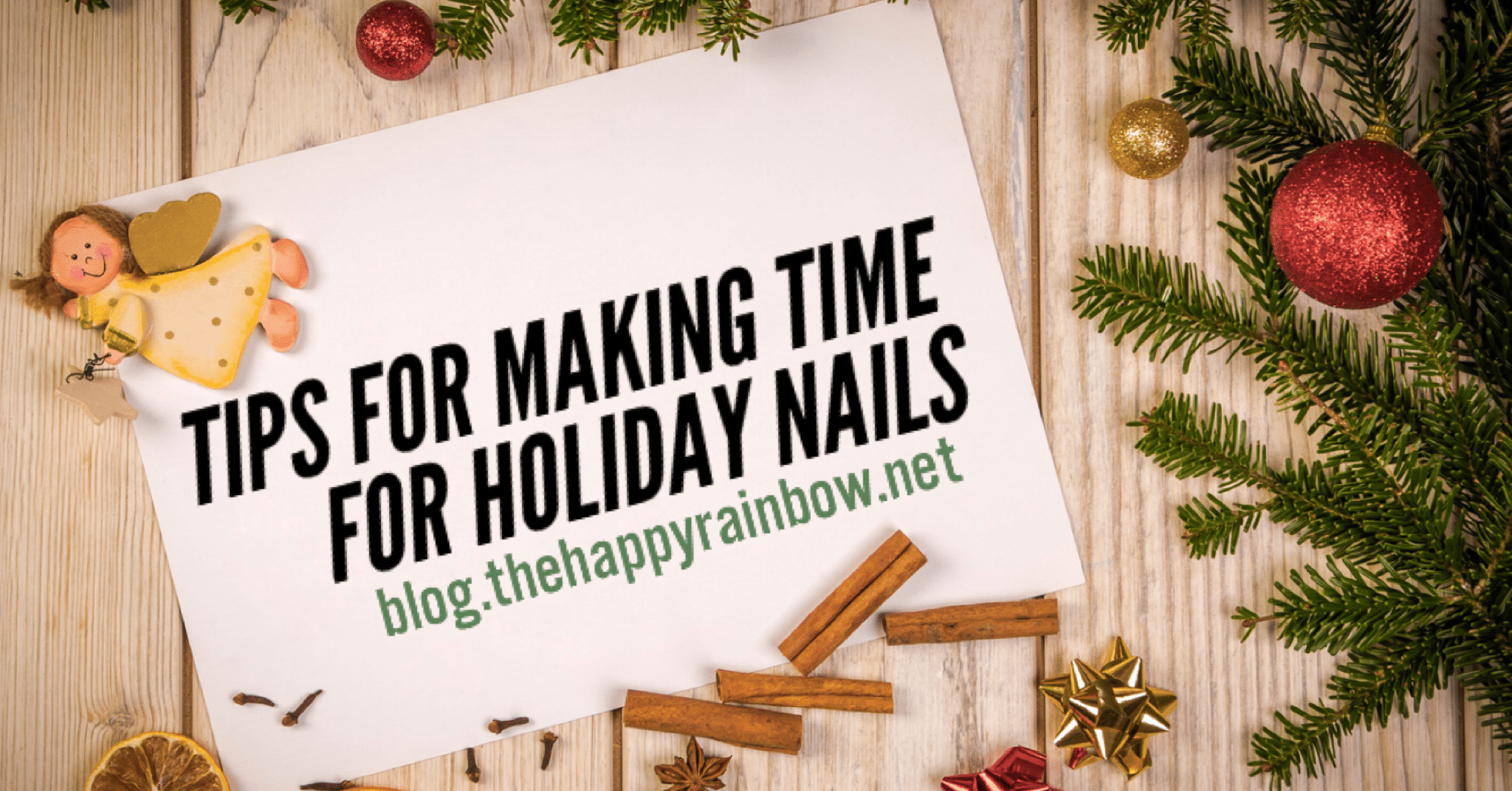 Schedule Time
One of the biggest ways to learn how to make time for nails is to simply schedule time for it in your day. That way you won't be freaking out come the night before your work Christmas party and your nails are naked. If you get them done at a salon, this is a no brainer – you have to schedule an appointment to likely get them done in the first place or at least at the time that works best for you schedule.
However, if you're a DIYer like myself scheduling time in could be easier as you don't have to compete with other customers for time slots.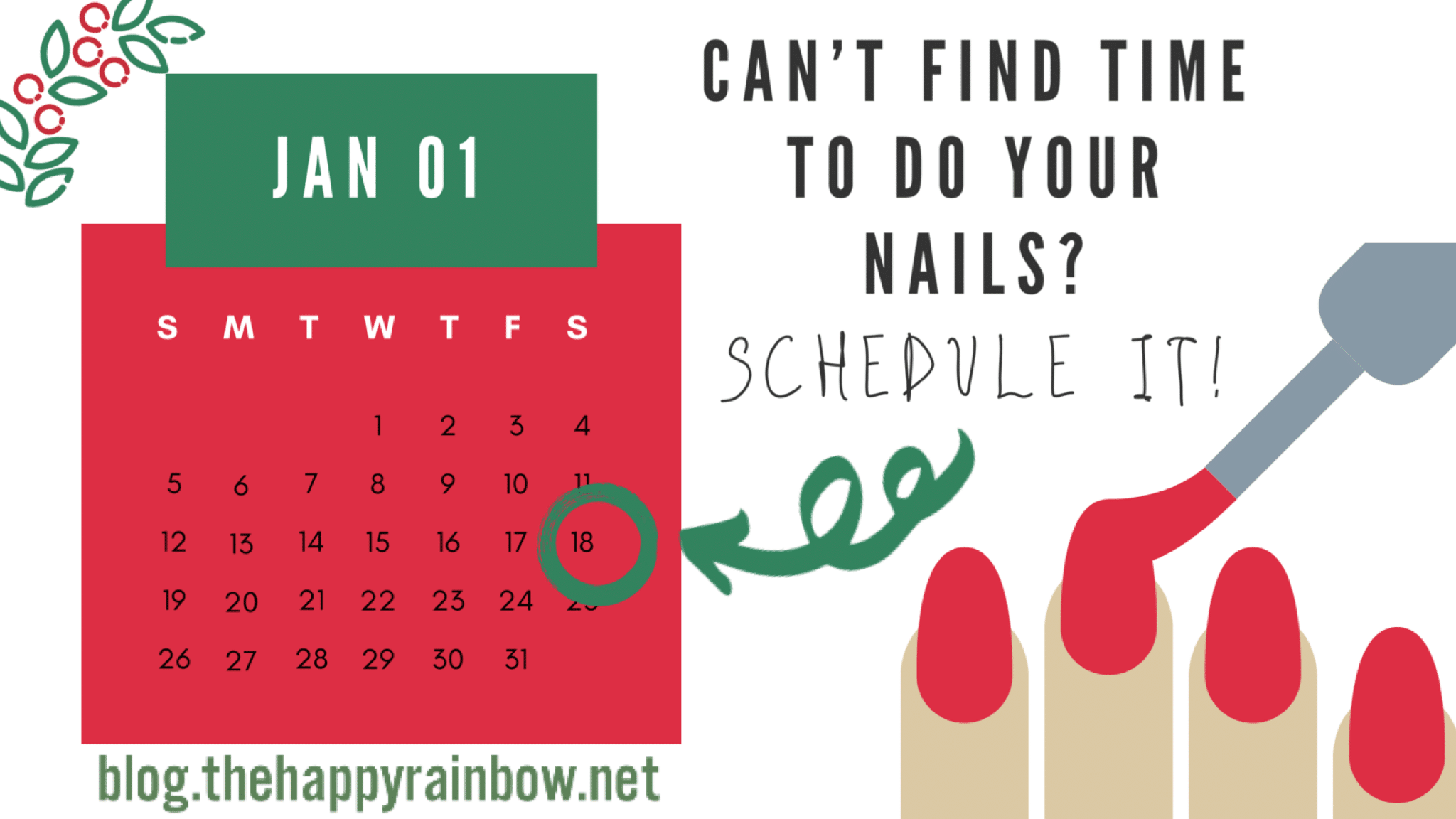 Take a day off to do them
This may seem silly, "Yeah right, take a day off JUST to paint my nails? Are you crazy!?" However, if you take said day off, you can take as long as you want to paint your nails – make those crazy nail art designs -and then have the rest of the day to relax! And you can't tell me you wouldn't love a day off just to yourself to relax during the holidays.
Depending on when you take this day off, you could get a lot more done as well such as shopping, cleaning, or other errands. Thank of how much less stress you would have!
Collaborate
There are so many ways you can paint and decorate your nails. Sometimes the biggest hurdle to learn how to make time for nails is deciding what you want to do with that time in the first place.
Not sure what color to paint your nails? Ask a friend or family member! Even better, meet up with some of your friends and all do your nails together. You'll get some much needed time with the girls and be productive!
Paint before bed time (or after bed time)
One of the best times to do your nails, or likely one of the most common times, is when the day is over. If you've got kids, put them to bed first and then use that time without distractions to paint your nails.
Thankfully Color Street nail polish strips don't require any dry time and doing them literally right before bed is often the best time to do them. They will have all night to cure to your nails and you'll wake up with a salon quality manicure. Find me a more convenient product during the holidays!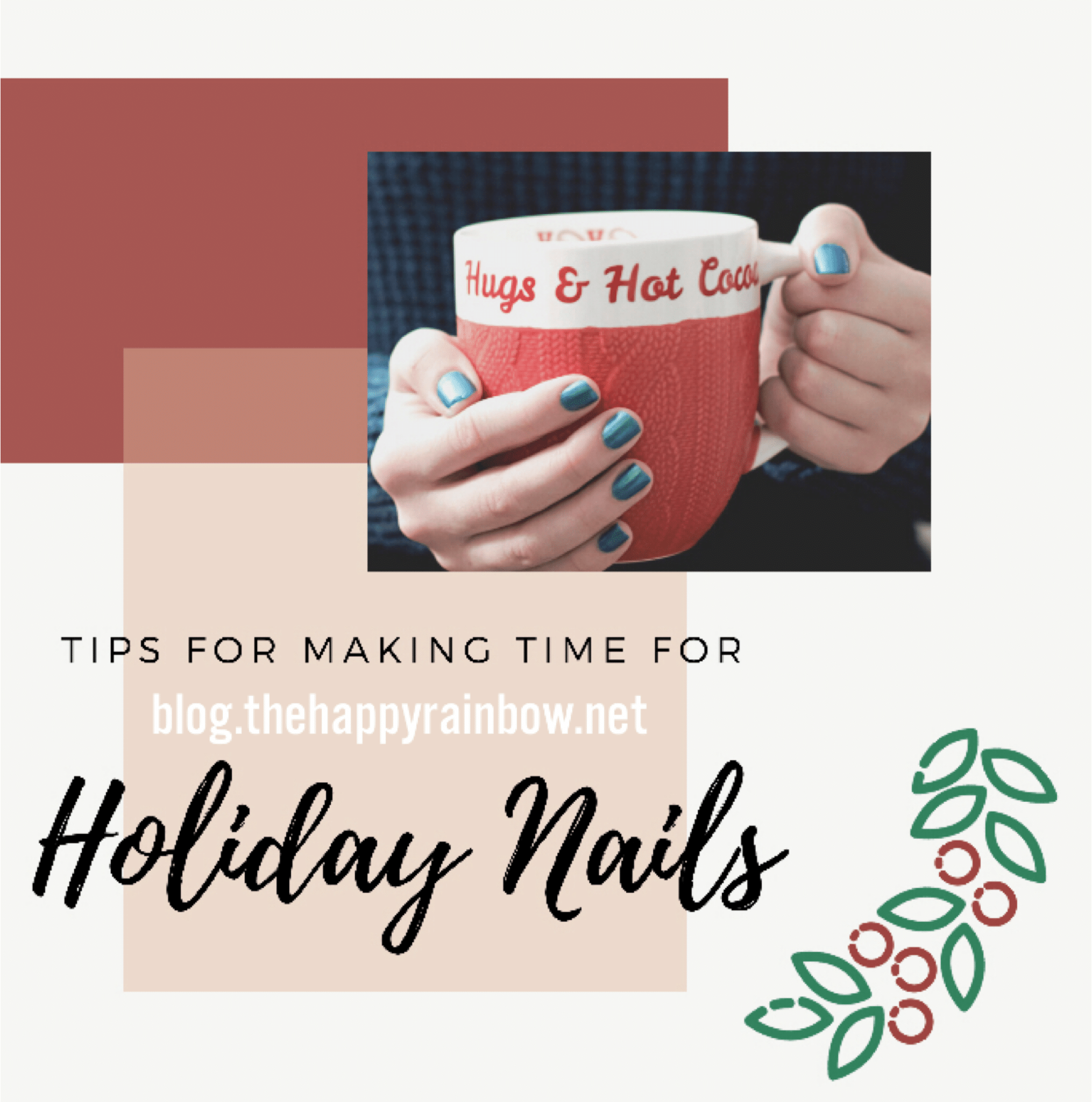 Take advantage of naps
Moms with kiddos will know how distracting they can get with all the chaos they cause, especially when it's too cold to go play outside. However, one thing you can usually count on are naps. Have you ever heard the phrase "Please excuse the mess, the children are making memories"? Ditch the cleaning one day during nap time and get your nails painted.
Choose a solid color or glitter when time is limited
Sometimes, despite the above suggestions, you still don't have much time to devote to your nails. Desperate times call for desperate measures, right? That's where solid colors and glitters come in handy. They are simple, but still give you an uplift in confidence and style.
Stamping and free hand nail art would just be too much of a time suck for you and honestly, there is nothing wrong with a solid color or glitter! Just be sure to choose a thicker color that requires fewer layers to get your desired look. We all know how obnoxious it is to wait for nail polish to dry, so fewer layers means less dry time! This is also where Color Street can come in handy again. You could still get the crazy festive nail art without wasting too much time of your life.
I hope one of these ideas clicked with you and your lifestyle. If you really want your nails done for an event or just to feel festive during the beautiful holiday season, utilize these tips to learn how to make time for nails. Now go get painting!
Em