Questions I often get are about why you should use Color Street nail polish strips over traditional liquid nail polish and what makes them different from other nail polish strips. Is there really that much of a difference?
The answer is most definitely YES!
Updated August 4, 2021
This post contains affiliate links for products that I personally use or believe you will love based on quality. If you click on a link and make a purchase I may receive a small commission (at no additional cost to you). This helps support and enable me to continue to make emazing content for you!
100% nail polish:
One of the biggest reasons why you should use Color Street is that it is the only nail polish strip on the market that is actually 100% nail polish. It consists of 3 layers: a top coat, color coat, and base coat. Color Street is not made of vinyl and does not have any glue that keeps it on the nail. It is simply just that: 100% nail polish. Because this product is unlike any other, it is actually globally patented.
If it smells like plastic when you apply it, it is not nail polish.
Quick and Easy Application/Removal:
This product does not require any special skills or tools to apply. There is no UV light required. You do not have to heat it to the nail or cut it to the appropriate size with scissors. All you really need are your finger nails or a nail file! Color Street allows you to have a professional salon looking manicure in 10 minutes!
To remove Color Street, all you need is some acetone or non-acetone nail polish remover. No special solvents or products. Here is my favorite way of removal!
A No Mess and Long Lasting Product:
When applied properly Color Street can last 7-14 days. While Color Street is just nail polish, it is 95% dry allowing it to be applied in a strip instead of a brush.
If you get interrupted doing your manicure (or pedicure for that matter) you will never have to worry about smudging. It is also sturdy enough that you won't see chipping after the first day like you typically do with traditional nail polish.
Have small children and typically worry about them spilling over the bottle during your mommy and me bonding? This is also no longer a problem with Color Street. If it gets knocked and brushed off onto the carpet or furniture, it won't make a mess!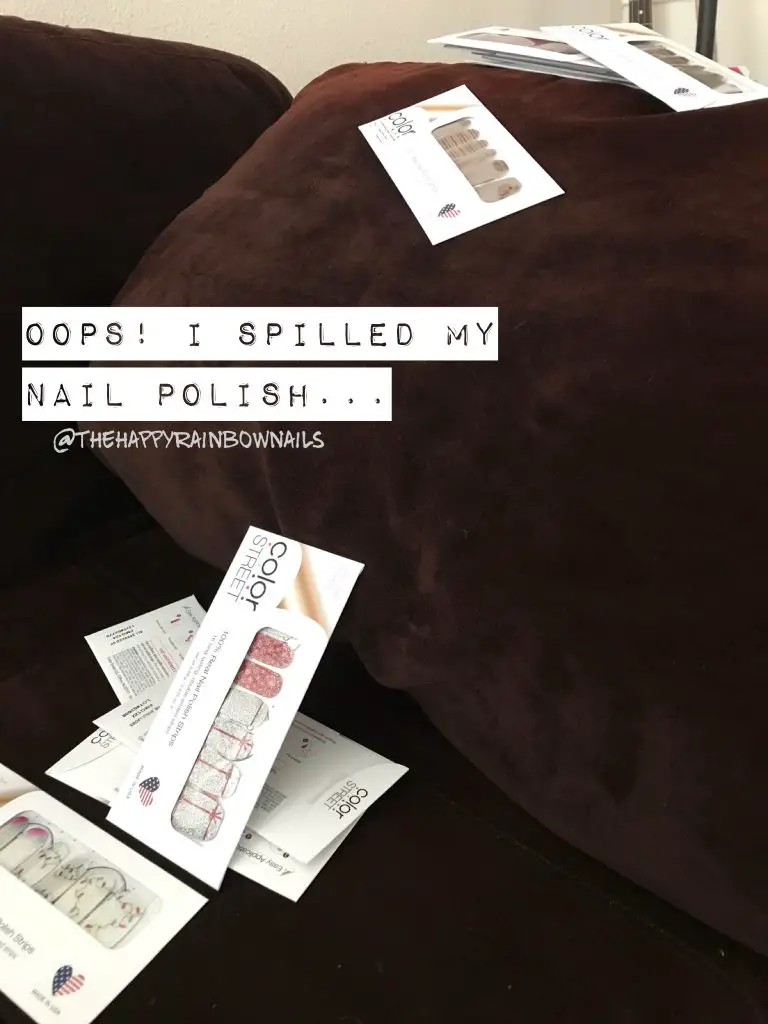 Easy to Travel:
Most bottles of traditional nail polish are 4-6 oz which is over the liquid requirements for the TSA. Therefore, you would be unable to have nail polish in your carry on luggage and would not be able to do your nails at the airport while waiting for your flight (or even on the plane).
However, Color Street is a dry product an can be taken through security in your carry on luggage as well as applied in flight. I like to keep my strips in a large colorful makeup bag. There is no strong nail polish smell with this product either. Just enough for you to still know it's 100% nail polish and quickly dissipates.
Scrapbook Your Nails:
Color Street nail polish strips are so easy to use and pliable that you can actually use craft hole punches or cut into them. You can design your own manicure or follow inspiration from Pinterest at home. No need to go to a salon and pay for fancy designs when you can do them from the comfort of your own couch.
Another reason why you should use Color Street is that you don't need all the extra tools to customize your nail art. You would need to have stencils, stamping plates, stamping polish, and different types of brushes to be able to do that at home with traditional polish.
Gel/Acrylic? No Problem:
Can't seem to get to your salon to fill gel or acrylic nails? ? No problem! Color Street works on top of any manicure you currently have. Glitters work best for this, but you can cover your growth with the strips and skip the salon for another week. The reasons why you should use Color Street are endless!
Inexpensive:
Color Street is priced at $11-$14 with customer specials of buy 3 get 1 free and buy 1 get 1 free deals online that never expire. For the price of one salon manicure you could get 4 different manicures with Color Street nail polish strips. We have glitters, solid colors, designs, French tips, and more! Check out our current selection here!
Color Street is a direct sales company that started in June 2017 has continued to grow ever since! This product is on track to be the number 1 selling nail polish brand in the United States! We also launch to Canada August 2021. If that's not a reason why you should use Color Street, I don't know what is. New designs and colors launch almost monthly in addition to occasional custom designs for fundraisers. The upcoming Foundation charities are announced every July/August depending on when the national conference is.
The Opportunity
If you thought there could be no more reasons why you should use Color Street, guess again! While this reason isn't directly associated with using the product, it allows you access to an easy side hustle. There is an exclusive business opportunity within Color Street included with new friends and a collective atmosphere without competition!
If this is something you may remotely be interested in, I encourage you to check out my article about things to know before joining Color Street. This is a product for everyone and it truly sells itself.
There are no guarantees regarding the income from this opportunity. The success or failure of each Stylist, like in any other business, depends upon each Stylists' skillset and personal effort. Earning levels for independent Stylists are examples and should not be construed as typical or average. Income level achievements are dependent upon the individual stylists business skills, personal ambition, time, commitment, activity, and demographic factors. Read the income disclosure statement here.
Emily
Independent Color Street Stylist
www.thehappyrainbow.net
Related Articles
Tips for the best nailfie
Beginner's Guide to Color Street
Color Street and COVID-19 response