If you've been around Color Street for a while you know that the exciting Color Street Fall launch 2021 is upon us! There are 26 brand new and exciting designs, colors, and glitters launching this month including a couple remasters of previously retried ones. Fall is my favorite season and these colors are going to pop against all the falling leaves.
The Color Street Fall launch 2021 goes live Tuesday August 17, 2021.
You'll want to be the first ones to grab these amazing fall Color Street nail polish strips, but if you miss something and it sells out it will continuously restock until the Spring Catalog 2022. That's one of the perks of the catalog colors. You'll never have to worry about missing out on them.
You can shop 24/7 for these colors online here.
Now let's get to showcasing these exciting new nail polish strips!
This post contains affiliate links for products that I personally use or believe you will love based on quality. If you click on a link and make a purchase I may receive a small commission (at no additional cost to you). This helps support and enable me to continue to make emazing content for you!
Clear Nail Art Designs
The clear overlay designs are one of the easiest ways to add something extra to your nail art. You can pick any solid color, glitter, or even another design and put these on top! You'll also notice the familiar Spot On design. This is now officially part of the Fall catalog given its popularity when it launched as part of a limited edition collection.
The chevrons bring me back to one of the very first Color Street designs called Rainbow Road which was a multicolored chevron design. If you've ever wanted to recreate that original design now is your chance with Keep Calm And Chevron On.
Also, this Color Street Fall launch 2021 wouldn't be complete without some florals! Flower Power has strips that show a lot of the under color and strips that show less (and more black). It will give you a lot of different design possibilities. Not to mention it will go perfect with this cute sterling silver flower ring.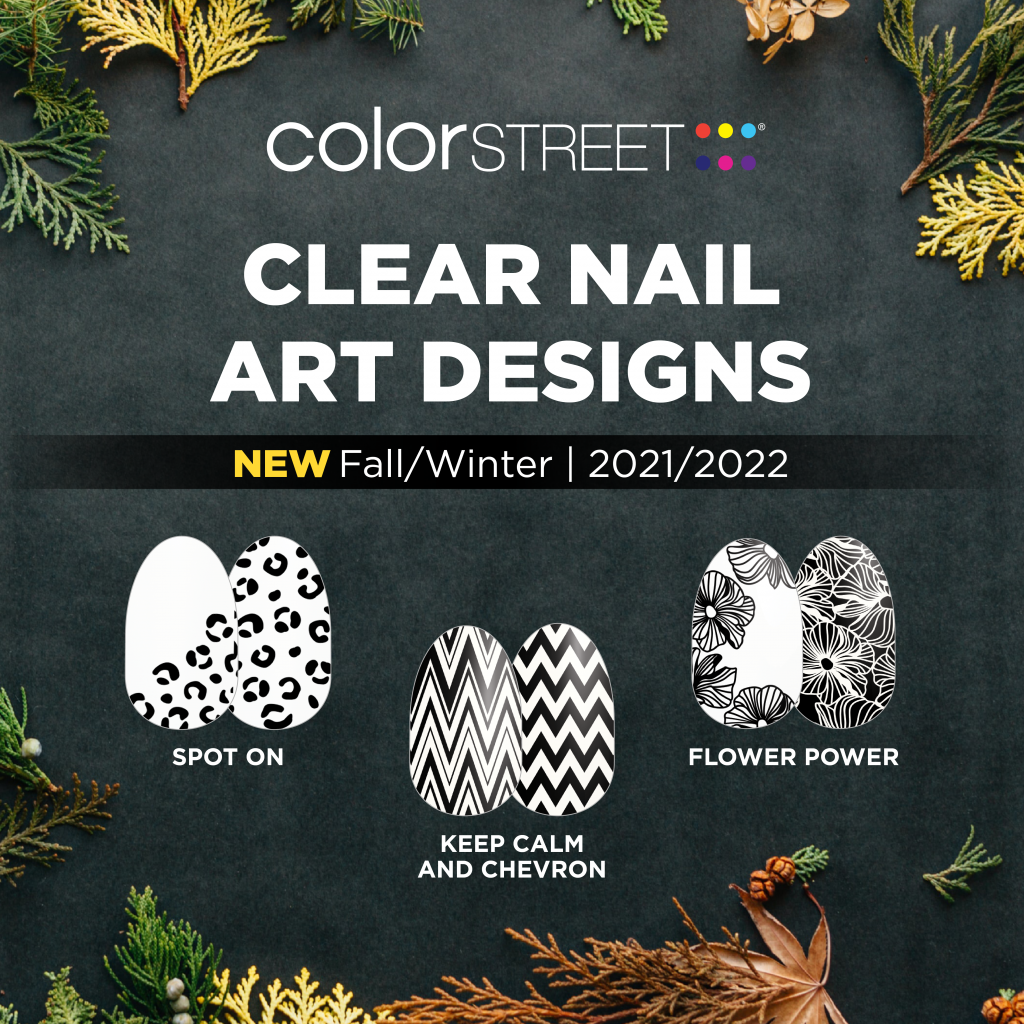 Glitter Dipped
The glitter dipped collection has always been one of my favorites. It gives you this crazy amount of glitter at the top (or base) of your nails if you don't want it all over. These are both on clear base strips allowing whatever color (or your bare nail) to show through.
You'll also notice that the new Over The Moon looks very similar to Dripping In Diamonds that has been retired! If you loved that silver dipped glitter then you'll love this new one. The glitter is slightly bigger, but it will give you the same affect. You can also get a matching silver glitter tumbler for your iced coffee!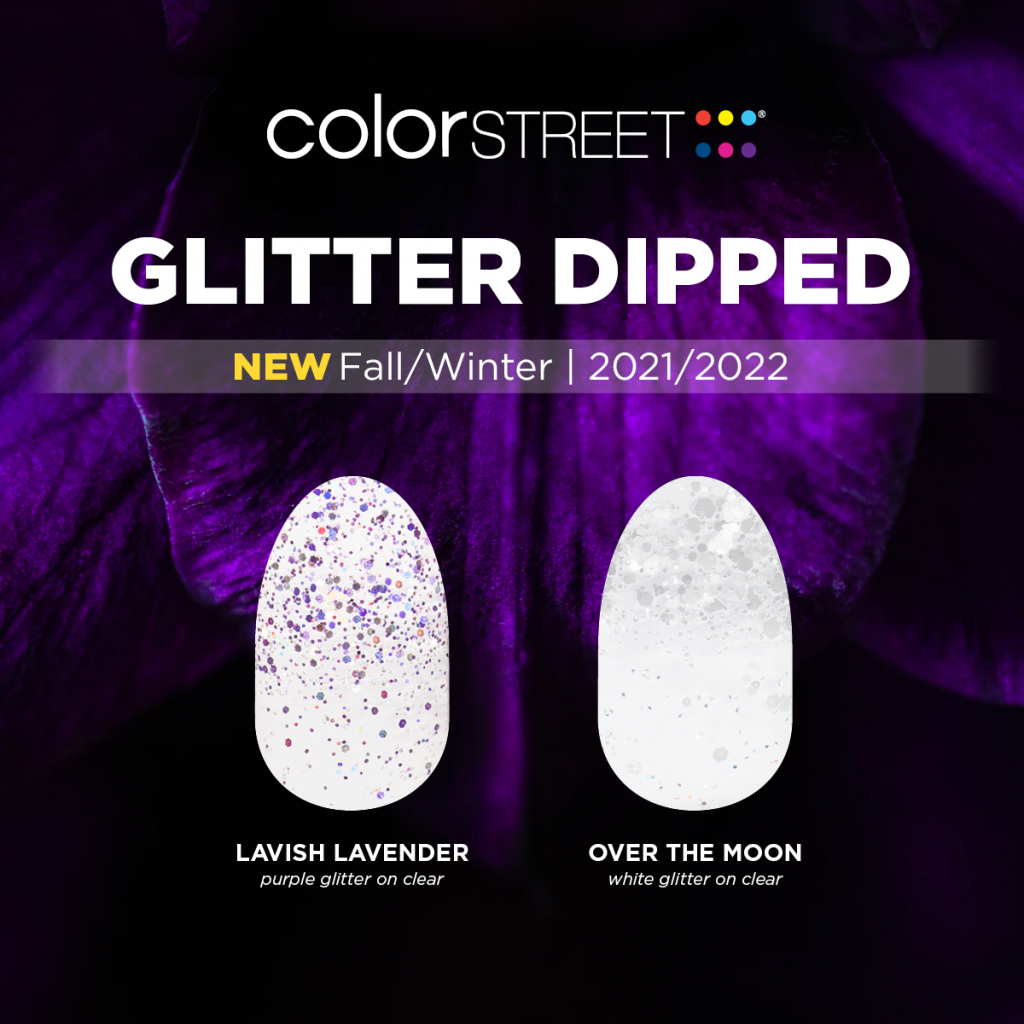 Glitters
In my opinion, glitters are like as universal as solid colors, but with a little more "oomph". These new glitters as part of the Color Street Fall launch 2021 are perfect! My favorite out of these 3 new glitters is Coming In Hot because it is a beautiful rusty orange color. I can see myself cutting out little maple leaves with a hole punch and using them as accents this fall.
The teal glitter is also unique to this Fall catalog. It has a base of tiny glitter with some bigger chunk glitter on top making it multidimensional. And you just can't go wrong with a holographic purple glitter either.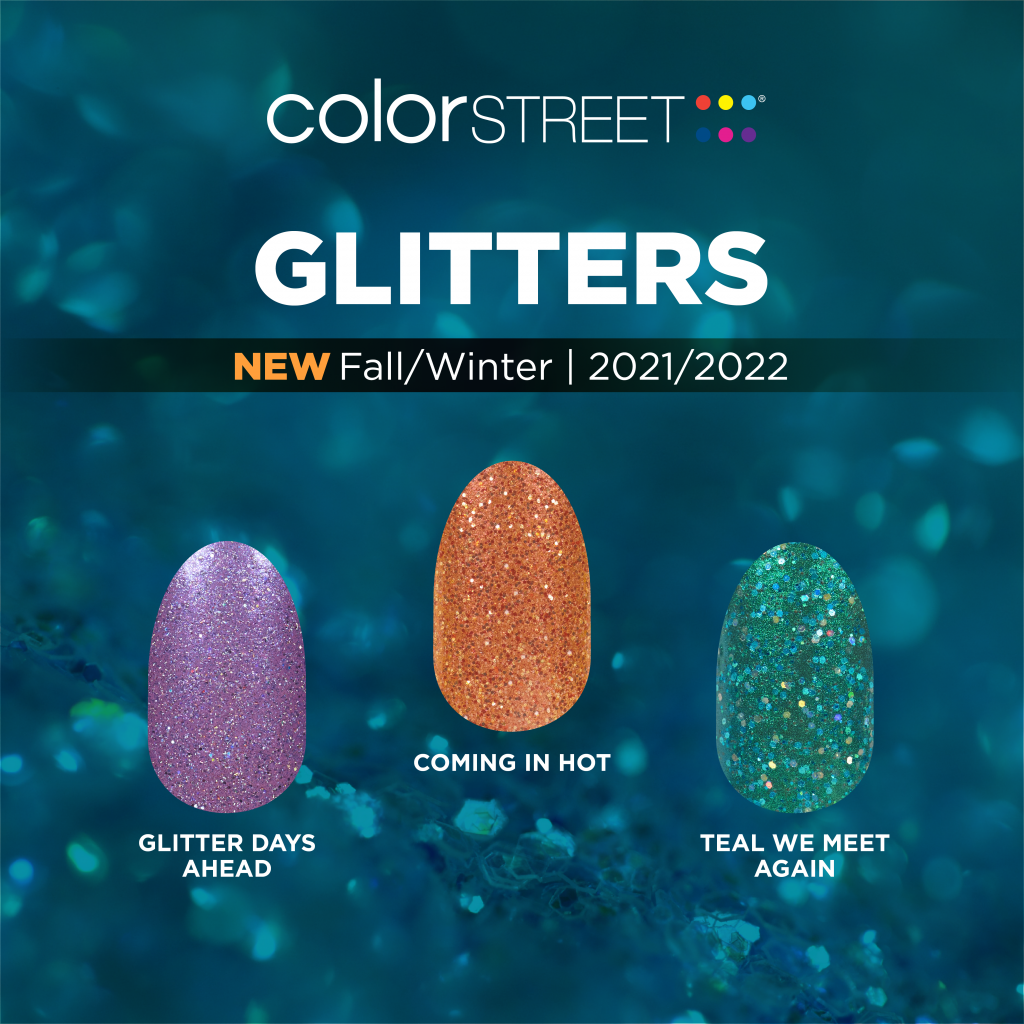 Nail Art Designs
The nail art designs are always the bulk of the new collections. The provide the unique designs and ombres that Color Street users have grown to love. There are 11 new designs for this Color Street Fall launch 2021 including one glitter ombre. Most of them have a few design strips as well as simple glitter or solid strips to pair with them. It breaks up the design so it isn't overwhelming for some people.
There is a good mix of floral designs as well as some plaid, lace, and minimalistic lines. You'll also notice a tribute to our previous Set In Stone collection with A Stone's Throw. It's a beautiful duochrome marble design! If you were a huge fan of Ultraviolet Agate I think you'll also love A Stone's Throw.
I came across these really cute cloth floral drop earrings that I think go great with the color schemes.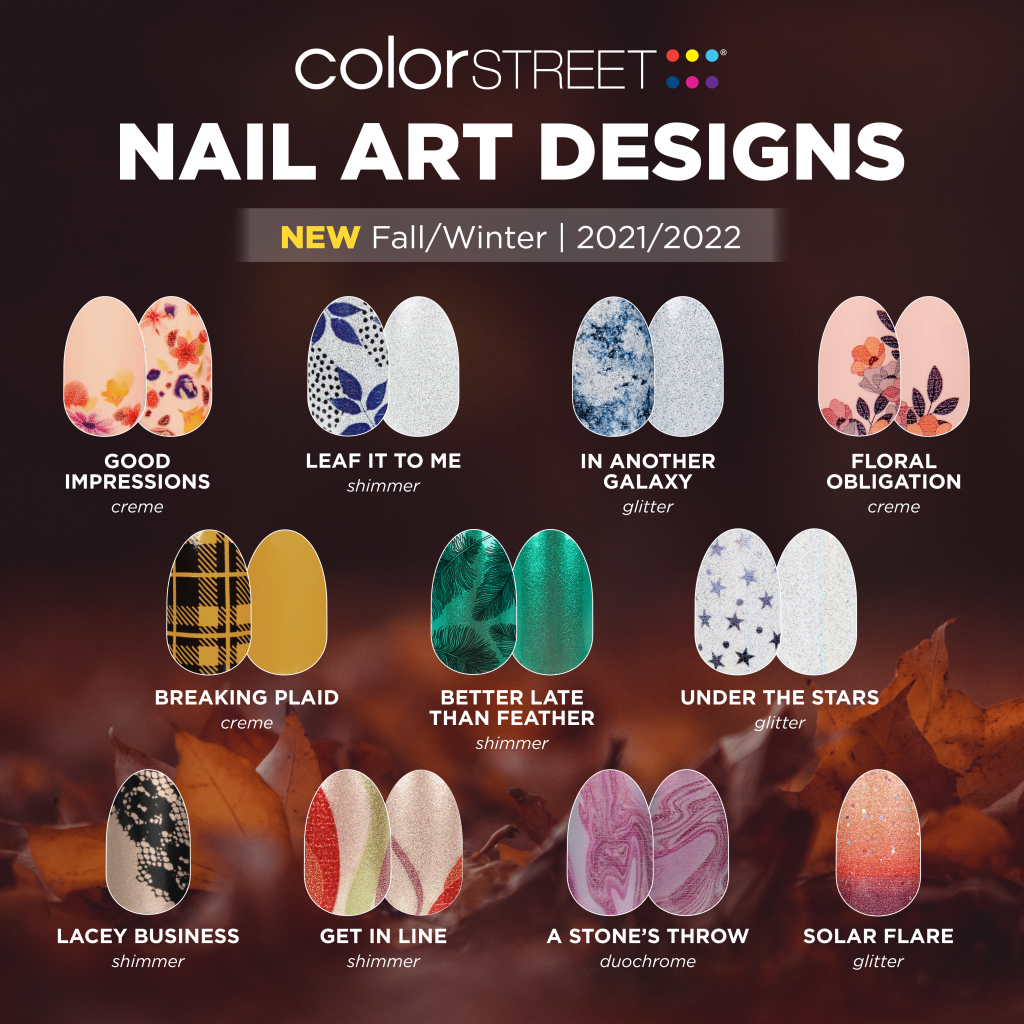 BRAND NEW Prism FX
The Prism FX glitters are a BRAND NEW type of glitter brought over from Germany. These are never before seen colors for the Color Street Fall launch 2021! This is more of a flake glitter instead of circle or hexagon shaped, too. They are extremely holographic, but seem to take on the base glitter color. What I mean by that if you look at All Fired Up, it's a red/orange base and the Prism FX glitter looks more red and orange as well.
It's a really unique glitter and because of that there is also a small price increase for these glitters at $14. However, they are still included in the customer special Buy 3 Get 1 free so you can still get a good deal on them.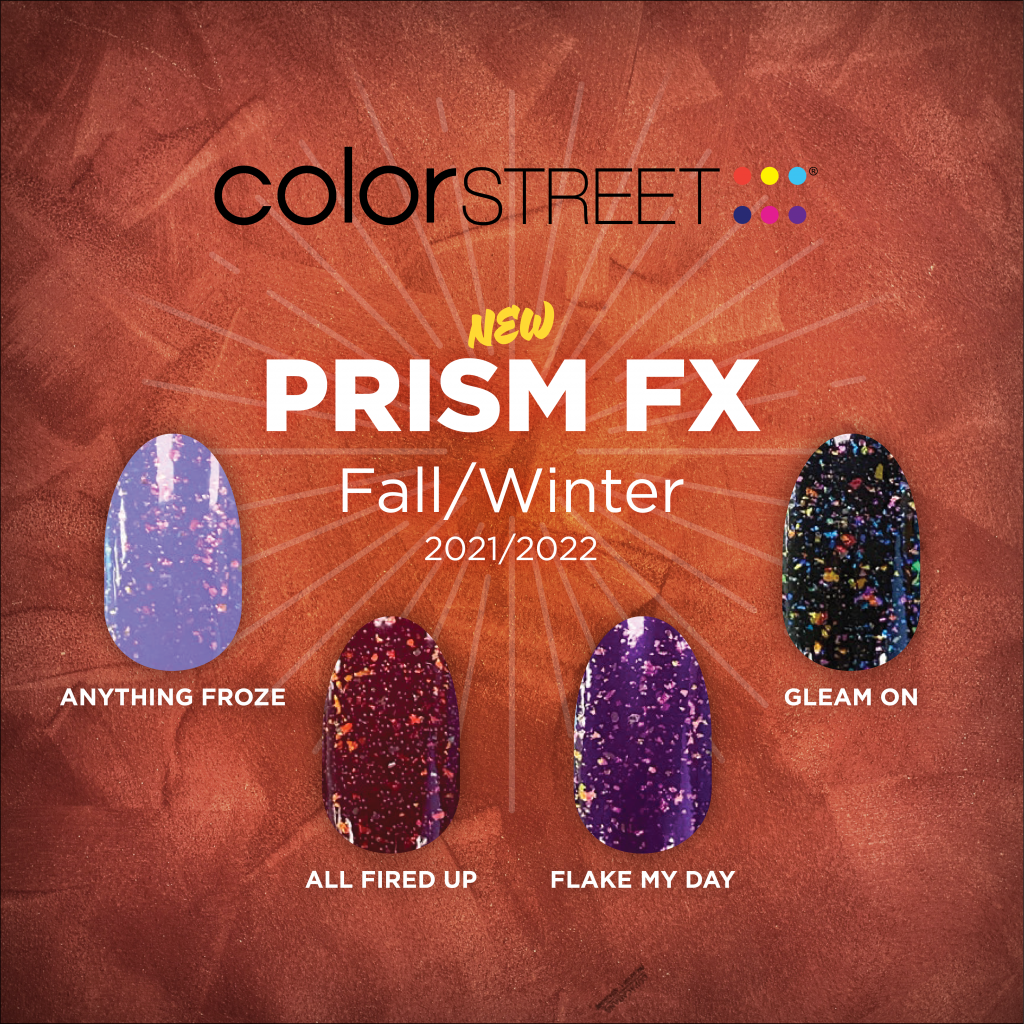 Solids
And lastly, but definitely not least are the solid colors! There are 4 new cream colors, but a couple of them are remastered versions of old colors. Color Street Stylists and customers alike have been begging for new navy nail polish strips after they discontinued US Navy. I really think Deep Diving will fit that bill. It may not be as deep navy as previous colors, but it is beautiful. Amazing Greige is giving me London Fog vibes which is a retired gray set. We'll just have to wait to compare when all the Color Street Fall launch 2021 solids come out, though.
Also new this year is an army green color called She's A Trooper. This will fit in perfectly with fall as well as being a perfect color to show support for military personnel. It will also match perfectly with Amazing Greige if you loved the retired set Boot Camp.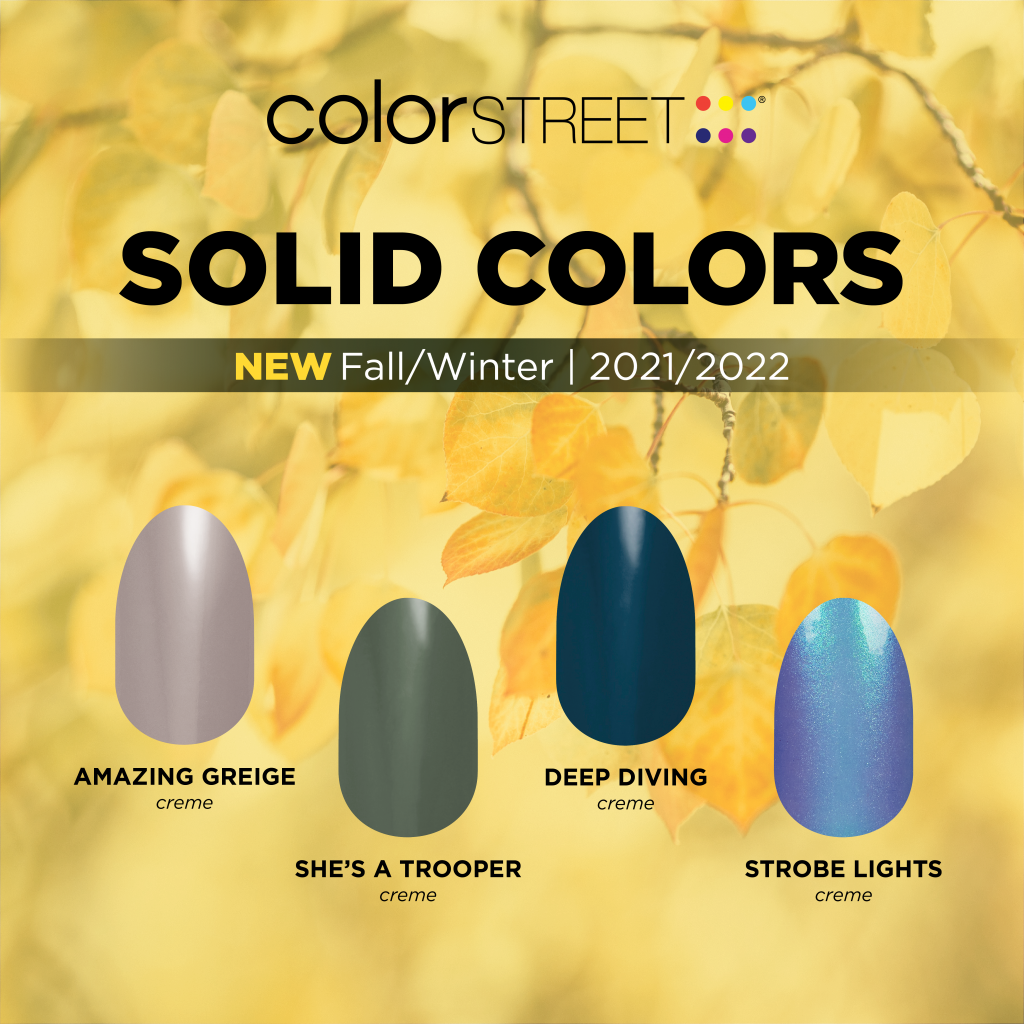 Which color, glitter, or design are you most excited for as part of the Color Street Fall launch 2021? Which will become a staple in your fall nail art "wardrobe"?
Curious about when the NEXT launch will be? Check out the Color Street Major Release Launch Calendar and always be in the know.
Emily