Here's how to recreate this blue star nail art with Color Street 100% nail polish strips! Summer is a great time of the year where everyone is able to be outside watching the clouds. In Minnesota summer is pretty short lived – only about 4 months or so. I have to take every chance I can to get creative with my seasonal manicures. This DIY manicure got its inspiration from the summer blue skies.
This post contains affiliate links for products that I personally use or believe you will love based on quality. If you click on a link and make a purchase I may receive a small commission (at no additional cost to you). This helps support my rainbow making great content for you!
You can watch my video if you want to see things in a fluid motion otherwise there's a quick graphic! This one is really easy and will get you this fun look quicker than any other method (stamping, vinyl)! It was a windy day so I apologize for the slight shaking of the camera as I did this outside.
Colors Used: French Riviera (retired) and Star of the Course (retired)
DIY Blue Star Nail Art
Essentially you want to apply the first strip to the entire nail. That would be the clear star nail art Star for the Course. Then you can angle the second strip over the top in whichever direction you want. This is the blue/silver gradient glitter – French Riviera. It's really that simple!
Removing the excess around the cuticle can be done with your finger nail or a cuticle pusher. Whichever works best for you. I find these wooden cuticle pushers work the best. The rubber tipped ones don't seem to puncture through the strip very well. I prefer to use them for general nail strip application.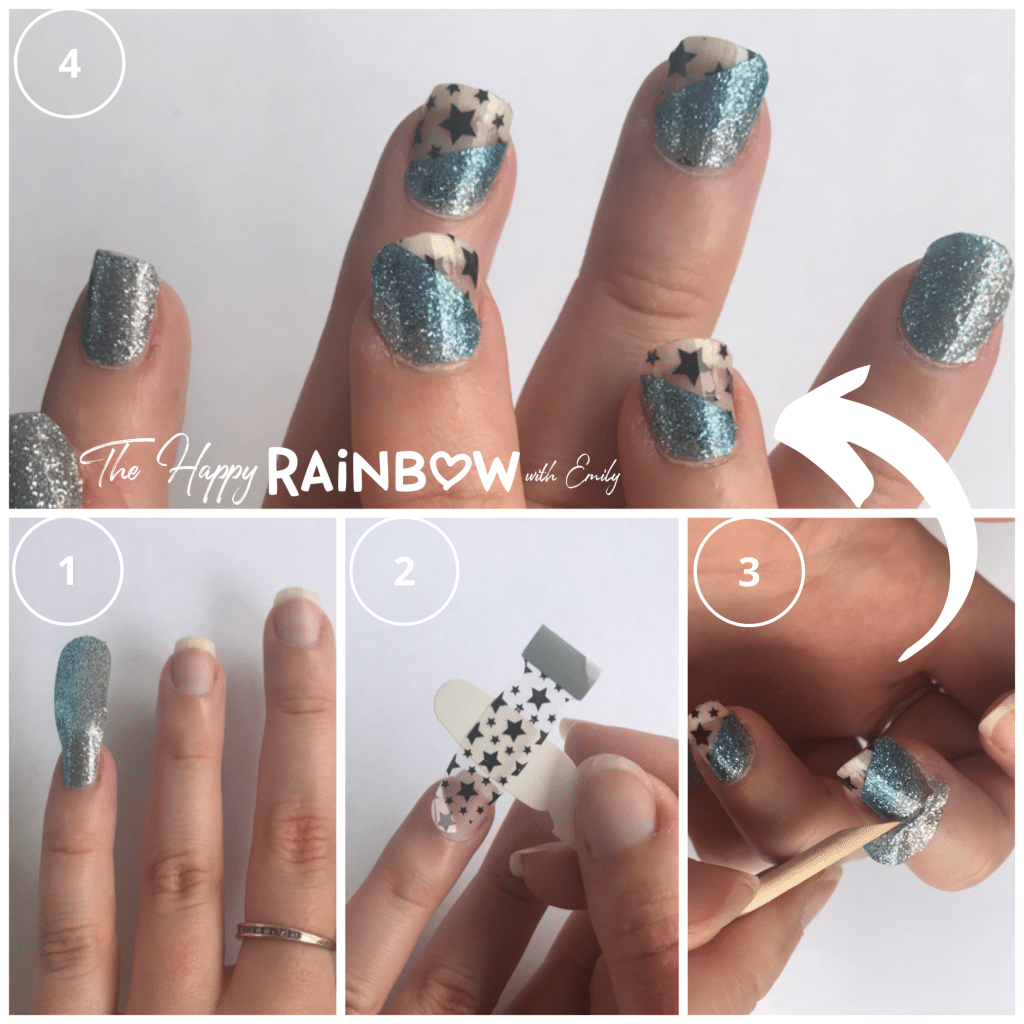 Applying Color Street nail polish strips (or wraps) can be therapeutic too. I find myself zoning out while doing my nails now. These are perfect for self care and I go out onto my patio by myself to do them.
A Tip for your Tips: Make sure to work from your pinky first. This includes both hands. You want to do your thumbs last if you use them as your "tool." If you apply to your thumbs first, you'll likely see some of the strip push back. I tend to do the same finger on both hands together. For example, R pinky and L pinky, R ring finger and L ring finger, so on)
If you're a busy mom who doesn't want to drag her kids to the nail salon or someone trying to keep up her look without breaking the bank, Color Street is for you. It's the easiest alternative to traditional nail polish and is taking the United States by storm! Don't be the last one to try out this revolutionary nail polish product!