Love is in the air with Color Street! Today January 11, 2021, the Color Street Valentine's Day nail polish strips launched! As you'll see below in the photos, the Color Street Valentine's Day nails were created with love in mind. Just as a reminder, any Color Street nail polish collection outside of the biannual Spring/Fall collections are WHILE SUPPLIES LAST. If you love them like I know you do, make sure to order now or take the risk of them selling out and missing out.
I am an Independent Color Street Stylist. Any views, tips, suggestions, or opinions represented in this blog are personal and belong solely to myself and do not necessarily represent the Color Street company.
Introducing the "It's a Date!" Color Street Valentine's Day Collection
This year is ALL about pink, red, and white! Not only are there hearts galore, but they snuck in some classy red roses! There aren't any stand alone solids in this collection, but with the subtle glitter in Blushing in Flushing it might as well act like one! Love letter is also one of my favorites from the new collection. It's so incredibly difficult to draw straight lines and this makes it easy for simple handwritten "love" script. Holiday collections like this are great for matching accessories like this beautiful heart bracelet!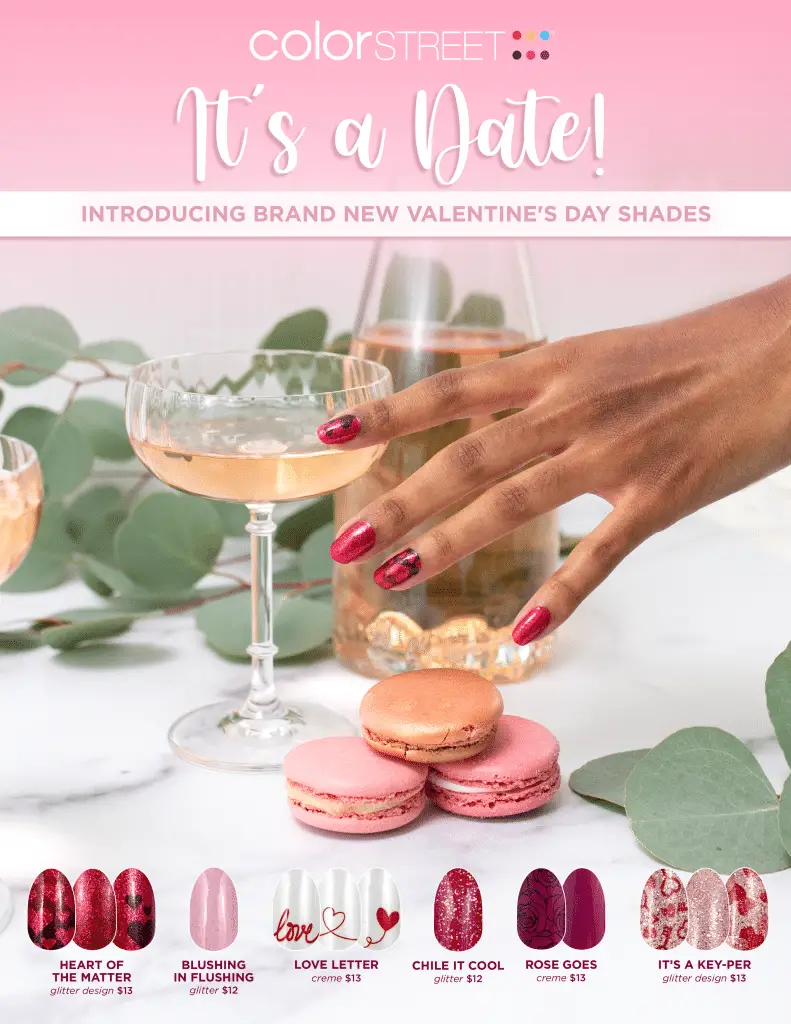 Color Street Valentine's Day nail polish strips make the PERFECT gift or date night accessory. However, keep in mind that there is up to a 7-10 day shipping and processing time. The product is shipped from New Jersey and the closer you are to their facility the faster you'll get them, too. You'll want to order them as soon as you decide on colors to ensure they arrive on time.
If Valentine's isn't quite your cup of tea, there are plenty of other designs and colors available for purchase!
As always, please reach out if you have questions and follow me on social media for more updates! Don't forget to share your Color Street Valentine's Day nails with everyone by taking photos! I have some great advice on how to get the perfect nailfie as well.
Which new Color Street Valentine's Day design is your favorite?
Emily
Independent Color Street Stylist
www.thehappyrainbow.net
Other relevant articles
30+ ways to use old nail polish strips
How to save your nail polish strips
How to organize your Color Street collection